Leonard Nimoy, Star Trek's Spock, Dead at 83
Leonard Nimoy, the actor who became a household name as Mr. Spock with the "Star Trek" television series and movies, has died at 83.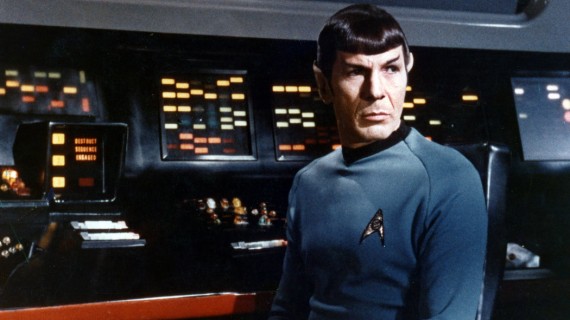 Leonard Nimoy, the actor who became a household name as Mr. Spock with the "Star Trek" television series and movies, has died at 83.
NYT ("Leonard Nimoy, Spock of 'Star Trek,' Dies at 83"):
Leonard Nimoy, the sonorous, gaunt-faced actor who won a worshipful global following as Mr. Spock, the resolutely logical human-alien first officer of the Starship Enterprise in the television and movie juggernaut "Star Trek," died on Friday morning at his home in the Bel Air section of Los Angeles. He was 83.

His wife, Susan Bay Nimoy, confirmed his death, saying the cause was end-stage chronic obstructive pulmonary disease.

Mr. Nimoy announced that he had the disease last year, attributing it to years of smoking, a habit he had given up three decades earlier. He had been hospitalized earlier in the week.

His artistic pursuits — poetry, photography and music in addition to acting — ranged far beyond the United Federation of Planets, but it was as Mr. Spock that Mr. Nimoy became a folk hero, bringing to life one of the most indelible characters of the last half century: a cerebral, unflappable, pointy-eared Vulcan with a signature salute and blessing: "Live long and prosper" (from the Vulcan "Dif-tor heh smusma").

Mr. Nimoy, who was teaching Method acting at his own studio when he was cast in the original "Star Trek" television series in the mid-1960s, relished playing outsiders, and he developed what he later admitted was a mystical identification with Spock, the lone alien on the starship's bridge.

Yet he also acknowledged ambivalence about being tethered to the character, expressing it most plainly in the titles of two autobiographies: "I Am Not Spock," published in 1977, and "I Am Spock," published in 1995.

In the first, he wrote, "In Spock, I finally found the best of both worlds: to be widely accepted in public approval and yet be able to continue to play the insulated alien through the Vulcan character."

"Star Trek," which had its premiere on NBC on Sept. 8, 1966, made Mr. Nimoy a star. Gene Roddenberry, the creator of the franchise, called him "the conscience of 'Star Trek' " — an often earnest, sometimes campy show that employed the distant future (as well as some primitive special effects by today's standards) to take on social issues of the 1960s.

His stardom would endure. Though the series was canceled after three seasons because of low ratings, a cultlike following — the conference-holding, costume-wearing Trekkies, or Trekkers (the designation Mr. Nimoy preferred) — coalesced soon after "Star Trek" went into syndication.

The fans' devotion only deepened when "Star Trek" was spun off into an animated show, various new series and an uneven parade of movies starring much of the original television cast, including — besides Mr. Nimoy — William Shatner (as Capt. James T. Kirk), DeForest Kelley (Dr. McCoy), George Takei (the helmsman, Sulu), James Doohan (the chief engineer, Scott), Nichelle Nichols (the chief communications officer, Uhura) and Walter Koenig (the navigator, Chekov).

When the director J. J. Abrams revived the "Star Trek" film franchise in 2009, with an all-new cast — including Zachary Quinto as Spock — he included a cameo part for Mr. Nimoy, as an older version of the same character. Mr. Nimoy also appeared in the 2013 follow-up, "Star Trek Into Darkness."

His zeal to entertain and enlighten reached beyond "Star Trek" and crossed genres. He had a starring role in the dramatic television series "Mission: Impossible" and frequently performed onstage, notably as Tevye in "Fiddler on the Roof." His poetry was voluminous, and he published books of his photography.

He also directed movies, including two from the "Star Trek" franchise, and television shows. And he made records, singing pop songs as well as original songs about "Star Trek," and gave spoken-word performances — to the delight of his fans and the bewilderment of critics.
The Army Times ("Leonard Nimoy, a former soldier, dies at 83") highlights an aspect of Nimoy's career most obits will skip:
Actor Leonard Nimoy, a former Army staff sergeant, died Friday at age 83.

Nimoy, who immortalized the science officer Mr. Spock on TV and in movies, wore the Army uniform long before he wore the Star Fleet ensemble for "Star Trek."

He served as a soldier from 1953 to 1955. The Army took him to Fort Ord, Calif., Fort Benning, Georgia, and Fort McPherson, Georgia, according to a Twitter post from Nimoy for Veterans Day in 2013.

He posted a photo of himself in uniform, wearing the rank of staff sergeant, with a "T" that in the 1950s would indicate a technician.
Nimoy certainly lived up to the "Live long and prosper" motto he made famous. He not only lived to a ripe old age but was still contributing to the culture up to the very end. Indeed, I wasn't even aware that he had been ill.
The original Star Trek series debuted before my first birthday, so I literally don't remember a time before Star Trek. It's truly remarkable that, not only did the show spawn a franchise that continues almost a half century later despite being canceled after only three seasons in its initial run but that three of its original cast—Nimoy, William Shatner, and George Takei—continue as such major cultural figures beyond the roles that made them famous and, indeed, beyond movies and television.