Let's Talk about Venezuela
Having two presidents sounds like a terrible sitcom idea. In reality, the situation is just plain terrible.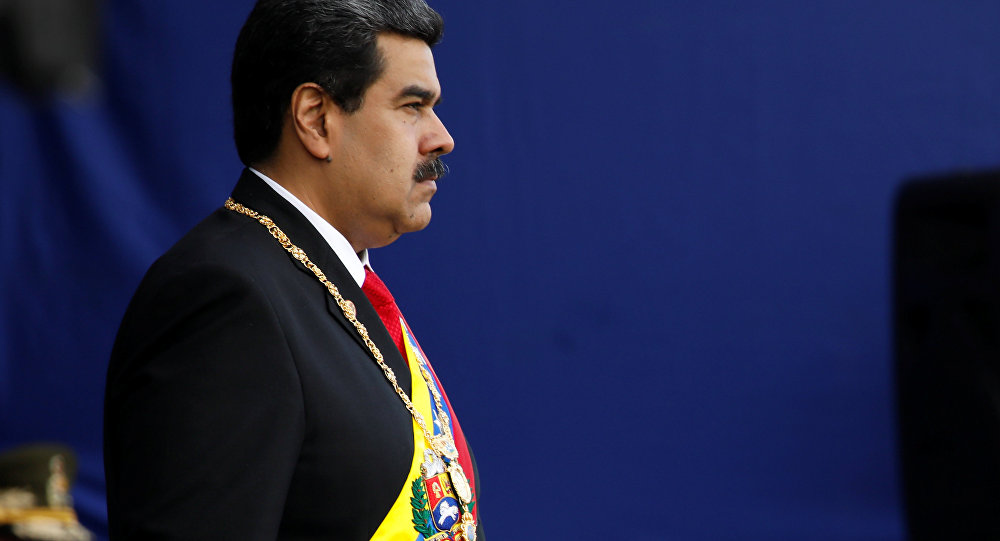 As Doug Mataconis noted earlier this week, Venezuela is currently in a high state of crisis. Like some kind of bad sitcom, it currently has two presidents.  One is the inheritor of Hugo Chávez's Bolivarian Revolution, Nicolás Maduro, who was sworn in for a second term as president earlier this month; the other is Juan Guaidó, who claims that the Maduro election was fraudulent, and therefore in his role as president of the National Assembly it was his constitutional duty to assume the presidency.
Guaidó's claims are based on Article 233 of the Venezuelan constitution:
Article 233: The President of the Republic shall become permanently unavailable to serve by reason of any of the following events: death; resignation; removal from office by decision of the Supreme Tribunal of Justice; permanent physical or mental disability certified by a medical board designated by the Supreme Tribunal of Justice with the approval of the National Assembly; abandonment of his position, duly declared by the National Assembly; and recall by popular vote.

When an elected President becomes permanently unavailable to serve prior to his inauguration, a new election by universal suffrage and direct ballot shall be held within 30 consecutive days. Pending election and inauguration of the new President, the President of the National Assembly shall take charge of the Presidency of the Republic.
The problem for this claim, of course, is that while Guaidó and his supporters may believe that Maduro's re-election was illegitimate, this claim is contested, to say the least.  He has the backing of the National Assembly, but it is worth noting that Maduro has already been ignoring that body already.
The Economist provides some context:
Mr Guaidó's rise to prominence has been spectacular. On January 5th he was chosen as head of Venezuela's national assembly as part of a power-sharing agreement between the main opposition parties. He seemed almost the accidental president, selected largely owing to the lack of other options. Of the two more obvious candidates in his party, Voluntad Popular, one is under house arrest and the other has taken refuge in the Chilean embassy. The assembly has been defunct since 2016. After the opposition won a majority in the chamber in the previous year Mr Maduro neutered it, replacing it with a pseudo-parliament that obeys his orders.
Overall, his position is not especially strong. Indeed, Guaidó's main tool at the moment is recognition of his government by the US, Canada, and a number of Latin American states.
Meanwhile, Maduro is getting support from Bolivia, China, Cuba, and Russia, although additional international pressure is coming from the EU, as WaPo reports:  Pressure mounts on Venezuela's Maduro as European Union demands new elections.
President Nicolás Maduro faced increasing international pressure on Saturday, as European governments threatened to recognize his chief opponent as Venezuela's leader unless a plan for new elections is announced within eight days.

The statements from Germany, France, Spain, the Netherlands and Britain came as U.S. Secretary of State Mike Pompeo pressed the United Nations to throw its support behind Juan Guaidó, the leader of the opposition-controlled National Assembly, who declared himself president on Wednesday.
Maduro's main and most salient support is coming from the armed forces (and the fact that he still controls the actual government apparatus in general).   Back to the linked Economist piece:
Mr Guaidó cannot yet claim to have the support of the army. There have been minor military revolts, most recently on January 21st, when 27 national guardsmen stole weapons and declared themselves in rebellion before being arrested. Military leaders, who control key areas of the economy from oil to mining to food distribution, remain outwardly loyal to Mr Maduro. Mr Guaidó is offering amnesties to those who defect. Until that happens, though, Venezuela will have two presidents: one with the legitimacy, and the other with the guns.
The economic aspect of the situation is key.  The upper officers of the Venezuelan armed forces have done very well financially with Maduro and they therefore have a lot to lose if he leaves power.  While WaPo reports that Venezuela's opposition in talks with military officials to force out Maduro, Juan Guaidó says in interview, I take such a situation with a grain of salt. While I can certainly see some defections, it is unclear that any of the higher level commanders will see an advantage to switching sides.  It should be noted that Venezuela has been an economic disaster for several years and yet there has neither been a credible opposition nor an internal challenge.  Maduro is no Hugo Chávez, but there has also been no viable alternatives to date.
NPR has a piece worth reading in regards to the politics of the military:  Why Venezuela's Military May Be Standing By Maduro, For Now.
On Thursday, Defense Minister Vladimir Padrino López denounced opposition leader Juan Guaidó, who, the day before, had declared himself the country's president and was recognized by the U.S., the Organization of American States and most Latin American countries.

[…]

And Padrino emphatically stated that the military continues to back Maduro as Venezuela's "legitimate president" and "our commander in chief."

Padrino's speech was a blow to the opposition, which is betting that Guaidó's dramatic swearing-in ceremony in front of a massive crowd in Caracas coupled with strong support from foreign governments will persuade Venezuelan military officers to break ranks with Maduro.

[…]

Despite some recent defections and arrests in the country's security forces, analysts who track the Venezuelan military point to numerous factors that are keeping more officers from rebelling.

For one thing, the top brass has been shielded from Venezuela's economic meltdown because these officers receive numerous perks and have been put in charge of lucrative government operations — everything from arms purchases and steel production to food distribution and the vital oil industry.

Some senior officers have gotten rich off shady deals, including drug trafficking, illegal gold mining, currency scams and contraband smuggling, says R. Evan Ellis, a research professor at the U.S. Army War College who studies Latin American militaries.

U.S. court indictments and targeted sanctions have named several Venezuelans who have served in the South American country's security forces.

Ellis contends that the fear of arrest or extradition under a Guaidó-led government has persuaded many officers to throw in their lot with Maduro. What's more, Cuban agents work closely with top Venezuelan officials to snuff out coups before they can be launched.
Read the whole thing, but these are not auspicious conditions for the military high command to turn on Maduro.  In regards to Cuba's role, see the NYT: With Spies and Other Operatives, a Nation Looms Over Venezuela's Crisis: Cuba.
So, here are some thoughts on the US' moves regarding Venezuela:
 US Recognition of Guaidó.  While I certainly get the idea that in a choice between Maduro and, well, almost anyone, anyone is the preference.  I also understand that, leverage-wise, international recognition is about all Guaidó has (indeed, it is really the non-US support that has significance at the moment, since the US is a known adversary of Maduro).  Still, I can't help but wonder if recognition was smart, and I certainly have serious concerns about the Trump administration's ability to deal with this situation.
US Military intervention?   No.  Just, no.  This would be a terrible idea.  The only possible use of the military that I could even begin to envision would be humanitarian relief, and only after the internal political situation is well settled.
Maduro's Anti-Imperialism Card.  One of the potent weapons in Maduro's arsenal is the anti-imperialism, anti-yanqui rhetorical card. US recognition of Guaidó helps Maduro in that regard. Any provocative move that the US makes just allows Maduro to tap into the deep, historical resentments of Latin Americans against US intervention in the region.
Elliot Abrams?  Ugh.  The Trump administration has named Eliot Abrams the special envoy on Venezuela.  As CNN's headline put it: US special envoy for Venezuela has long, controversial history in Latin America and Politico's: Elliott Abrams, prominent D.C. neocon, named special envoy for Venezuela.  I can, at least, say that unlike most Trump appointees, Abrams has extensive experience in the US government, and knowledge of Latin America.  Of course, his resume has some red flags.

From the CNN piece:  "The Trump administration's new special envoy on the Venezuelan political crisis is well known in Latin American circles — from his guilty plea for withholding information about the Iran-Contra affair to his attempt to discredit accounts of the massacre of nearly 1,000 people by a US-trained military battalion in El Salvador."
From Politico:   "Abrams was deputy national security adviser in the George W. Bush administration and was instrumental in Middle East policy at the time, including supporting the U.S. invasion of Iraq. There were also allegations that he supported a military coup attempt in Venezuela in 2002, damaging the U.S. relationship with the government there after the plot ultimately failed."
I am not especially optimistic about US involvement.
Please note:  I think Maduro is a terrible leader and I would gladly see him go.  Venezuela is currently suffering through a thoroughly unnecessary, man-made disaster of epic proportions.  Still, an exact endgame is hard to see at the moment, however, and US involvement, especially given Guaidó seemingly weak position (not to mention our track record in these things) does not inspire confidence that this will not simply make things worse.  It may have been wiser to let Maduro collapse under the weight of his own incompetence.  Now he has enemies he can rail against and an ability to sort out who is on his side in the military.
---
For more info I would recommend the following:
The Daily (podcast):  One Country, Two Presidents: The Crisis in Venezuela (for recent news and context).
Historias (podcast):  Miguel Tinker Salas on the crisis in Venezuela (from October, but great background).  I would also recommend his very accessible book, Venezuela: What Everyone Needs to Know.
WaPo:  Venezuela's crisis in 5 charts.
This Twitter thread by Naunihal Singh, Assistant Professor of National Security Affairs at the Naval War College, and author of  Seizing Power: The Strategic Logic of Military Coups is worth a read:
Thread on Venezuela: Some of you asked for my reaction early on. I was chuffed that you checked in with me, but had little to say until I had time to read. My apologies for the delay. Also, let me put the disclaimer up front. SPEAKING FOR MYSELF AS A SCHOLAR. (1/n)

— Naunihal Singh (@naunihalpublic) January 27, 2019