Libya Operation: Who's In Charge?
Jorge Benitez has written a useful Libya Primer: Who is In Charge of Allied Forces? The short answer: No one.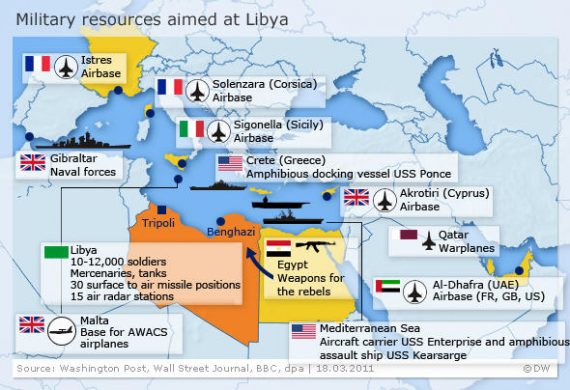 My Atlantic Council colleague Jorge Benitez has written a useful Libya Primer: Who is In Charge of Allied Forces?
The short answer: No one.
While many in the media refer to this as operation Odyssey Dawn, that is the name of the U.S. military operation, not that of the international effort —which currently has no unified label.

[…]

Most of the members of NATO want the alliance's integrated military command structure to be in charge of the Libyan operation.  But due to the imminent threat of Gaddafi's forces to Benghazi, French, U.S., and British forces intervened before NATO reached agreement on the command issue.

A source in the French defense ministry revealed to the AFP that "there is no centralized headquarters and at this stage everyone is using their own headquarters in a coordinated manner."  The result is that there are now at least three national headquarters making military decision for the coalition.

The British refer to their contribution to the coalition as "Operation Ellamy."  They are led from their armed forces joint headquarters in Northwood.  Air Marshal Sir Stuart Peach and Rear Admiral Ian Calder are in command.  Part of the British chain of command is a Joint Force Air Component deployed to RAF Akrotiri in Cyprus.

[…]

British Major Gen. John Lorimer provided one interpretation of the coalition's command structure.  "This operation is currently under U.S. command, supported closely by French and U.K. armed forces. AFRICOM is the supported Combatant Command, and U.K. has liaison officers and staff embedded at every level."  Britain's Air Vice Marshal Greg Bagwell is at the Ramstein airbase in Germany.  The French have also exchanged personnel to improve communications between the HQs at Mont Verdun and Ramstein.
So there you have it.
Graphic: Deutsche Welle.