Line(s) of the Day: Trump's Immigration Politics
Trump really has no plan about the border save for demagoging the issue.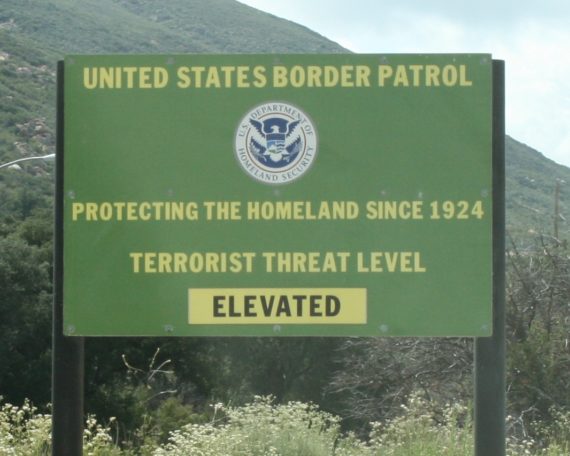 In a piece in WaPo concerning the current mess in the White House over immigration policy (Twelve days of chaos: Inside the Trump White House's growing panic to contain the border crisis) I was struck by the following quote:
"He was politically grandstanding for his base, for his reelection, and not thinking through a plan," said Domingo Garcia, president of the League of United Latin American Citizens, who has met with White House senior adviser Jared Kushner, the president's son-in-law, to discuss immigration reform. "He has no plan except to talk about immigration as a political piñata to score points with the far right. But illegal immigration has increased in the two years he has been president."
I think this is exactly correct: Trump has no real plan, and had no real plan, save a vague sense of not liking immigration (especially from certain places). His crowds love it when he talk about the border and the only thing I can say for sure about Trump is that he loves it when the crowd loves him.
His solutions (I really should use scare quotes) for the border are all highly simplistic. A wall as a solution to the border is almost child-like in is simplicity. It isn't even a solution to things like criminal gangs, drug trafficking, or asylum-seekers. Closing the border is patently absurd (and even as a negotiating tactic, is the stuff of playground-level strategizing).
Indeed, the quote reminds of reporting earlier in the year about Joshua Green's book about the Trump-Bannon alliance. From a piece from Forbes in January (Where The Idea For Donald Trump's Wall Came From):
Joshua Green had good access to Trump insiders, including Sam Nunberg, who worked with Stone. "Roger Stone and I came up with the idea of 'the Wall,' and we talked to Steve [Bannon] about it," according to Nunberg. "It was to make sure he [Trump] talked about immigration."


The concept of the Wall did not click right away with the candidate. "Initially, Trump seemed indifferent to the idea," writes Green. "But in January 2015, he tried it out at the Iowa Freedom Summit, a presidential cattle call put on by David Bossie's group, Citizens United. 'One of his pledges was, 'I will build a Wall,' and the place just went nuts,' said Nunberg. Warming to the concept, Trump waited a beat and then added a flourish that brought down the house. 'Nobody,' he said, 'builds like Trump.'"
And yet, here we are–and with Stephen Miller having Trump's ear on immigration policy in general. Back to the WaPo piece:
Meanwhile, Miller lobbied the president to make a wholesale overhaul among DHS leadership, telling him that senior officials, including Lee Cissna, the director of U.S. Citizenship and Immigration Services, had slow-walked regulations aimed at curbing migration. Miller even argued that some of the DHS leadership was fearful of damage to their public reputations if they backed Trump's hard-line agenda, the White House officials said.