Lisa Murkowski: Getting Back at Tea Party? Or Vindicating Them?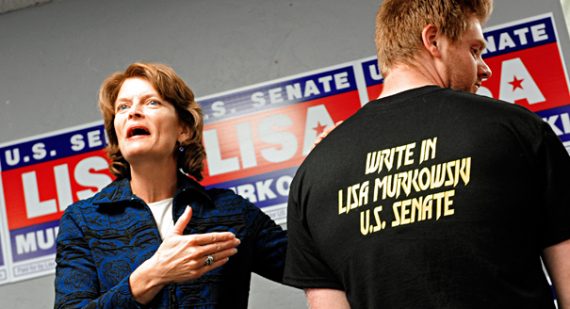 Under the headline "MAYBE THEY SHOULD HAVE BEEN A LITTLE NICER TO MURKOWSKI," Steve Benen catalogs Lisa Murkowski's spate of votes as the lone Republican siding with Democrats:  gays in the military, the DREAM Act, and New START.   And she's now urging her colleagues to give up on trying to repeal ObamaCare and get on with legislation they have a chance of passing.
Says Steve, "I don't imagine all of this will be well received by Republican leaders, but don't forget, Murkowski not only doesn't care, she actually has an incentive to annoy them."
But this is exactly why she got primaried in the first place!  She was never a reliable Republican vote and, as befitting someone originally handed her job by her daddy, was dismissive towards Alaska Republicans who scoffed.   No wonder Joe Miller seemed so attractive.
(And I say that as someone who agrees with Murkowski on all four of the issues in the lead paragraph.)