Liz Cheney Being Courted By House And Senate GOP
Liz Cheney can pretty much write her own political ticket right now.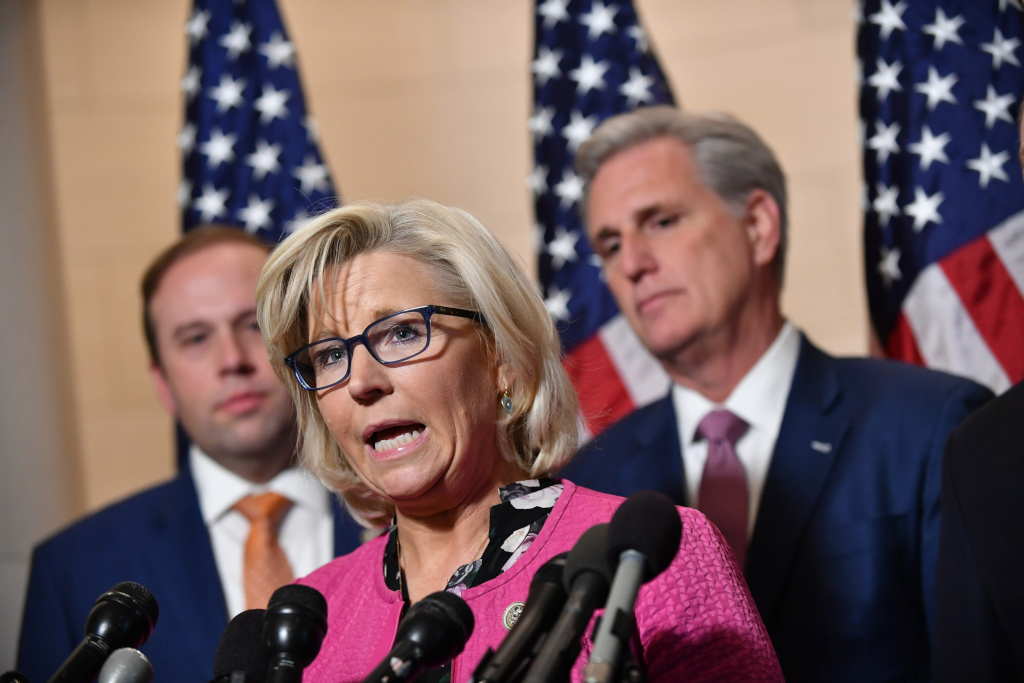 As we approach 2020, Liz Cheney finds herself being courted by both the House and Senate GOP leadership thanks to a rare opening in Wyoming politics:
Rep. Liz Cheney has spent only six months as a senior House leader, winning rave reviews from fellow Republicans. Now, she's suddenly facing a dilemma over whether to take her talents to the other side of the Capitol.

The decision — whether to continue her quick ascent in House leadership or instead seek to succeed retiring Wyoming Sen. Mike Enzi next year — is not only momentous for Cheney, but it's one the entire Republican Party is watching closely.

The daughter of former vice president Richard B. Cheney, as the Republican Conference chairwoman, is one of only a handful of GOP women who have risen in the highest ranks of Washington politics and might credibly appear on a national ticket in the near future.

And while she has stood squarely behind the policies of President Trump, Cheney has also forged a profile focused on a strong national defense and muscular foreign policy — leading some Republicans to see her as a figure who could, after Trump's departure from the public stage, bring the party back to its hawkish roots.

Cheney "represents what normal people think of as a statesman, voice and presence for the future of the party," said Mary Matalin, the veteran GOP consultant and a family confidant. "Liz has that rare policy-political 'leader gene.' . . . She could go in any direction."


Cheney, a 52-year-old mother of five, is not shedding any light on her thinking in the immediate aftermath of Enzi's surprise decision not to seek a fifth term. She declined an interview request and brushed off questions about her future at a news conference this week.

Ruling nothing out, she instead pivoted immediately to the blunt, focused messaging that has won her fans across the Republican firmament.


"We really are at the opening phases of a huge ideological battle in this nation, and it's one that Nancy Pelosi and the Democrats in the House have clearly come down on the side of socialism," she said, adding: "I don't have any announcements to make beyond that."

Still, the outlines of her choice are clear. Staying in the House would maintain a Cheney family tradition — her father represented the state's at-large district for a decade, rising to minority whip before leaving Congress to serve as defense secretary — and give her an excellent opportunity to someday become the first Republican female speaker.


But Cheney has eyed the Senate before, launching an abbreviated primary run against Enzi in 2014, and it's the rare politician who prefers running every two years to every six years. Crossing the Capitol would also give Cheney, who served as a senior State Department official in the George W. Bush administration, a more prominent platform on national security. Her profile would undoubtedly exceed her status as the junior senator from the nation's least populous state.

Another fact of political life: Not since Rep. James A. Garfield (R-Ohio) won election in 1880 has a sitting member of the House been elected president.


"She is on a shortlist of Republicans you can say with assurance will be at the top at some point, whether it's in the House, the Senate or the White House," said Josh Holmes, a former top aide to Senate Majority Leader Mitch McConnell (R-Ky). "She's got a really unique set of skills and knows how to use them. My sense is that she is, at some point, going to be leading everything in D.C. It's just a matter of from what perch."
Cheney's quick rise in the House leadership has been notable in no small part because she is only on her third term in the House of Representatives and is already the third-ranking person in the GOP leadership team, with only Minority Whip Steve Scalise and Minority Leader Kevin McCarthy outranking her at this time. This is an extraordinarily quick rise through the ranks that seems to portend a future for her that would eventually see her as leader of the GOP caucus whether that be as Speaker of the House should the GOP retake the House in the future or as Minority Leader if it didn't. By contrast, if she made the jump to the Senate she would be near the bottom in terms of seniority in a caucus where it generally takes much longer to rise through the ranks. At the same time, though, it's certainly the case that being a Senator is generally seen as a more ideal launching pad for a national political career than the House of Representatives.
If Cheney did decide to run for the Senate, she would already have the experience of two statewide runs for office under her belt since she serves as the state's sole member of the House of Representatives. She first won that seat in 2016, beating a crowded field for the Republican nomination to succeed Cynthia Lummis, who had held the seat since 2008. In the 2016 General Election, Cheney easily won the seat, beating her Democratic opponent by more than 30 percentage points (roughly 75,000 votes). In 2018, Cheney was unchallenged in the primary and won the General Election by a margin similar to her win in 2016. Add to this the fact that the Cheney family is well-known and well-regarding in Wyoming and you have a situation where Cheney is, it seems, relatively free to decide whether to run for her House seat again, a race she'd win easily, or make a bid for the Senate where her biggest challenge would be winning the Republican nomination.
As noted in the article quoted above, it will likely be some time before Cheney makes her intentions known, in no small part because her position in Wyoming politics means that she can wait to make a decision. More likely than not, though, she'll likely make a decision by the end of the year.