Liz Cheney's Future
She'll almost certainly be out of a job in January. Then what?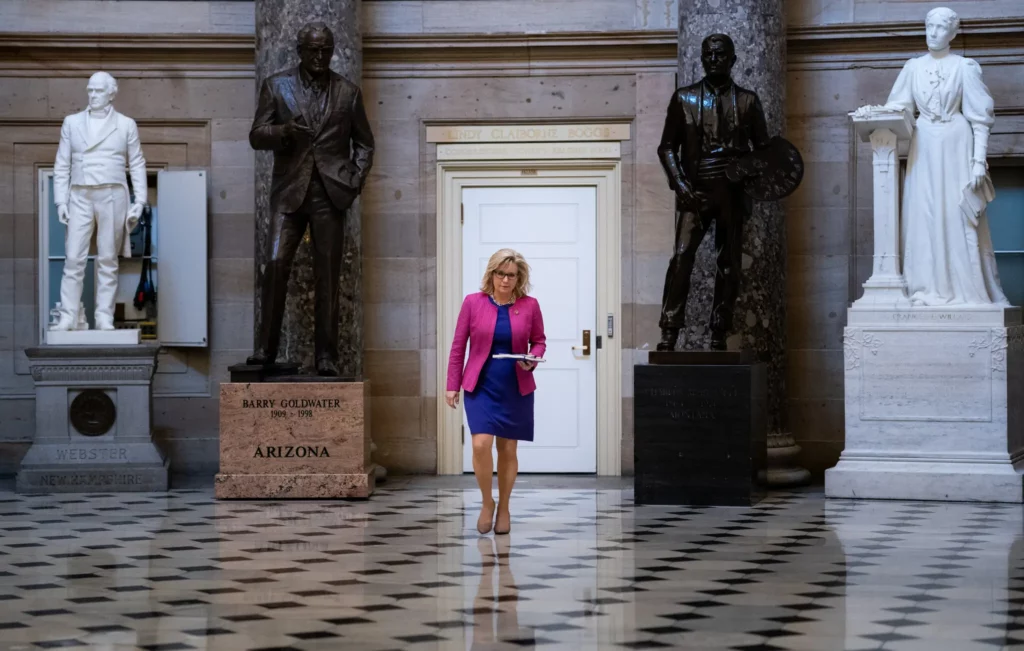 I went to Jonathan Martin's NYT feature "Liz Cheney Is Ready to Lose. But She's Not Ready to Quit." based on a quote highlighted by Taegan Goddard:
I would much rather serve with Mikie Sherrill and Chrissy Houlahan and Elissa Slotkin than Marjorie Taylor Greene and Lauren Boebert, even though on substance certainly I have big disagreements with the Democratic women I just mentioned. But they love this country, they do their homework and they are people that are trying to do the right thing for the country.
It reminded me a bit of my reaction way back in 1998 when incumbents Alfonse D'Amato (R, NY) and Carol Mosely Braun (D, IL) were defeated by Chuck Schumer and Peter Fitzgerald, respectively. While the net result of both those contests and the wider election itself impacted the partisan balance of the Senate not one iota, it was nonetheless a great day because it raised the collective IQ and integrity level considerably.
Otherwise, the report tells us little we didn't already know.
The most closely watched primary of 2022 has not become much of a race at all. Polls show Ms. Cheney losing badly to her rival, Harriet Hageman, Mr. Trump's vehicle for revenge, and the congresswoman has been all but driven out of her Trump-loving state, in part because of death threats, her office says.
Indeed, Cheney seems resigned to that fate.
Yet for Ms. Cheney, the race stopped being about political survival months ago. Instead, she has used the Aug. 16 contest as a sort of high-profile stage for her martyrdom — and a proving ground for her new crusade. She used the only debate to tell voters to "vote for somebody else" if they wanted a politician who would violate their oath of office. Last week, she enlisted her father, former Vice President Dick Cheney, to cut an ad calling Mr. Trump a "coward" who represents the greatest threat to America in the history of the republic.

In a state where Mr. Trump won 70 percent of the vote two years ago, Ms. Cheney might as well be asking ranchers to go vegan.

"If the cost of standing up for the Constitution is losing the House seat, then that's a price I'm willing to pay," she said in an interview last week in the conference room of a Cheyenne bank.
Certainly, she has burnished her brand:
The 56-year-old daughter of a politician who once had visions of rising to the top of the House leadership — but landed as vice president instead — has become arguably the most consequential rank-and-file member of Congress in modern times. Few others have so aggressively used the levers of the office to seek to reroute the course of American politics — but, in doing so, she has effectively sacrificed her own future in the institution she grew up to revere.
But to what end, exactly?
Ms. Cheney's relentless focus on Mr. Trump has driven speculation — even among longtime family friends — that she is preparing to run for president. She has done little to dissuade such talk.

At a house party Thursday night in Cheyenne, with the former vice president happily looking on under a pair of mounted leather chaps, the host introduced Ms. Cheney by recalling how another Republican woman, Senator Margaret Chase Smith of Maine, confronted Senator Joseph McCarthy when doing so was unpopular — and went on to become the first female candidate for president from a major party.

The attendees applauded at the parallel, as Ms. Cheney smiled.

In the interview, she said she was focused on her primary — and her work on the committee. But it's far from clear that she could be a viable candidate in the current Republican Party, or whether she has interest in the donor-class schemes about a third-party bid, in part because she knows it may just siphon votes from a Democrat opposing Mr. Trump.
There's no conceivable way she wins the Republican nomination for President. Even aside from the Trumper backlash, she doesn't have the personality. An independent or "3rd party" run would be unpredictable. I would think it would take more votes away from a Trumper Republican than from Biden or an alternative Democratic nominee but it's really unknowable this far out and without knowing the dynamics of the race.
She's certainly right here:
Ms. Cheney said she had no interest in changing parties: "I'm a Republican." But when asked if the G.O.P. she was raised in was even salvageable in the short term, she said: "It may not be" and called her party "very sick."

The party, she said, "is continuing to drive itself in a ditch and I think it's going to take several cycles if it can be healed."
We've written both parties off multiple times in the four decades I've been paying attention. Still, this is something different.
Ms. Cheney is surer of her diagnosis for what ails the G.O.P. than she is of her prescription for reform.

She has no post-Congress political organization in waiting and has benefited from Democratic donors, whose affections may be fleeting. To the frustration of some allies, she has not expanded her inner circle beyond family and a handful of close advisers. Never much of a schmoozer, she said she longed for what she recalled as her father's era of policy-centric politics.

"What the country needs are serious people who are willing to engage in debates about policy," Ms. Cheney said.
I'm not sure that's even possible in an era where the parties are as sorted and polarized as they are.
As to Cheney, her stance has obviously won some admirers but, again, it's not sure what good it'll do her since it's from people who fundamentally disagree with her on policy and therefore aren't going to vote for her.
Ms. Cheney long ago stopped attending meetings of House Republicans. When at the Capitol, she spends much of her time with the Democrats on the Jan. 6 panel and often heads to the Lindy Boggs Room, the reception room for female lawmakers, rather than the House floor with the male-dominated House G.O.P. conference. Some members of the Jan. 6 panel have been struck by how often her Zoom background is her suburban Virginia home.

In Washington, even some Republicans who are also eager to move on from Mr. Trump question Ms. Cheney's decision to wage open war against her own party. She's limiting her future influence, they argue.

"It depends on if you want to go out in a blaze of glory and be ineffective or if you want to try to be effective," said Senator John Cornyn of Texas, who has his own future leadership aspirations. "I respect her but I wouldn't have made the same choice."

Responding to Mr. Cornyn, a spokesman for Ms. Cheney, Jeremy Adler, said she was not focused on politics but rather the former president: "And obviously nothing the senators have done has effectively addressed this threat."

Ms. Cheney is mindful that the Jan. 6 inquiry, with its prime-time hearings, is viewed by critics as an attention-seeking opportunity. She has turned down some opportunities that could have been helpful to her ambitions, most notably proposals from documentary filmmakers.
If Cheney's desired reward is ensuring Trump never sits in the White House again, I think she's got a really good shot at receiving it. But her future in elected politics is doubtful at best.