Losing Our Religion
America's Protestants are dying off and being replaced by non-believers.
America's Protestants are dying off and being replaced by non-believers.
NYT ("Number of Protestant Americans Is in Steep Decline, Study Finds"): 
For the first time since researchers began tracking the religious identity of Americans, fewer than half said they were Protestants, a steep decline from 40 years ago when Protestant churches claimed the loyalty of more than two-thirds of the population.

A new study released on Tuesday by the Pew Forum on Religion and Public Life found that it was not just liberal mainline Protestants, like Methodists or Episcopalians, who abandoned their faith, but also more conservative evangelical and "born again" Protestants. The losses were among white Protestants, but not among black or minority Protestants, the study found, based on surveys conducted during the summer.

When they leave, instead of switching churches, they join the growing ranks who do not identify with any religion. Nearly one in five Americans say they are atheist, agnostic or "nothing in particular."
Now, the NYT headline overstates things a bit.
First off, it's not clear that the number of Protestants is in decline, steep or otherwise. What's in decline is the percentage of Americans who tell pollsters they're Protestant. That's a very different thing.
Second,  the decline isn't particularly steep. Even disregarding sampling error, the decline is pretty small: 53% in 2007, 52% in 2008, 51% in 2009, 51% in 2010, 50% in 2011, and 48% in 2012. That's a rather gradual decline.
The US population in 2007 was 302.2 million. It's now 314.5 million. Doing the math, then, we've gone from 160 million self-identified Protestants to 151 million.
Here are the year-by-year numbers for the past six surveys: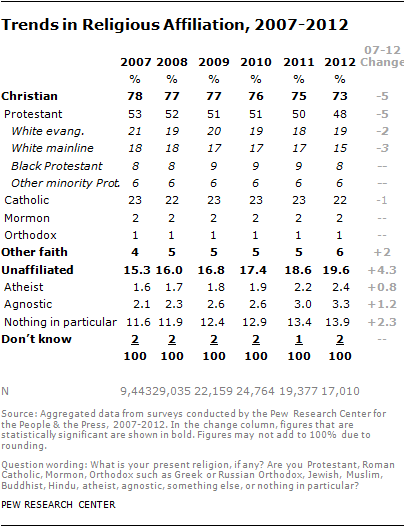 The longer term trend, going back four decades, is more revealing: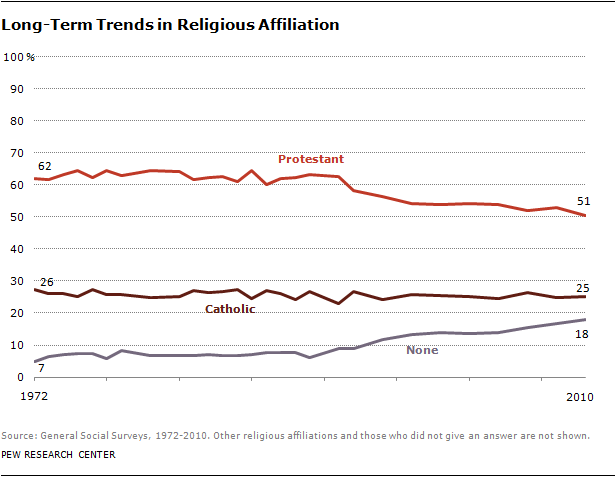 Three things stand out here. First, the 11 point drop in Protestant identification. Second, the fact that Catholic identification has remained essentially constant despite a massive rise in the percentage of Americans of Hispanic origin. Third, the near tripling of those who report no religious belief at all.
Here's Pew's analysis of the latter:
One important factor behind the growth of the religiously unaffiliated is generational replacement, the gradual supplanting of older generations by newer ones. Among the youngest Millennials (those ages 18-22, who were minors in 2007 and thus not eligible to be interviewed in Pew Research Center surveys conducted that year), fully one-third (34%) are religiously unaffiliated, compared with about one-in-ten members of the Silent Generation (9%) and one-in-twenty members of the World War II-era Greatest Generation (5%). Older Millennials (ages 23-30) also are substantially less likely than prior generations to be religiously affiliated.

But generational replacement is not the only factor at play. Generation Xers and Baby Boomers also have become more religiously unaffiliated in recent years. In 2012, 21% of Gen Xers and 15% of Baby Boomers describe themselves as religiously unaffiliated, up slightly (but by statistically significant margins) from 18% and 12%, respectively, since 2007. The trend lines for earlier generations are essentially flat. Not only are young adults less likely to be affiliated than their elders, but the GSS shows that the percentage of Americans who were raised without an affiliation has been rising gradually, from about 3% in the early 1970s to about 8% in the past decade. However, the overwhelming majority of the "nones" were brought up in a religious tradition. The new Pew Research Center/Religion & Ethics NewsWeekly survey finds that about three-quarters of unaffiliated adults were raised with some affiliation (74%).
Yet another chart: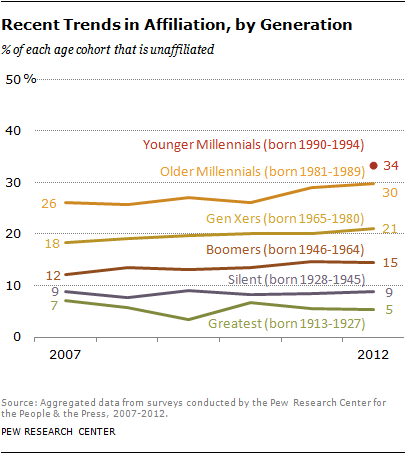 What's impossible to say here is how much of this decline in religiosity is real and how much is decreased stigma in being unaffiliated. My strong hunch is that much of it's the latter. People who have no religious belief no longer have a social push to lie to pollsters about it.
Part of the reason that the ranks of the unaffiliated have grown in recent years is that Americans who are not particularly religious – at least by conventional measures, such as self-reported rates of attendance at religious services – increasingly describe themselves as atheist, agnostic or "nothing in particular."

In 2007, 38% of people who said they seldom or never attend religious services described themselves as religiously unaffiliated. In 2012, 49% of infrequent attenders eschew any religious affiliation. By comparison, the percentage describing themselves as unaffiliated has been flat among those who attend religious services once a week or more often.
But there's some real change here, too. The Republican primary electorate notwithstanding, we're gradually becoming more European–throwing off our traditional, faith based culture for a more secular one. Most likely, that's a function of urbanization.
The continued growth of the religiously unaffiliated is one of several indicators suggesting that the U.S. public gradually may be growing less religious. To be sure, the United States remains a highly religious country – particularly by comparison with other advanced industrial democracies – and some measures of religious commitment in America have held remarkably steady over the years. The number of Americans who currently say religion is very important in their lives (58%), for instance, is little changed since 2007 (61%) and is far higher than in Britain (17%), France (13%), Germany (21%) or Spain (22%).8 And over the longer term, Pew Research surveys find no change in the percentage of Americans who say that prayer is an important part of their daily life; it is 76% in 2012, the same as it was 25 years ago, in 1987.

But on some other key measures, there is evidence of a gradual decline in religious commitment. In 2003, for instance, 25% of U.S. adults indicated they seldom or never attend religious services. By 2012, that number had ticked up 4 points, to 29%.

Similarly, the percentage of Americans who say they never doubt the existence of God has fallen modestly but noticeably over the past 25 years. In 1987, 88% of adults said they never doubt the existence of God. As of 2012, this figure was down 8 percentage points to 80%.

In addition, the percentage of Americans who say the Bible should be taken literally has fallen in Gallup polls from an average of about 38% of the public in the late 1970s and early 1980s to an average of 31% since.9 And based on analysis of GSS data, Mark Chaves of Duke University has found that Americans born in recent decades are much less likely than their elders to report having attended religious services weekly at age 12. Young adults are also less likely than older adults to report that when they were growing up, their parents attended religious services regularly.
The demography here shouldn't surprise anyone: the more education a person has, the less likely they are to be religious–although not by as much as one might guess. Similarly, the South and Midwest remain much more religious than the coasts.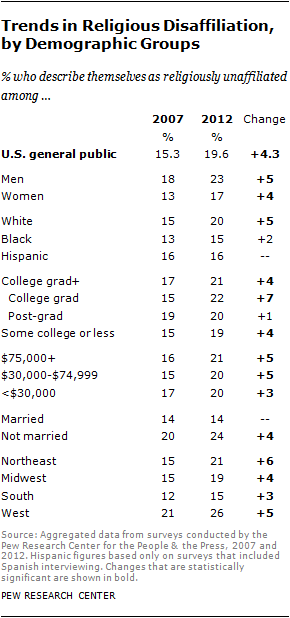 Protestant, Southern evangelicals have of course seen this all coming for decades. Jerry Falwell was talking about this in the late 1970s; it was the rationale behind the Moral Majority. It's why Southern Baptist preachers warn teenagers about to go off to college to be on their guard lest their liberal professors corrupt them.
The trendlines aren't good for their worldview. The most religious cohort was born between 1913 and 1927, followed by the cohort born between 1928 and 1945. The youngest of that cohort will turn 67 before the year is out.