Lou Dobbs Canceled
Fox Business has abruptly sidelined its most popular host.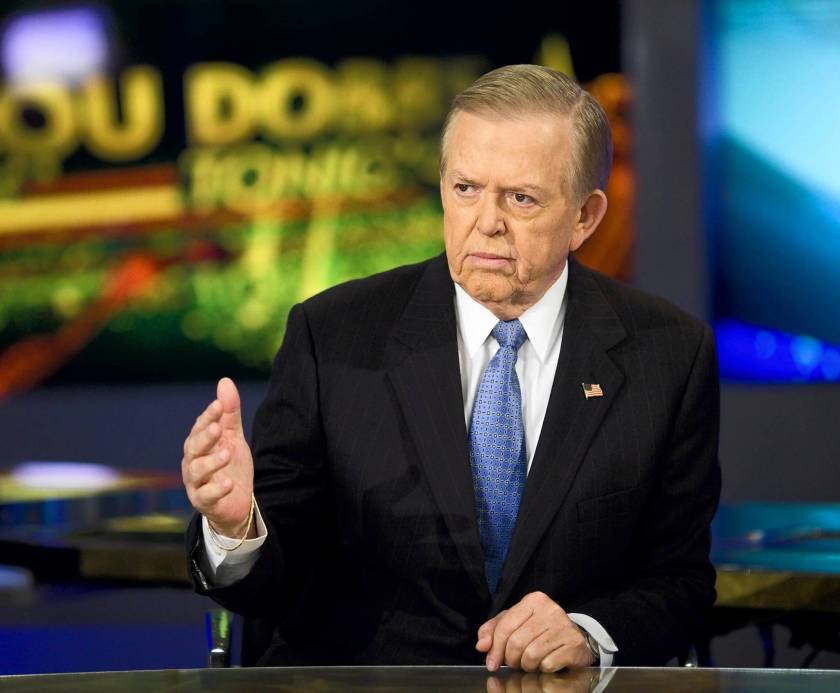 LA Times ("Fox News cancels Lou Dobbs' show; pro-Trump host not expected to be back on air"):
Fox News Media has canceled "Lou Dobbs Tonight," the program hosted by television's staunchest supporter of Donald Trump and of his assertions of voter fraud in the 2020 election, The Times has learned.

Dobbs' program, which airs twice nightly at 5 and 7 p.m. Eastern on the Fox Business Network, will have its final airing Friday, according to a Fox News representative who confirmed the cancellation. Starting next week, the program will be called "Fox Business Tonight," with rotating substitute hosts Jackie DeAngelis and David Asman, who filled in for Dobbs on Friday.

Dobbs, 75, remains under contract at Fox News but he will in all likelihood not appear on the company's networks again. In addition to his Fox Business Network program, he occasionally turned up on the Fox News Channel as a commentator.

The cancellation comes a day after voting software company Smartmatic filed a $2.7-billion defamation suit against Fox News and three of its hosts — Dobbs, Maria Bartiromo and Jeanine Pirro. The company claims the hosts perpetuated lies and disinformation about Smartmatic's role in the election, damaging its business and reputation.

But people familiar with discussions say the decision to end Dobbs' program was under consideration before the legal issues with Smartmatic arose. (Fox News said it stands by its 2020 election coverage and will "defend this meritless lawsuit in court.")

"As we said in October, Fox News Media regularly considers programming changes and plans have been in place to launch new formats as appropriate post-election, including on Fox Business," the representative said in a statement. "This is part of those planned changes. A new 5 p.m. program will be announced in the near future."

The network has been reevaluating its programming on Fox News and Fox Business Network since the fall and implemented a number of program and host changes in anticipation of President Biden's administration entering the White House.

Fox News recently hired former Trump economic advisor Larry Kudlow with the intention of giving him a daily program. The former longtime CNBC host immediately becomes a candidate to replace Dobbs on Fox Business Network.

Last month, Fox News shook up its daytime lineup and moved one of its high-profile news anchors, Martha MacCallum, out of her 7 p.m. Eastern time slot. Fox News has turned the hour into an opinion program with rotating hosts until a permanent one is named.

After leading in the ratings through most of 2020, Fox News had fallen behind CNN and MSNBC since the election, as conservative viewers have tuned out. The network's competitive position has improved in the last two weeks as the number of casual viewers that CNN often attracts in intense news cycles has begun to subside.

The decision on Dobbs — whose views are often incendiary — indicates that Fox News is considering the proper balance of commentary and news to satisfy conservative viewers, who turn to it as an alternative to so-called mainstream media outlets, while not alienating less ideological voters who make up a significant part of its audience.
NYT begins their report ("Lou Dobbs's Show Is Canceled by Fox Business"):
Lou Dobbs, one of former President Donald J. Trump's most loyal media supporters, abruptly lost his pulpit on Friday when Fox Business canceled his weekday television show, which had become a frequent clearinghouse for baseless theories of electoral fraud in the weeks after Mr. Trump lost the 2020 presidential race.

Mr. Dobbs's decade-long tenure at the network ended with little warning — a guest host filled in for his Friday slot — only a day after the election technology company Smartmatic filed a defamation lawsuit against Rupert Murdoch's Fox Corporation and Fox News.
And adds:
A person familiar with Fox's decision said the network's concerns about Mr. Dobbs predated this week's filing of the Smartmatic lawsuit. But the person, who requested anonymity to describe private personnel matters, conceded that Mr. Dobbs's extreme and unrepentant endorsements of Mr. Trump's false election claims had imperiled his position, as did other moments. For instance, on the day of siege at the U.S. Capitol, Mr. Dobbs described protesters as merely "walking between the rope lines."
And reminds us:
Mr. Dobbs, 75, rose to fame as a CNN anchor, becoming a mainstay of television business news. He began hosting his Fox program in 2011, lured by the network's co-founder Roger Ailes, and was watched by a soon-to-be-very influential fan: Mr. Trump, who shared Mr. Dobbs's right-wing values, particularly the anchor's hard-line stance against unchecked immigration.
And, while the lawsuit would on surface seem to be the main explanation, they report:
There are signs that the other hosts named in the suit, Ms. Bartiromo and Ms. Pirro, may be in a more favorable position with Fox management than Mr. Dobbs.

It was clear weeks ago that defamation suits from Smartmatic and Dominion could be imminent. Since then, Ms. Bartiromo was picked to audition for a new 7 p.m. program on Fox News, and Ms. Pirro debuted a new travel program, "Castles USA," on the Fox Nation streaming service, in which she visits castles around the country.
Still:
Don Herzog, who teaches First Amendment and defamation law at the University of Michigan, said it was possible that canceling Mr. Dobbs could aid Fox in its defense of the lawsuit. If Mr. Dobbs had continued to discuss Smartmatic or promote election fraud on his program, the network could have been liable for each new claim, Mr. Herzog said.

Fox officials could also argue that the lawsuit made them aware of untruths that Mr. Dobbs had helped spread. And in a trial atmosphere, the cancellation of Mr. Dobbs's program might help persuade jurors that the network was acting in good faith.
CNN, where Dobbs came to national prominence, begins their report ("Fox Business suddenly cancels 'Lou Dobbs Tonight,' its highest-rated show"):
Lou Dobbs, the longtime host of the signature right-wing talk show on the Fox Business Network, was canned by the network on Friday night.

"Lou Dobbs Tonight" is off the air, effective immediately, a Fox spokesperson confirmed. An interim show will take Dobbs' place at 5 and 7 p.m. Eastern starting Monday.

It was a head-scratching change by Fox Business, since Dobbs was its highest-rated host, albeit on a relatively low-rated network. He often doubled his lead-in's ratings, which is a rare feat in television.
But not really that head-scratching if this is true:
The pro-Trump propaganda bent juiced Dobbs' ratings. But his far-right programming choices repeatedly caused consternation within the company, a source close to the matter said, and his program was a loss leader for Fox because many advertisers didn't want to be associated with his content.
Regardless, one shouldn't feel too sorry for Dobbs:
The Los Angeles Times, which broke the news, said Dobbs "remains under contract at Fox News but he will in all likelihood not appear on the company's networks again."

This is something known in the TV business as "pay or play" — a network can opt to keep paying a host but not put them on TV, keeping them out of the hands of rival outlets.
If this is, as the LAT story hints, about branding and a desire to attract more moderate viewers, then it makes no sense to take Dobbs off the air but leave other conspiracy mongers. If it's about the lawsuit, as all the reports suggest, then it makes no sense to keep other named defendants on the air or even elevate their roles. If it's that, despite being the highest-rated show of its kind, they're losing money on it because advertisers aren't willing to be associated with it, it makes sense. But, then, I don't know why advertisers would be more willing to associate with other hosts peddling the same theories.