Loudoun County, Va GOP Sends Email Depicting Obama With Bullet Through His Head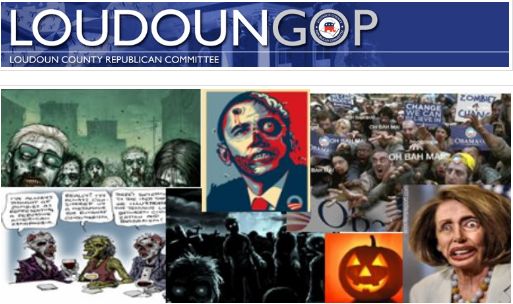 Apparently, this was someone's idea of a Halloween stunt:
The Republican Party of Virginia is strongly condemning an e-mail sent by Loudoun County's GOP committee that shows President Obama as a zombie with part of his skull missing and a bullet through his head.

"The disgusting image used today on a mass e-mail has no place in our politics. Ever," said Pat Mullins, chairman of the state party. "The Republican Party of Virginia condemns the image and its use in the strongest possible terms."

Gov. Robert F. McDonnell (R) called the e-mail "shameful and offensive," his spokesman Tucker Martin said. "He calls on those involved to apologize for their actions, and to immediately ensure that such imagery is never used again. The governor has long stressed the need for more civility and respect in our politics. An e-mail like this one undermines those goals, offends all Virginians and discredits our entire political process. It will not be tolerated."

The e-mail, first reported on the blog Too Conservative, has "Halloween 2011" in the subject lines and has several other images, including one of House Minority Leader Nancy Pelosi, whose face has been made to look deformed with one eye bulging out of its socket.

The e-mail invites supporters to a Halloween parade. "LCRC members and Republican candidates: We are going to vanquish the zombies with clear thinking conservative principles and a truckload of Republican candy…It's fun and a great way to represent our candidates to a ton of voters (and their kids) just before the election."

Mullins said the state party is in the process of contacting those who are responsible for the image and demanding that they stop using it and issue an apology.
At the very least.