Louisiana Reelects Democratic Governor John Bel Edwards
In what many are seeing as a rebuke of the President, Louisiana voters re-elected Democratic incumbent John Bel Edwards over his Republican opponent.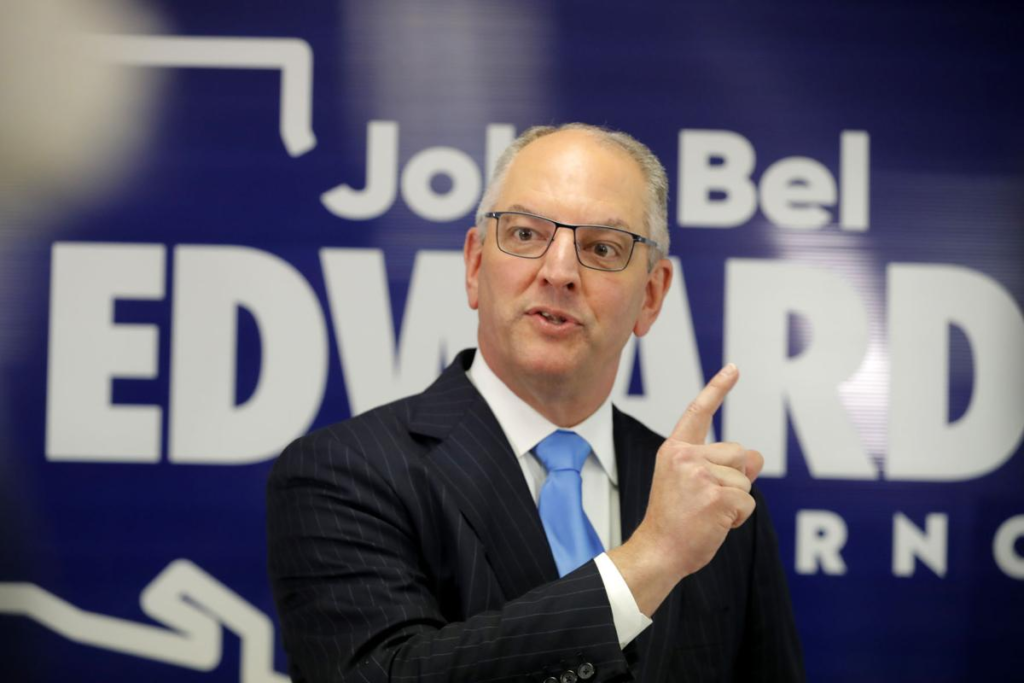 Republicans had invested heavily in yesterday's runoff election in Louisiana between incumbent Democratic Governor John Bel Edwards and Republican nominee Eddie Rispone, including two visits from President Trump in the last ten days and three overall during the course of the election. Despite that, the polling prior to the final stage of the election showed a close race between the two candidates, with Edwards maintaining a slight lead over political neophyte Rispone right up until the eve of the election. Given the fact that the Pelican State is a heavily Republican state, and factoring in the President's contribution to the get out the vote effort, though, many analysts thought that Rispone would pull off a win. In the end, though, Edwards ended up narrowly defeating his Republican opponent just as he had done four years ago:
Louisiana Gov. John Bel Edwards was elected to a second term on Saturday, overcoming opposition from President Trump and an increasingly polarized state electorate to hand Democrats their second major victory in a governor's race over the past two weeks.

Edwards, 53, was running against Republican businessman Eddie Rispone, 70, in a runoff election after neither candidate won an outright majority of votes last month.

The Associated Press declared Edwards the winner at about 10 p.m. local time. He defeated Rispone with about 51 percent of the vote, leading by roughly 40,000 votes out of more than 1.5 million cast.

"How sweet it is," Edwards told a crowd of cheering supporters at a victory rally late Saturday at the Renaissance Hotel in Baton Rouge.

Edwards said he had spoken with Rispone earlier in the evening. "We both agreed that the time for campaigning is over," he said, "and now our shared love for Louisiana is always more important than the partisan differences that sometimes divide us."

"And as for the president, God bless his heart," Edwards added mockingly.

\Edwards's victory is another setback for Trump, who traveled to Louisiana twice over the past month to campaign for Rispone and sent a series of tweets urging Republicans to vote. The president's popularity in the South has failed to prop up GOP candidates in two of the three states that held gubernatorial elections this year, allowing Democrats to gain governorships for the third consecutive year.

In Kentucky, Democratic Attorney General Andy Beshear unseated Republican Gov. Matt Bevin this month. In January, 24 of the nation's governors will be Democrats, up from 15 at the end 2017.

Rispone told supporters in a speech Saturday night he was disappointed to lose the race. He thanked Trump for coming to the state to help his campaign and called on the crowd to give the president a round of applause. "That man loves America and he loves Louisiana," Rispone said.

The Louisiana election caps off a grueling campaign in which Edwards, a relatively conservative Democrat, worked to prove his party could still lead a state that has continued to drift to the right in the Trump era.

Edwards was forced into a runoff with Republican challenger Rispone, who has made his allegiance to Trump a centerpiece of his campaign, after the governor failed to win a majority in Louisiana's bipartisan "jungle" primary last month.

Edwards received about 47 percent of the vote in the primary, with Rispone finishing second after he edged past the third-place finisher, Republican Rep. Ralph Abraham.

Throughout the primary campaign, Edwards expressed confidence that he could win a majority and avoid a runoff. But on the night before the Oct. 12 primary, Trump traveled to Lake Charles, La., to campaign for Rispone and Abraham, a move analysts said helped drive up Republican turnout.

The president made another pitch for Rispone on Saturday.

"Louisiana, 3 hours left, get out and Vote for @EddieRispone for Governor," he tweeted. "Lower taxes and much more!"

More from NoLa,com:
Democratic Gov. John Bel Edwards claimed a second term Saturday, winning a stunning victory in a heavily Republican state and beating back repeated attacks by President Donald Trump in a race closely watched nationwide.

Edwards defeated Republican businessman Eddie Rispone with about 51% of the vote, polling 40,341 ballots more than his opponent out of more than 1.5 million cast. Edwards received 774,469 votes and Rispone received 734,128, according to complete but unofficial returns. Slightly more than half, 50.7%, of the state's 2.97 million registered voters participated.

Appearing before a packed ballroom at the Renaissance Hotel in Baton Rouge, Edwards delivered a rousing victory speech, vowing to keep fighting to raise the minimum wage, close the gender pay gap and invest more in early childhood education, which he called his No. 1 priority in his second term. After defying the best efforts of Trump to oust him, the governor in his victory appearance only once mentioned him, saying, "as for the president, God bless his heart."

"Tonight, the people of Louisiana have chosen to chart their own path," Edwards said. "I have never been more hopeful that Louisiana's best days are ahead. Because we've proven what we can do when we put people over politics."

The governor dismissed the "partisan forces" of Washington, D.C., and listed his first-term accomplishments, like expanding Medicaid to cover about half a million working poor and giving public school teachers their first pay raise in a decade, all key planks of his reelection platform. Edwards said he thanked his opponent for putting himself up for public service when Rispone called to concede.

"You didn't just vote for me," Edwards told his supporters. "You voted for four more years of putting Louisiana first. You may have heard me say once or twice God will order our steps, but we have to move our feet. And you moved your feet to the polls."

(…)

Edwards campaigned for his first term promising sweeping changes to the way the state collects and spends taxes to curtail deficits and recurring service cuts. But it took three years of negotiations with a seemingly intransigent House Republican leadership before a compromise plan was put together with moderate Republicans that increased state sales taxes by about a half-cent and suspended tax exemptions until mid-2025.

(…)

Campaigning for reelection, Edwards liked to point out that the changes created a surplus and stabilized the budget to the point that Wall Street analysts approved. His opponents said the surplus was caused by Edwards' overtaxing the people of Louisiana.
It's worth noting here that, as with his victory four years ago, Edwards' win last night should not be seen as a sign that Louisiana is anywhere close to becoming a blue or purple state. Despite Edwards' win, which was just as narrow as his win over former Senator David Vitter four years ago, Republicans maintain full control over the state legislature, and also hold both of the state's Senate seats and all but one of its Congressional seats. Additionally, this is a state that President Trump won by 20 points in 2016 and which he will win easily again in 2020. Additionally, all of the other statewide elected offices in the state are held by Republicans. In other words, while the Governor may be a Democrat, it is still a heavily Republican state and likely to remain so for the foreseeable future.
Additionally, Edwards is far from being a typical national Democrat. He is pro-life, for example, and his support for that position can be seen in the fact that he supported and signed into law the state's recently adopted "heartbeat" bill that purports to ban abortion from the point that a fetal heartbeat can be detected, which is far earlier than the point of viability at which the precedent established in Roe v. Wade generally permits state regulation of the procedure. He is also strongly in favor of gun rights and has done little to push back on other conservative causes. He also hasn't touched some of the policies of his predecessor such as a generally successful school-choice program that has been criticized by teacher's unions. Finally, Edwards has benefited from the fact that the economy in the state has been fairly strong, which has allowed the state to get out of the fiscal hole that Jindal left it in when he left office four years ago. So, yes, Edwards is a Democrat but he's more in line with Joe Manchin than he is, say, Elizabeth Warren.
Despite all of this, the outcome is being seen as something of a political black eye for the President:
President Donald Trump campaigned hard in three conservative Southern states this fall, aiming for a string of gubernatorial wins that would demonstrate his political strength heading into impeachment and his own reelection effort.

The plan backfired in dramatic fashion.

The latest black eye came on Saturday, when Trump's favored candidate in Louisiana, multimillionaire businessman Eddie Rispone, went down to defeat. The president went all-in, visiting the state three times, most recently on Thursday. Earlier this month, Kentucky Gov. Matt Bevin lost reelection after a similar presidential effort on his behalf. Of the candidates Trump backed, only Tate Reeves in Mississippi won.

The losses raise questions about Trump's standing as he heads into what will be a grueling 2020 campaign. By throwing himself into the three contests — each in states that Trump won by double-digits in 2016 — the president had hoped to gain a modicum of political momentum at a perilous moment of his presidency.

Those close to the president argue that he can't be faulted for the Kentucky and Louisiana outcomes. Bevin was one of the country's least popular governors, while Rispone was a relatively unknown political newcomer who was facing a popular incumbent in Democratic Gov. John Bel Edwards. While the president can help, they contend, he can't always be expected to pull flawed candidates over the finish line.

But Trump attempted to turn each contest into a referendum on himself — especially Louisiana. Earlier this week, the president pleaded with rally-goers to dump Edwards.

"In two days, I really need you, but you really need you, to send a message to the corrupt Democrats in Washington," he said. "They are corrupt. They are crazy, crazy."

After the Kentucky defeat, the president added, much was riding on Louisiana.

"So, Trump took a loss," the president said, referring to Bevin's defeat. "So you got to give me a big win, please. OK? OK?"

Trump's activity in the Louisiana contest was particularly extensive: In addition to the rallies, he called into conservative radio stations on Rispone's behalf, recorded get-out-the-vote robocalls and videos, and sent out a stream of tweets savaging Edwards. On Saturday, the president wrote several tweets encouraging Louisianans to cast their ballots for Rispone.

Trump's political operation also invested heavily, with the Republican National Committee spending $2 million on the race. The president took a personal interest in the contest, quizzing aides and allies about developments.
The outcome of the Lousiana race, and the Governor's race in Kentucky, which ended late last week when Matt Bevin finally conceded the race, do certainly call into question the ability of the President to transfer his own support to support for other candidates in close races. However, I'm not sure that one can fairly characterize them as "rebukes" of Trump per se. In both cases, there are unique reasons that just as easily explain the outcome that doesn't require one to believe that we're seeing the signs of Republican voters turning against the President. In Kentucky, for example, we're dealing with a state that has elected Democrats to statewide seats several times in the past, the fact that the Democratic nominee was the son of a highly popular former Governor, and the fact that Governor Bevin was the most unpopular Governor in the country. In Louisiana, as I noted above, there's the fact that Edwards is not a typical Democrat and that a Democrat less conservative than he is probably would not be elected or re-elected in a state such as Louisiana.
That being said, the outcome in Louisiana, as well as some of the other races this month, does contain some warning signals that Republicans ought to be worried about. Last night, for example, the suburban areas around New Orleans, which are generally very Republican, had a strong pro-Edwards turnout that probably included many 2016 Trump voters who decided to vote for the Democratic Governor> This mirrors the results from the Governor's race in Kentucky and the state legislative elections in Virginia that showed Democrats doing very well in suburban areas that have been favorable to Republicans in the past. Last night's vote also showed a strong turnout for Edwards among the state's African-American voters, something that was missing in states like Pennsylvania in 2016 and which likely made a difference in the outcome in those states. If these trends continue into 2020, then the Trump campaign and the GOP generally could find themselves facing an uphill battle.