Madison's Defintion(s) of Republic
More on the whole "republic not a democracy" discussion.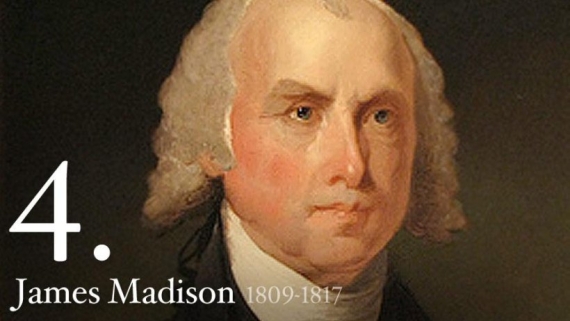 There is a constant and ongoing assertion in the public discourse (one that Rush Limbaugh, for example, is fond of, as are blog commenters) and it is: that we have a republic, not a democracy.
The assertion (which is typically delivered in ipse dixit fashion) I think is supposed to mean that we do not govern the United States by pure majority rule, although it is usually delivered not just to explain US governance, but typically to explain why a policy that the speaker/writer does not like is problematic even though it is in favor with a majority of the citizenry. There is also a vague sense, and sometimes a specific knowledge, that Madison used some language along these lines in the Federalist Papers (and this therefore means that that phrase is Founders Approved!).
Now, it is true that 1) we do not govern by pure majority rule in the US, and 2) Madison did make a distinction, in more than one place, between "democracy" and "a republic." The problem is, that there appears to be an incomplete understanding of that situation.
To wit:
1) There is no country in the world that is governed wholly by a simplistic and pure majority rule. Even the most majoritarian of systems (perhaps the UK's) has protections for minorities within their rules and laws and even with the the substantial powers afforded to majorities in Parliament, governing is never simply a case of checking the polls that day or just going whatever legislative majority want.
Further, most systems with elected governments (I will avoid the D-word for the moment) are not nearly as majoritarian as the British system, and have any number of institutional and legal barriers to pure majoritarian governance.
2) Yes, Madison did distinguish between democracies and republics, but not in the way that those who try to use the formulation in modern discourse seem to understand.
The fact of the matter is that the way Madison used the word "republic" is utterly synonymous, for all practical purposes, with the way we use the word "democracy" in 2011 (and have used it since roughly the mid-to-late 1800s and certainly since the early 20th century). That is to say that what Madison called a "republic" is a government where the citizens elect representatives to govern on behalf of those citizens for a set amount of time. This was contrasted with "democracy" (as the term was used by the ancient Greeks) which meant the people directly governing themselves. By that definition of the word "democracy" there are no democracies anywhere in the world.
If one doesn't believe my assessment of the situation, I give you James Madison.
First, in Federalist 10 he defined democracy thusly:
a pure democracy, by which I mean a society consisting of a small number of citizens, who assemble and administer the government in person
The above is what textbooks sometimes call "direct democracy" (note the word "pure"). And yes, it is clear that we do not have a society where "a small number of citizens…assemble and administer the government in person." Indeed, there is no country on earth that is called "democratic" that works this way—not even tiny Iceland with its population of ~300,000. Even they have elections to choose representatives.
In the same essay he describe a key feature of a republic:
A republic, by which I mean a government in which the scheme of representation takes place…
Ok, so, to Madison, a "republic" has something to do with representation, while a democracy has to do with direct governance.
He continues:
The two great points of difference between a democracy and a republic are: first, the delegation of the government, in the latter, to a small number of citizens elected by the rest; secondly, the greater number of citizens, and greater sphere of country, over which the latter may be extended.
Ok, so in a "republic" we see delegation of the power to govern, and that delegation takes place by having a small number of citizens elected to government by the rest of the citizenry.
I would note that in 2011, we call that the above "democracy" and not "republicanism."
Now, if you don't like Fed 10, there's always Federalist 14:
in a democracy, the people meet and exercise the government in person; in a republic, they assemble and administer it by their representatives and agents.
I am not sure if there is a clearer distinction than that: Madison was unambiguously speaking of direct democracies in small communities when he spoke of "democracy." And, clearly, no one is suggesting that that the US can or should be governed in such a fashion (or. really, that any modern country could be).
We can also throw in, for good measure, a bit from Federalist 39:
…we may define a republic to be, or at least may bestow that name on, a government which derives all its powers directly or indirectly from the great body of the people, and is administered by persons holding their offices during pleasure, for a limited period, or during good behavior. It is ESSENTIAL to such a government that it be derived from the great body of the society, not from an inconsiderable proportion, or a favored class of it; otherwise a handful of tyrannical nobles, exercising their oppressions by a delegation of their powers, might aspire to the rank of republicans, and claim for their government the honorable title of republic. It is SUFFICIENT for such a government that the persons administering it be appointed, either directly or indirectly, by the people; and that they hold their appointments by either of the tenures just specified…
Here we have a direct discussion of the notion that power derives from the citizens (i.e., basic popular sovereignty) and that the government should be selected by those citizens (i.e., via representatives).
I leave all this with two questions for discussion:
1. Do you, the reader, see any substantive differentiation between Madison's idea of a republic and contemporary usages of the word "democracy"? If so, how?
2. If you think the formulation "we have a republic, not a democracy" is a significant one in the contemporary senses of the term: why? And what are your definitions of the two terms? Given that, as I noted before, this formulation is often presented as some such of ironclad statement that proves a point, I am curious as to definitions (and therefore what point is supposedly proves).
Really, the answers to these questions are far more significant that parsing what Madison wrote, as interesting as that may be.
I will conclude with this: there are multiple ways to have this conversation. One is about pure history: what did Madison say, what did he mean, and how would his contemporaries have understood it? Another is more along the lines of contemporary political science: what do these terms mean now and therefore how do they relate back to usages in the past? Yet another is more ideological (and can take multiple meanings). I am trying to disentangle these.
To put my position in a few simple bullets:
In terms of contemporary usage, especially from a political science point of view, the formulation "we have a republic, not a democracy" is almost nonsense.
To say that the US has a democracy is not to say that we have, or should have, pure majority rule.
Indeed, no country called a democracy has simplistic rule by the majority.
Implicit in the concept of democracy, in a modern sense, is the notion of minority rights in the broader condition of majority rul.e
Whether one wishes to call the US a "republic" or a "democracy" there will be times when a sizeable minority does have to accept policy outcomes it doesn't like.
And, btw, I understand that inherent in this conversation are complexities like the structure of the Senate (equal representation of the states, the filibuster, and holds), questions about entitlement spending, and taxation. However, this post is already long enough, so I will stop here.
—–
More writings on this from me here (some of which is similar to the above, although presented in a different fashion):
Suggestions for further reading, if you are sincerely interested:
On the question of institutional constraints (or lack thereof) on majoritarianism, see Arend Lijphart's classic 1999 book Patterns of Democracy (Yale University Press).
On the question of the democracy v. republic debate see also the following:
Dahl, Robert A. 2001. How Democratic Is the American Constitution? New Haven: Yale University Press.
Dahl, Robert A. 1998. On Democracy. New Haven: Yale University Press.