MAGA Hats the New White Hood?
Wearing Donald Trump's famous campaign symbol creates a presumption of ill intent. Is that fair?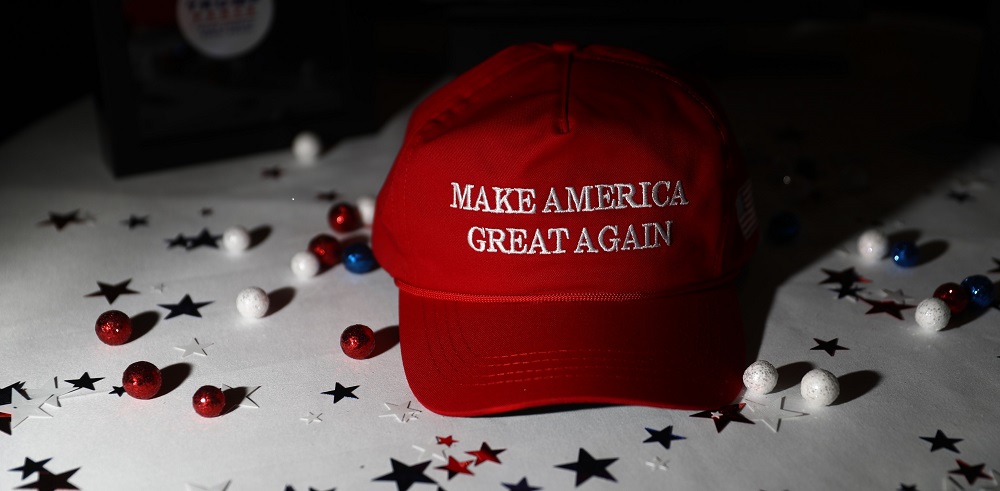 The recent brouhaha over a confrontation between a high school kid and a Native American activist has spawned dueling columns over the former's choice of headgear.
Rich Lowry, editor of National Review, writes "In Defense of the MAGA Hat."
For much of progressive America, the moment you pull on a red MAGA hat, you're suiting up for Team Racist. You're marking yourself out as a bigot and a goon. Your individuality doesn't matter anymore, only the cap.

If the kids had been wearing red Washington Nationals caps, the imbroglio might not have gotten any attention at all. Even if it had, many of those progressives who immediately took a critical view of the students might have been more inclined to view them as immature teenagers, rather than soldiers of hate.

As an analysis at Vox noted of the Covington incident, "The hats extinguished pretty much any benefit of the doubt a liberal observer might have given these kids."

Exactly.

Alyssa Milano notoriously tweeted, "The red MAGA hat is the new white hood." Which would be close to an apt analogy if people donned MAGA hats to carry out hideously violent crimes against African-Americans and other people uncongenial to them.

In a similar vein, TV writer and producer David Simon pronounced, "Once a campaign prop, a MAGA cap now fronts for such raw evil." He makes it sound like a red baseball cap with an embroidered American political slogan on the front is the equivalent of the totenkopf.

This is, to put it mildly, an uncharitable view of their fellow citizens, who voted by the tens of millions for the guy who invented the red cap.

It speaks to the marketing genius of Donald Trump that he managed to create not just a potent piece of campaign memorabilia, but a cultural marker that will forever be associated with this period of our national life.

The MAGA hat denotes support for him, yes, but also unapologetic patriotism and a certain boldness. In large swaths of the country, the hat is commonplace. The Covington kids go to school in a suburb of Cincinnati, Ohio, where support for Trump was strong in 2016; surely many of their parents, teachers, and priests voted for him.

In such places, the cap isn't widely considered a provocation, although it carries some risk wherever it is worn. People occasionally get assaulted for doing nothing other than wearing it.

And is that a surprise, if the cap symbolizes only one thing for the left? As Commonweal magazine columnist Mollie O'Reilly wrote of the Covington controversy, "You don't let your kid wear a MAGA hat and then act offended when they get taken for a racist."

Well, there's the minor detail that your kid might not be remotely racist. It should be incumbent on adults to realize, much though they hate Donald Trump, that not everyone who supports him or wears his political paraphernalia is a hater.
WaPo fashion critic Robin Givhan disagrees, contending, "The MAGA hat is not a statement of policy. It's an inflammatory declaration of identity."
In the beginning, the MAGA hat had multiple meanings and nuance. It could reasonably be argued that it was about foreign policy or tax cuts, social conservatism, the working class or a celebration of small-town life. But the definition has evolved. The rosy nostalgia has turned specious and rank. There's nothing banal or benign about the hat, no matter its wearer's intent. It was weaponized by the punch-throwing Trump rallygoers, the Charlottesville white supremacists, Trump's nomination of Brett M. Kavanaugh to the Supreme Court, Kanye West and proponents of the wall, the wall, the wall.

The hat has become a symbol of us vs. them, of exclusion and suspicion, of garrulous narcissism, of white male privilege, of violence and hate. For minorities and the disenfranchised, it can spark a kind of gut-level disgust that brings ancestral ghosts to the fore. And here, in 2019, their painful past is present.

The MAGA hat speaks to America's greatness with lies of omission and contortion. To wear a MAGA hat is to wrap oneself in a Confederate flag. The look may be more modern and the fit more precise, but it's just as woeful and ugly.

To wear the hat is to take on history and divisiveness. Because whatever personal meaning might be attached to the hat, the new broader cultural meaning overrides. It is too late to save the hat from this fate. And it's too soon to try to reclaim it and give it new life.

[…]

The hat is a provocation. Is its corrosiveness too much for high school students to understand? No. They have studied American history. They can sort through complex issues related to the Second Amendment, climate change and abortion to not only have an opinion but also organize to change the opinion of others. They are digital natives who understand the power of images. Armed with so much knowledge, it is, perhaps, a more jolting loss, a graver reality, when youth is wrecked by the acid hatred symbolized by a hat.

To deny the hat's message is to be in denial — not about a misunderstanding or an unfortunate incident, but a familiar, festering truth.
Givhan is unquestionably right.
It's not that Lowry is wrong. Indeed, he's surely right at the level of pure logic. It's almost certainly the case that many people wear the cap with perfectly benign intentions.
Yet, as with the Confederate battle flag, huge swaths of the country view the symbol as a direct insult, if not with fear for their safety. It is, therefore, a provocative act to wear such symbols. At very least, it undermines the ability one's ability to persuade others, which is ostensibly the point of public demonstrations.
Where I would quibble with Givhan is in her presumption that the students in question should have her nuanced understanding of history and the power of symbols. I almost certainly didn't when I was their age. These are white kids being educated in a religious school in a town of  2,645  residents, almost all of whom are likewise white. (Ironically, the second largest group there are American Indians, but they constitute 0.5% of the population.) It's not only possible but likely that they didn't comprehend how viscerally others would react to the hat.