MAGA Student Confronting Native American Veteran Story Fake News?
The longer video and deeper investigation of the incident reveals a very different story.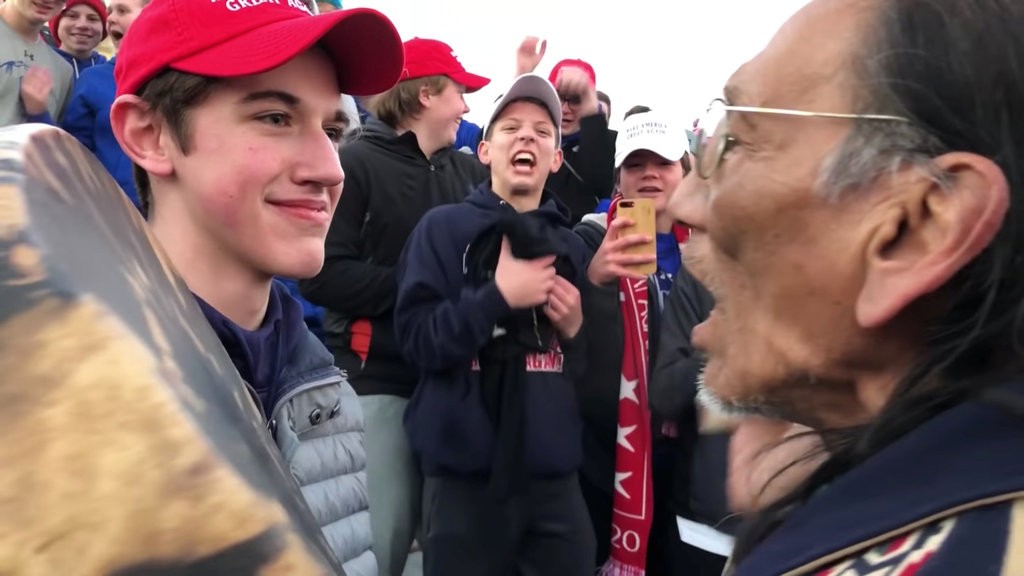 The recent outrage over a Catholic high school student wearing a Make America Great Again hat confronting an American Indian who was peacefully demonstrating is apparently misplaced.
NYT ("Fuller Picture Emerges of Viral Video Between Native American Man and Catholic Students"):
A fuller and more complicated picture emerged on Sunday of the videotaped encounter between a Native American man and a throng of high school boys wearing "Make America Great Again" gear outside the Lincoln Memorial in Washington.

Interviews and additional video footage suggest that an explosive convergence of race, religion and ideological beliefs — against a national backdrop of political tension — set the stage for the viral moment. Early video excerpts from the encounter obscured the larger context, inflaming outrage.

Leading up to the encounter on Friday, a rally for Native Americans and other Indigenous people was wrapping up. Dozens of students from Covington Catholic High School in Kentucky, who had been in Washington for the anti-abortion March for Life rally, were standing on the steps of the Lincoln Memorial, many of them white and wearing apparel bearing the slogan of President Trump.

There were also black men who identified themselves as Hebrew Israelites, preaching their beliefs and shouting racially combative comments at the Native Americans and the students, according to witnesses and video on social media.

Soon, the Native American man, Nathan Phillips, 64, was encircled by an animated group of high school boys. He beat a ceremonial drum as a boy wearing a red "Make America Great Again" hat stood inches away. The boy identified himself in a statement released on Sunday night as Nick Sandmann, a junior.

It was a provocative image that rocketed across social media, leading many, including the students' own school, to condemn the boys' behavior as disrespectful. But on Sunday, Mr. Phillips clarified that it was he who had approached the crowd and that he had intervened because racial tensions — primarily between the white students and the black men — were "coming to a boiling point."

"I stepped in between to pray," Mr. Phillips said.

In his statement, Mr. Sandmann said he did not antagonize or try to block Mr. Phillips. "I did not speak to him. I did not make any hand gestures or other aggressive moves," he said.

The encounter became the latest touch point for racial and political tensions in America, with diverging views about what really had happened.
Reason's Robby Soave is more matter of fact in his account ("The Media Wildly Mischaracterized That Video of Covington Catholic Students Confronting a Native American Veteran"):
Partial video footage of students from a Catholic high school allegedly harassing a Native American veteran after the anti-abortion March for Life rally in Washington, D.C., over the weekend quickly went viral, provoking widespread condemnation of the kids on social media. Various media figures and Twitter users called for them to be doxed, shamed, or otherwise punished, and school administrators said they would consider expulsion.

But the rest of the video—nearly two hours of additional footage showing what happened before and after the encounter—adds important context that strongly contradicts the media's narrative.

Far from engaging in racially motivated harassment, the group of mostly white, MAGA-hat-wearing male teenagers remained relatively calm and restrained despite being subjected to incessant racist, homophobic, and bigoted verbal abuse by members of the bizarre religious sect Black Hebrew Israelites, who were lurking nearby. The BHI has existed since the late 19th century, and is best describes as a black nationalist cult movement; its members believe they are descendants of the ancient Israelites, and often express condemnation of white people, Christians, and gays. DC-area Black Hebrews are known to spout particularly vile bigotry.

Phillips put himself between the teens and the black nationalists, chanting and drumming as he marched straight into the middle of the group of young people. What followed was several minutes of confusion: The teens couldn't quite decide whether Phillips was on their side or not, but tentatively joined in his chanting. It's not at all clear this was intended as an act of mockery rather than solidarity.

One student did not get out of Phillips way as he marched, and gave the man a hard stare and a smile that many have described as creepy. This moment received the most media coverage: The teen has been called the product of a "hate factory" and likened to a school shooter, segregation-era racist, and member of the Ku Klux Klan. I have no idea what he was thinking, but portraying this as an example of obvious, racially-motivated hate is a stretch. Maybe he simply had no idea why this man was drumming in his face, and couldn't quite figure out the best response? It bears repeating that Phillips approached him, not the other way around.

And that's all there is to it. Phillips walked away after several minutes, the Black Hebrew Israelites continued to insult the crowd, and nothing else happened.
Both stories contain links to the fuller video.
In all honesty, I don't much care whether one particular boy was a jerk in one particular instance. But I'm concerned about what the incident tells us about our current political culture.
Because almost everyone carries around smartphones with high-quality video recorders and the ability to instantly upload video to global media platforms, we have removed gatekeepers that once applied judgment to what constituted "news." Not very long ago at all, a kid who wasn't otherwise a public figure engaged in what may or may not have been a confrontation with another non-public figure simply wouldn't have been considered newsworthy. Or, if it were, editors would have demanded that reporters investigate the wider story, interview the students involved, and otherwise get a more complete picture before airing it nationally.
Instead, the old saw "A lie goes halfway around the world before the truth can get its boots on" has become amplified geometrically. And innocents who are not legitimately figures for public criticism get swarmed by the mob—often abetted, as it was in this case, by otherwise highly credible and honorable journalists.
Of course, in this particular instance, the virality was enhanced by the fact that the kid in question was wearing a hat associated with Donald Trump's presidential campaign. From the standpoint of the elite media—a term I use in its original, praiseworthy sense rather than with disdain—this is prima facie evidence that the wearer is a vile racist. And, why, he was at an anti-abortion rally on top of that.  He's obviously evil. In actuality, there's a pretty good possibility that this is a pretty good kid earnestly marching for his principles awkwardly caught in the crossfire of competing protests.
Realistically, there's no way to bring back the old gatekeepers. In many ways, I'm glad they don't have the power they used to. (Certainly, I've benefited considerably from the ability to self-publish both in the blogosphere and on Twitter.) But we need to figure out how to restore some of the old sensibility of reserving judgment before the facts are known. That's especially true when we're dealing, not with politicians and other public figures, but with ordinary citizens simply caught on video.