Majority of Americans Believe Trump Not Exonerated by Mueller Investigation
Another demonstration that evidence doesn't much matter in modern American politics.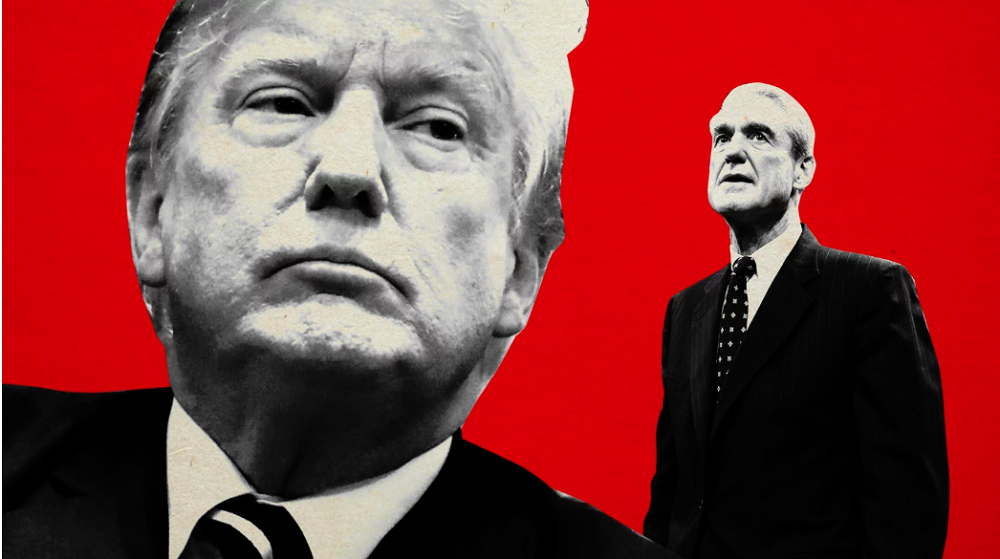 CNN ("CNN Poll: Majority says Trump not exonerated of collusion after Barr's summary"):
Though President Donald Trump has claimed "complete and total exoneration" based on Attorney General William Barr's summary of special counsel Robert Mueller's report on Russian interference in the 2016 election, the American public disagrees, according to a new CNN Poll conducted by SSRS.

A majority (56%) says the President and his campaign have not been exonerated of collusion, but that what they've heard or read about the report shows collusion could not be proven. Fewer, 43%, say Trump and his team have been exonerated of collusion.

Although Mueller could not establish Trump or his campaign "conspired or coordinated with" the Russian government, according to Barr's letter, the poll finds the American people continue to view the issue through partisan lenses.

Republicans and Democrats are on opposite sides of this question: 77% of Republicans say the President has been exonerated, 80% of Democrats say he has not. Independents break against exoneration — 58% say the President and his campaign were not exonerated.
Those who say they have heard or read "a great deal" about the report (about 23% of the public), however, are more apt to say the President has been cleared: 56% in that group say Trump and his campaign have been exonerated of any collusion, while 44% say it wasn't exoneration but that collusion could not be proven.

The 43% overall in the new poll saying the President has been exonerated is about the same as the 42% who said in a CNN poll earlier this year that Trump's campaign did not collude with the Russian government to help get Trump elected. That suggests the summary letter released Sunday did little to move public opinion on this matter.

And most feel the investigation ought not to end with that letter.

Nearly 6 in 10 Americans want to see Congress continue to pursue hearings into the findings of Mueller's report. Just 43% feel Congress ought to end the investigation completely following the release of Barr's summary of Mueller's findings.

Here too, partisan divides are deep. Nearly 9 in 10 Democrats (88%) say Congress ought to hold hearings, while just 17% of Republicans agree.
CBS ("Mueller report: Majorities across party lines want full report released, CBS News poll says") has similar findings:
More than 3 in 4 Americans, including majorities of both Republicans and Democrats, think the full Mueller report should be released to the public. But the partisan splits that have long marked the investigation remain even after it is done: Republicans say the report has cleared the president. Democrats are unconvinced and want their party in Congress to continue looking into the Russia matter, though most Americans overall feel they should drop it.

More (34 percent) feel the report has cleared the president of any illegal activity than explicitly feel it has not (23 percent) — but 36 percent think it's still too soon to say whether it has or hasn't. A large majority of Republicans say the report has cleared the president, yet few Democrats think so. Many feel it is too soon to say. These partisan splits look much like divisions that have existed throughout the investigation.
Quite.
What this demonstrates, yet again, is how fundamentally unpersuadable most Americans are on anything having to do with Donald J. Trump. Essentially, any poll regarding him is a popularity survey. The CNN results on collusion almost precisely mirror Trump's approval ratings.
Now, as it happens, I agree with the 56 percent who say Trump hasn't been exonerated. I accept the idea that, despite all that we know about interaction with high-level Trump associates meeting with Russian persons, there's simply not enough evidence to charge conspiracy. But that conclusion doesn't change my view of Trump, his campaign, or his presidency one iota.
There is wider consensus on the idea that the full report ought be released. But that's simply a matter of fairness. I'd bet quite a lot that public perception of Trump's guilt will be almost precisely the same once the fuller results are public.