Majority Of Americans Don't Believe In The Big Bang Theory
More bad news when it comes to scientific literacy.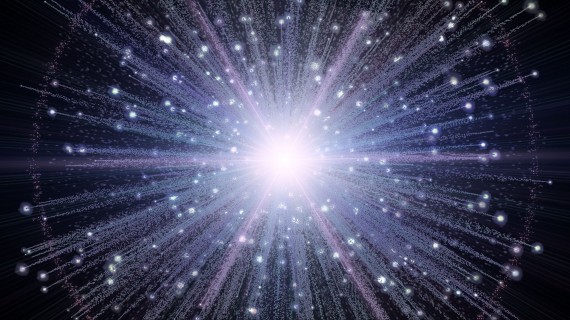 A new Associated Press poll has yet more depressing news for those of us already distressed about the appalling state of science education in this country:
A majority of Americans don't believe in even the most fundamental discovery of 20th century physics, which 99.9 percent of members of the National Academies of Sciences do: that our universe began with an enormous explosion, the Big Bang.

51 percent of people in a new AP/GFK poll said they were "not too confident" or "not at all confident" that the statement "the universe began 13.8 billion years ago with a big bang" was correct.

(…)

[T]he Big Bang question data was enough to "depress and upset some of America's top scientists," the AP said.

If so, they haven't been paying attention to the data about the scientific knowledge that Americans possess. The National Science Board (a part of the National Science Foundation) has produced an annual survey of American beliefs about science called the Science and Engineering Indicators since the 1980s.

Up until 2010, they asked the following question: True or false, the universe began with a huge explosion.

Since 1990, the number of people answering true to that question has bounced between 32 and 38 percent. (The number was anomalously higher in 1988, a discrepancy that they do not explain.)

Americans both seem to find the Big Bang confusing—I mean, it's not intuitive science—and to have faith-based conflicts with the scientific conclusions of cosmology.

On questions of evolution and the Big Bang, Americans respond scientifically at "significantly lower [rates] than those in almost all other countries where the questions have been asked," according to the 2008 version of the report.
It isn't just the Big Bang that the American public seems to doubt, but a whole host of rather basic scientific concepts: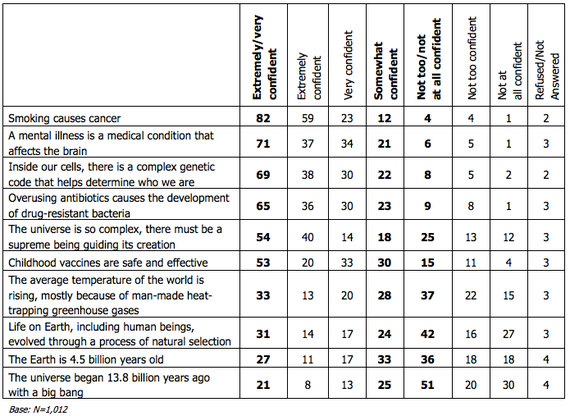 On some level, of course, polls like this aren't very relevant. Science, after all, is not a matter of majority opinion and the truths about Cosmology and Evolution remains as they are regardless of whether or not the majority of the American public "believe" in them or not. Additionally, it is arguably silly to ask people whether or not they "believe in" various scientific principles the same way we might ask a child if they believe in Santa Claus, the Easter Bunny, or the Tooth Fairy. Science isn't a matter of belief, and the important questions really are what, if anything people understand about the science that explains the world around them. It's not easy to capture that in a poll question, though, and as the writer at the link above notes there are some legitimate quibbles with the way that the poll questions were phrased here.
None of that is to say, though, that these are unimportant matters, though. It's vitally important to the extent that peoples opinions about, or knowledge of, these basic scientific ideas shape their views about public policy issues. These issues range include everything from what the proper policy responses to rising global temperatures should be, to whether or not pseudoscience such as "Intelligent Design" should be taught alongside Evolutionary Theory in public school classrooms. On a more basic level, though, it strikes me that it ought to be important for the citizens of an advanced nation in the 21st Century to at least have a basic knowledge of  science and what it has told us about where we came from and the universe we live in. In the end, that is a far more interesting story than some fable that starts with two naked people in a garden.