Majority Of New York City Democrats Want Weiner Out Of Mayoral Race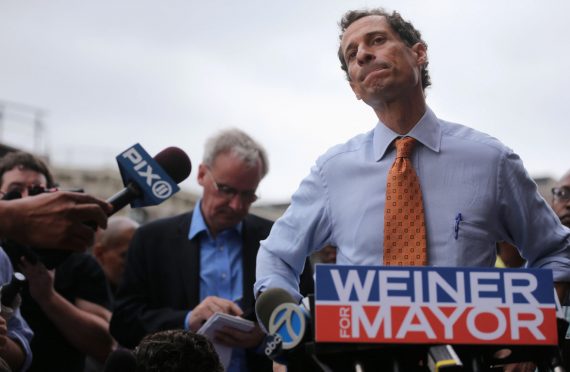 More bad news for Anthony Weiner:
(CNN) – It's time to drop out.

That's the message to Anthony Weiner from a majority of New York City Democrats likely to vote in September's mayoral primary, according to a new poll.

The Quinnipiac University survey, conducted entirely after Weiner admitted in a news conference last week to lewd chats a year after such sexting forced him to resign from Congress, also indicates that the Democratic New York City mayoral candidate's support among likely voters has dropped significantly.

By a 53%-40% margin, Democrats say Weiner should end his bid for a political second chance. The poll was conducted Wednesday through Sunday, following Weiner's Tuesday press conference. It's the second straight poll conducted since the latest controversy exploded across New York City to indicate that Weiner's numbers are plummeting.

According to the new poll, Weiner has dropped from first to fourth place in the race for the Democratic nomination. Weiner now has the support of 16% of likely Democratic primary voters, down 10 points from a Quinnipiac poll conducted almost entirely before last Tuesday's news. In that survey Weiner was at 26%, on top of the field of candidates.

The new poll indicates New York City Council Speaker Christine Quinn at 27%, Public Advocate Bill de Blasio at 21%, and former New York City Comptroller Bill Thompson at 20%, all ahead of Weiner. The remaining candidates are in single digits, with seven percent of likely voters undecided.

"With six weeks to go, anything can happen, but it looks like former Congressman Anthony Weiner may have sexted himself right out of the race for New York City mayor," said Maurice Carroll, director of the Quinnipiac University Polling Institute.
It certainly does.  Of course, few people thought there was anything rational about Weiner getting into the Mayoral race to begin with so it doesn't really follow that poll numbers like this are going to to cause him change his mind. Before he entered this race, he was sitting on a pile of cash from his Congressional days that he was able to transfer over to the Mayoral campaign. That, plus the matching funds that he qualified for, likely means he has enough to stay in the race until the September primary even if he does end up fading even further into the rear of the pack.