Majority Of Republicans, Tea Party Supporters Say Gingrich Is An Acceptable Nominee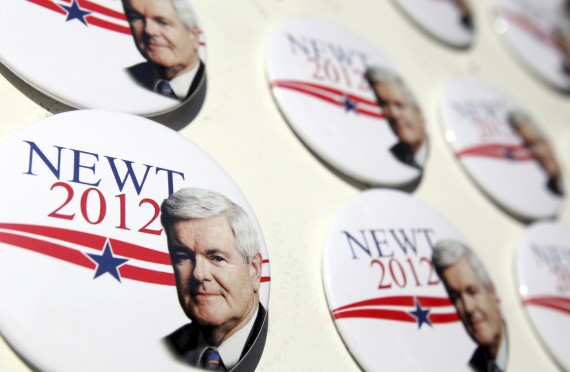 A new Gallup poll adds yet more detail to Newt Gingrich's surge into first place in the Republican race for President, revealing that Gingrich is viewed as by far the most acceptable candidate by Republicans and Tea Party supporters:
Newt Gingrich (62%) and Mitt Romney (54%) are the only two candidates Republicans say would be acceptable presidential nominees from their party, emphasizing the degree to which the GOP race has narrowed down to these two men at this juncture. A majority of Republicans say each of the other six candidates measured would not be acceptable nominees.

Republicans and Republican-leaning independents in Gallup's Nov. 28-Dec. 1 survey were asked to rate the acceptability of eight active GOP candidates. The "acceptable" responses range from Gingrich's 62% to 27% for Rick Santorum.

This is the first time Gallup has asked this question in reference to the 2012 election. More than half of Republicans nationwide now see Rick Perry and Herman Cain — both of whom previously led or tied for the lead in Gallup's measure of positive intensity and in Gallup's trial-heat ballots — as unacceptable nominees. These data were collected prior to Cain's Saturday announcement that he was suspending his campaign for the GOP nomination.
Here's how all the candidates measure up: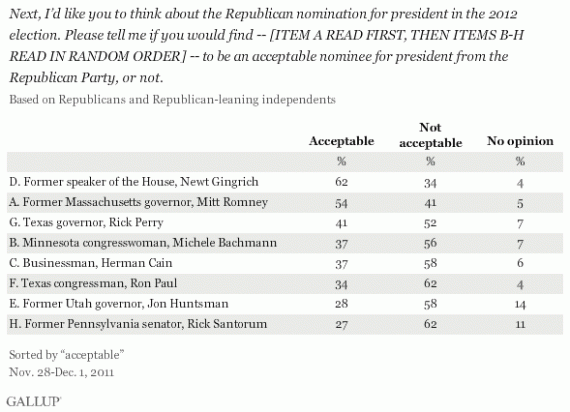 Perhaps more interesting is how the candidates fare among various GOP subgroups, especially Tea Party supporters:
Tea Party supporters — about 42% of Republicans in this sample — are at least slightly more likely to find six of the eight candidates acceptable compared with those who are not Tea Party supporters

Eighty-two percent of Tea Party supporters would find Gingrich acceptable as a nominee, making him by far their top choice on this measure. Importantly, Tea Party supporters are also more positive about Romney than are nonsupporters, putting him in second place behind Gingrich, with a 58% acceptable score. Michele Bachmann (52%) is the third candidate whom a majority of Tea Party supporters would find acceptable.

Conservative Republicans, about 70% of Republicans in this sample, don't differ much from all Republicans in their views of the candidates' acceptability. Moderate and liberal Republicans, however, are substantially less likely to say that Gingrich is an acceptable nominee than are conservatives, yielding a situation in which about equal percentages of moderate and liberal Republicans find Romney (51%) and Gingrich (48%) acceptable.

Moderate and liberal Republicans are more likely than conservatives to say Paul and Huntsman would be acceptable nominees — but in both instances, support for the candidates is still well below the majority level.
The irony of Tea Party supporters finding Newt Gingrich acceptable in such large numbers cannot be under-stated considering that the last 13 years of his professional and political career have essentially been antithetical to the stated principles of the Tea Party movement. Not that I actually thought the Tea Party movement actually cared about its principles, that is.