Majority of Under-30 Adults Live with Parents
Already-high rates have been exacerbated by the pandemic.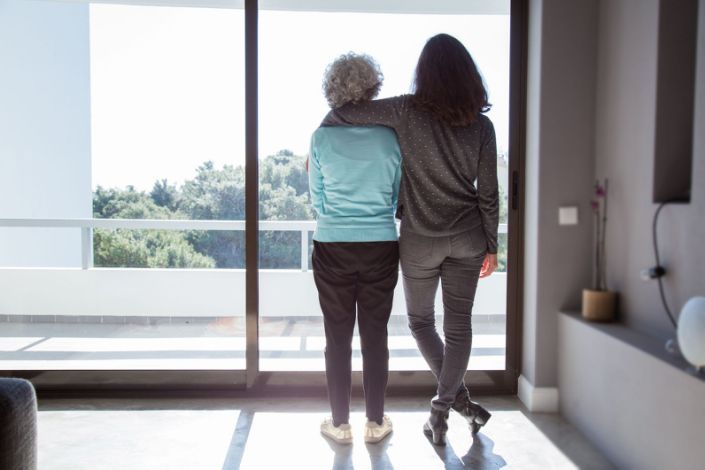 Pew ("A majority of young adults in the U.S. live with their parents for the first time since the Great Depression")
The coronavirus outbreak has pushed millions of Americans, especially young adults, to move in with family members. The share of 18- to 29-year-olds living with their parents has become a majority since U.S. coronavirus cases began spreading early this year, surpassing the previous peak during the Great Depression era.
My now-21-year-old stepdaughter moved in with us back in March, near the end of her junior year in college, because said college went online-only and it made sense to have her locked down with family support rather than alone three hours away in Philadelphia. But, while she's typical of the spike, the real story is much bigger.
In July, 52% of young adults resided with one or both of their parents, up from 47% in February, according to a new Pew Research Center analysis of monthly Census Bureau data. The number living with parents grew to 26.6 million, an increase of 2.6 million from February. The number and share of young adults living with their parents grew across the board for all major racial and ethnic groups, men and women, and metropolitan and rural residents, as well as in all four main census regions. Growth was sharpest for the youngest adults (ages 18 to 24) and for White young adults.
So, a change of five percentage points in five months is a lot. But the fact that 47% were living with their parents before the pandemic seems way more interesting than the fact that the pandemic pushed it up to 52%.
The share of young adults living with their parents is higher than in any previous measurement (based on current surveys and decennial censuses). Before 2020, the highest measured value was in the 1940 census at the end of the Great Depression, when 48% of young adults lived with their parents. The peak may have been higher during the worst of the Great Depression in the 1930s, but there is no data for that period.
Which is to say, the only data we had for the early period was the decennial Census. But it makes intuitive sense that the Great Depression forced a lot of young adults to move in with their parents.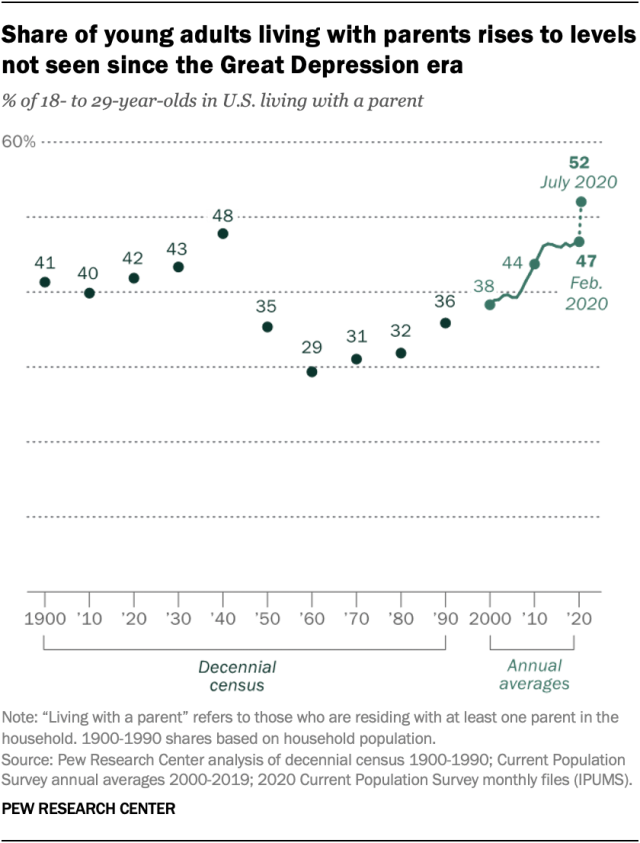 Multi-generational living was, in living memory, the customary arrangement. The so-called nuclear family (two parents and their children) is an outcome of the economic boom created by World War II (including the GI Bill, which allowed millions of veterans to go to college and/or get cheap home loans). We seem to have mostly reversed that trend in recent years.
Given that the cohort in question are those aged 18 to 29, I'm going to go out on a limb and suggest that very little of the movement is a function of aged parents moving in with their grown children. Rather, this is almost entirely young adults either delaying moving out (perhaps attending college while living at home) or being forced to move back in after losing a job, getting a divorce, or some other setback.
Young adults have been particularly hard hit by this year's pandemic and economic downturn, and have been more likely to move than other age groups, according to a Pew Research Center survey. About one-in-ten young adults (9%) say they relocated temporarily or permanently due to the coronavirus outbreak, and about the same share (10%) had somebody move into their household. Among all adults who moved due to the pandemic, 23% said the most important reason was because their college campus had closed, and 18% said it was due to job loss or other financial reasons.
Again, aside from whatever convenience factor may be involved, college-age kids moving home when campus gets closed isn't of particular concern to me. While the presumed trajectory is that they are out of the house for good, they are, for the most part, still financially dependent on their parents. Indeed, unless they're married, the Census counts them as living with parents even while away at school.
Working adults being forced to move back home because they can't support themselves financially, however, is much different. It's much more psychologically devastating, for one. And, of course, it's a generational phenomenon that has now hit twice in the last fourteen years.
These new living arrangements may have an impact not just on young adults and their families, but on the U.S. economy overall, reflecting the importance of the housing market to overall economic growth. Even before the outbreak, the growth in new households trailed population growth, in part because people were moving in with others. Slower household growth could mean less demand for housing and household goods. There also may be a decline in the number of renters and homeowners, and in overall housing activity. Between February and July 2020, the number of households headed by an 18- to 29-year-old declined by 1.9 million, or 12%. The total went from 15.8 million to 13.9 million.

The vast majority of young adults who live with their parents – 88% – live in their parents' home, and this group accounts for the growth in the population of adult children living with their parents. Nearly all of the remainder live in their own homes along with their parents, or in homes headed by other family members. These shares have been relatively stable for the past decade.

[…]

It is worth noting that in these Current Population Survey numbers, unmarried students who reside in on-campus college dorms are counted as living in their family home, so any increase in young adults living with parents this year would not be due to the pandemic-related closure of college dorms in the spring. [emphasis mine—while I knew this for reasons already stated, it's weirdly late in the story to point this out]

That said, there generally is a seasonal pattern to young adults living with their parents: The share tends to rise slightly in the summer, after college final exams. In 2019, for example, the share living with their parents rose by less than 2 percentage points in July compared with February. But this year, the increase was much sharper – more than 5 points.
The demographic and regional breakdowns here are interesting.
In past decades, White young adults have been less likely than their Asian, Black and Hispanic counterparts to live with their parents. That gap has narrowed since February as the number of White young adults living with their mothers and/or fathers grew more than for other racial and ethnic groups.

In fact, Whites accounted for about two-thirds (68%) of the increase in young adults living with their parents. As of July, more than half of Hispanic (58%) and Black (55%) young adults now live with their parents, compared with about half of White (49%) and Asian (51%) young adults.

Young men are more likely than young women to live with their parents, and both groups experienced increases in the number and share residing with mom, dad or both parents since the beginning of the coronavirus outbreak. Similarly, a higher share of young adults in metropolitan areas compared with rural ones live with their parents now, but the number in both areas grew from February to July.

By region, the number and share of young adults living with parents grew throughout the country. Growth was sharpest in the South, where the total rose by more than a million and the share increased by 6 percentage points, from 46% to 52%. But the Northeast retained its status as the region where the highest share of young adults live with parents (57%).
Basically, we're seeing regression to the mean: the groups more likely to be living with their parents naturally grew at a slower rate.
It's worth noting that those most impacted by this trend—whites, males, and Southerners—are those most likely to vote for Trump. No, I'm not suggesting causation. Rather, I'm wondering if this will have any impact on the election. The groups most supportive of the incumbent President seem to be the most hurt by his utter mismanagement of the pandemic.