Majority Supports Life In Prison Over Death Penalty, Poll Finds
A new poll finds that a strong majority of Americans support life in prison instead of the death penalty.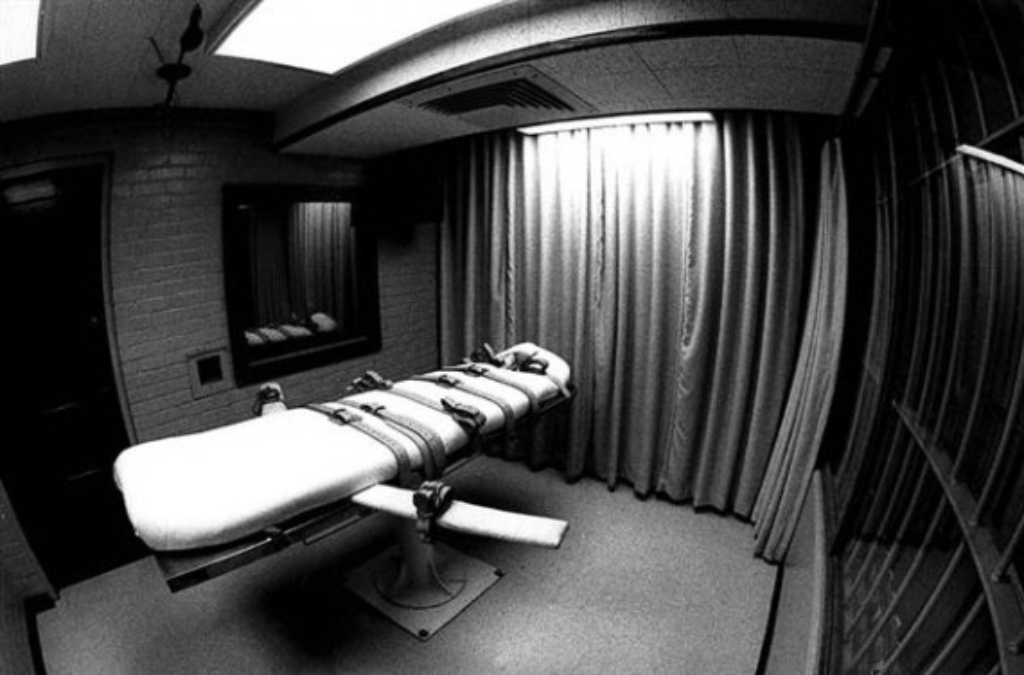 A new Gallup poll finds that a majority of Americans now support life in prison without parole over the death penalty:
WASHINGTON, D.C. — For the first time in Gallup's 34-year trend, a majority of Americans say that life imprisonment with no possibility of parole is a better punishment for murder than the death penalty is.

The 60% to 36% advantage for life imprisonment marks a shift from the past two decades, when Americans were mostly divided in their views of the better punishment for murder. During the 1980s and 1990s, consistent majorities thought the death penalty was the better option for convicted murderers.

The Oct. 14-31 survey was conducted before a Texas state court halted the scheduled execution of Rodney Reed in mid-November. A number of prominent politicians and celebrities joined legal activist groups in lobbying Texas officials to spare Reed amid new evidence that could exonerate him.
These new numbers come just five years after the Gallup poll found for the first time that more Americans supported life without parole than the death penalty, reversing a trend where public opinion regarding the two options was relatively even, as the chart below shows: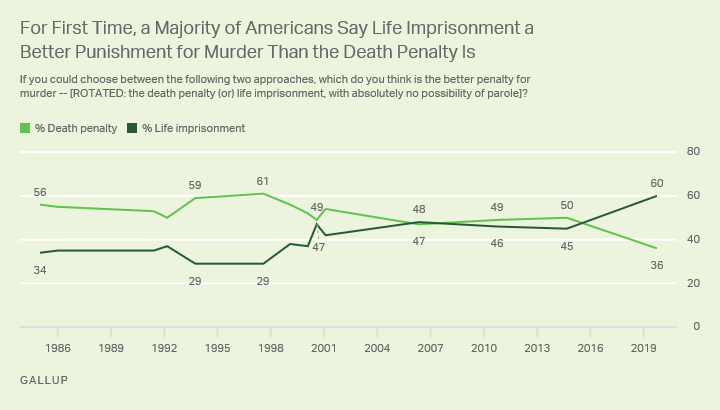 Even while the public prefers the option of life without parole over death, though, a more generic poll shows that a smaller majority continues to support the death penalty in and of itself without asking respondents to choose one option or the other:

Even as Americans have shifted to viewing life imprisonment without parole as preferable to execution, a majority still favor use of the death penalty, according to Gallup's long-term death penalty trend question, which was updated in an Oct. 1-13 poll. That question, first asked in 1936, simply asks Americans if they are "in favor of the death penalty for a person convicted of murder," without providing an alternative option. Currently, 56% of U.S. adults say they are in favor of the death penalty for convicted murderers in response to this question.

Support for the death penalty, as measured by the historical Gallup question, has been steady over the past three years. However, it is down seven percentage points from 2014, the last time Gallup asked the life imprisonment versus death penalty question.

The percentage in favor of using the death penalty has been lower than it is now, most notably during the mid-1960s through early 1970s. A 1966 survey found 42% of Americans in favor and 47% opposed to the death penalty, the only time more have expressed opposition than support.

Growing concerns about states' just application of their death penalty statutes led the Supreme Court to effectively impose a moratorium on the death penalty in the U.S. in 1972. Four years later, when support for the death penalty had climbed to 66%, the Supreme Court upheld revised state death penalty laws. Executions resumed in the U.S. in 1977.

At least six in 10 Americans favored the death penalty from 1976 through 2016, peaking at 80% in 1994, when crime was a top concern for Americans.
As this chart shows, though, public support for capital punishment in and of itself was far lower than it has been in the past:
INSERT GALLUP CHART TWO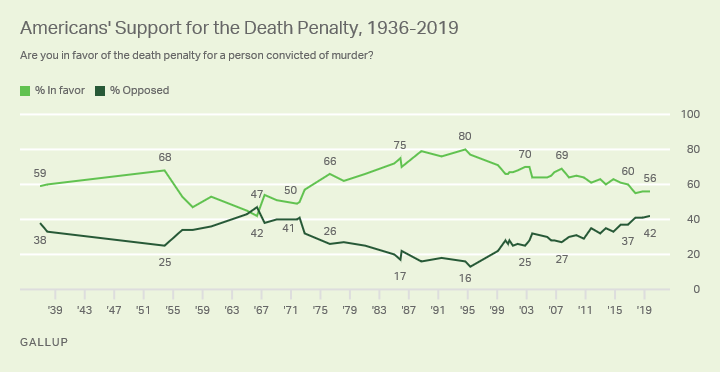 It's important to be clear about what we're seeing here. It's not so much that the American public is rejecting the death penalty or turning away from it on moral or other grounds, although the fact that the overall approval for capital punishment has declined over the past decade is certainly significant. Instead, we've now got a majority of people who say that they would rather see a murderer spend the rest of their life in prison than sent to death row, where they're likely to spend decades before getting anywhere near an execution date in any case. Thanks to either legislative action or court decisions, several states have already moved in this direction, with states such as New York and New Jersey, which had both revived the death penalty as a sentence after the Supreme Court's opinion in Gregg v. Georgia which ended what had effectively been a moratorium on the death penalty in the wake of the earlier decision in Furman v. Georgia, although neither state had ever actually executed anyone. Recent controversies in Ohio and Oklahoma over the procedures involved in execution by lethal injection have brought the issue back into the forefront, with some states going so far as to bring back more barbaric forms of punishment.
The interesting question, of course, is why we're seeing public support for the death penalty on the decline, and certainly far lower than it was as recently as ten or twenty years ago. One reason could be the fact that this period has also coincided with the rising use of DNA evidence in court and the number of times that groups such as The Innocence Project have been able to get people freed from prison, and in several cases from death row based on DNA or other evidence that either establishes their innocence or casts their conviction into significant doubt Additionally, there have been many examples of misconduct or mistakes by police and prosecutors that have resulted in innocent people going to prison. Finally, there have been cases such as that of Cameron Todd Willingham, who was put to death by Texas fo the arson-related deaths of his three children, a crime for which that he was most likely innocent as investigations after his execution determined.
Beyond these reasons, there could be something more basic at stake, namely the fact that Americans are beginning to recognize the fact that crime in general and violent crime particularly have declined significantly over the past quarter-century. The argument in favor of this argument, which Allahpundit advances in a post at Hot Air, can be seen in the fact that a Gallup poll from one year ago shows that public concern about crime has declined significantly over the past 20 years:
The argument is further bolstered by the fact that crime overall, and most especially violent crime has decreased significantly since the 1990s. As the chart at the top of the post shows, of course, that coincides with the fact that support for the death penalty was highest in the 1990s and has fallen, slowly but surely, over the past 25 years or so.
In addition to these arguments, though, it appears that what we're seeing in polls such as this is a cultural change that is starting to impact the political debate. Whatever the reason for it, and there is likely more than one explanation for the fact that Americans now prefer life without parole over the death penalty, This cultural change can be seen that even among self-identified Republicans support for the death penalty has decreased over the past five years, although this is the one demographic subgroup that still supports capital punishment over life without parole: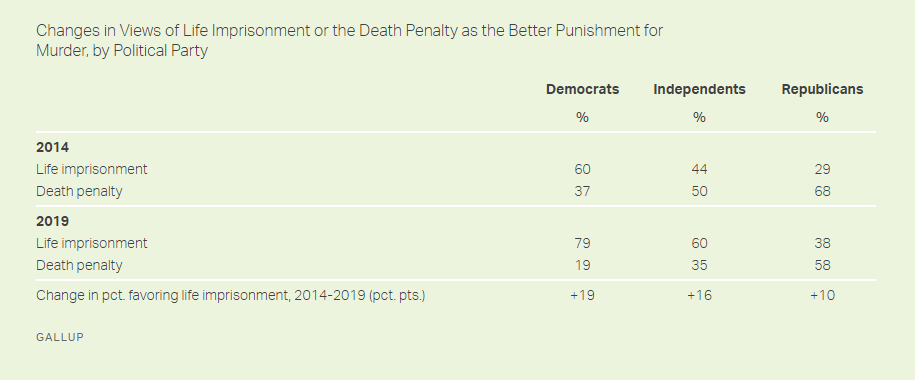 The big question, of course, is whether this will lead to changes in the law. Obviously, we're unlikely to see states like Texas abandoning the death penalty any time soon, but this change in public opinion could have a huge impact in states where the enthusiasm for execution isn't quite so gung-ho as it is in the Lone Star State such as Pennsylvania, Ohio, and others where executions have been far less common than they have in Texas, Oklahoma, and Virginia. Additionally, the ongoing problems that states are having obtaining the drugs used in executions, caused in no small part by the fact that the companies that make them are becoming less willing to sell them to the states for purposes of killing, is likely to slow the pace of executions nationwide for some time to come. Perhaps all of these factors combined will speed up the day that we finally put this unfortunate, barbaric, and immoral practice behind us.