Mal Moore, Alabama Football Legend, Dead at 73
Mal Moore, who was part of ten football championships at Alabama, has died at 73.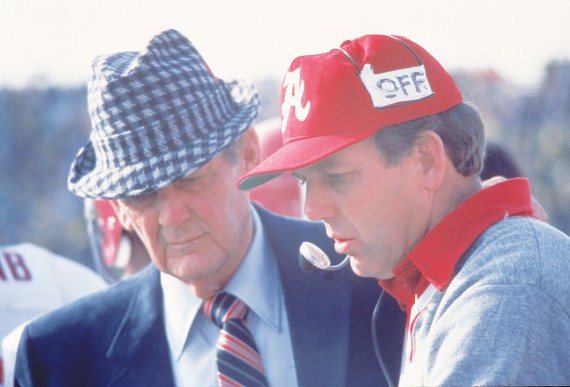 Mal Moore, who was part of ten football championships at Alabama, has died at 73.
ESPN ("Ex-Tide AD Mal Moore dies at 73"):
Former University of Alabama athletic director Mal Moore passed away on Saturday at Duke University Medical Center in Durham, N.C., the school announced. He was 73.

Moore was a part of Alabama athletics for five decades dating to his time as a backup quarterback under coach Paul "Bear" Bryant in the 1960s. He was a part of 10 national championships as a player, coach and administrator at UA.

Moore stepped down as the school's athletic director on March 20, citing poor health. He was struggling with a lung condition that required a lung transplant, according to new UA athletic director Bill Battle, who took the job just two days after Moore announced his resignation."

[…]

Moore coached running backs at Notre Dame for five seasons before becoming an assistant with the St. Louis and Phoenix Cardinals of the NFL. Like the coach he'd hire at Alabama, Nick Saban, he would look back on his time in the professional game as being out of place. He longed for the collegial atmosphere of Alabama and the personal relationships he was able to foster while there.

"I used to tell people nobody in St. Louis or Phoenix, nobody would ever come by to see us," he told ESPN's TideNation in late December. "You know why? Because nobody gives a damn. Here, brother, they love their university. It's important."

Moore was largely responsible for resurrecting the sleeping giant that was Alabama. When he signed on as director of athletics, the Crimson Tide football team hadn't won a championship in seven years. It took a few coaching searches — Mike Dubose, Dennis Franchione, Mike Price and Mike Shula never panned out — until he found his man in Saban. The two have built a dynasty in the years since Moore introduced Saban at a news conference when he said the new coach "signified a new era of Crimson Tide football."

"(He's) somebody that I have a tremendous amount of respect for," Saban said the day Moore stepped down as athletic director, "first of all for giving us the opportunity to come here to the University of Alabama, the great that he did in selling us on this university and what could be done here, then all the support that he's given to our program. He certainly deserves a tremendous amount of credit for any success that we have had because of the way that he sets the table and has served us so well. I think most things that you would stand here and look around here and see, he's had some hand in making all the athletic facilities what they are, I think first class in so many ways.

"More than that he's a class gentleman, probably as fine as you'll ever meet, and he's certainly been a good friend, and his support has certainly been appreciated."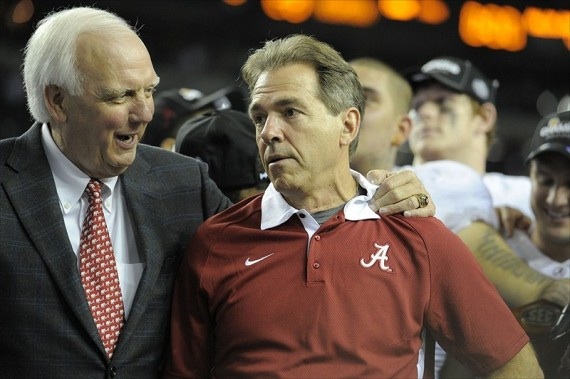 AL.com ("Former Alabama athletic director Mal Moore passes away at 73"):
During Moore's tenure as Alabama's athletic director, which began in 1999, the Crimson Tide won eight national championships and 19 SEC titles. More than $220 million was raised for the construction or maintenance of athletic facilities under Moore's watch.

Moore played football at Alabama from 1958-62 and served as an assistant coach for Paul "Bear" Bryant from 1964-1982. He also served as the Tide's offensive coordinator under Gene Stallings before moving into an administrative role within the athletic department.

As a player, coach and athletic director, Moore combined to win 10 football national championships.
My dad died three years ago from pulmonary fibrosis; it's a cruel way to go. As with my father, Moore's passing was not unexpected; you just don't recover when you start that last slide. When Moore stepped down as athletic director a few days ago, we knew it was coming.
His legacy at Alabama would have been impressive enough but, frankly, he'd be viewed much differently without the Saban hire and the extraordinary success that followed. The several bad (by Crimson Tide standards) years between Gene Stallings' departure and Saban's arrival on the scene had the alumni and fan bases in a tizzy; indeed, there were many calls for Moore's firing during those days. Three national titles later, Moore's place in the Alabama pantheon is secured.