Romney Was Never Really In Trouble In The Primaries
Looking back on the GOP nomination fight, it's rather obvious that the media overplayed the idea that there was ever a real race going on.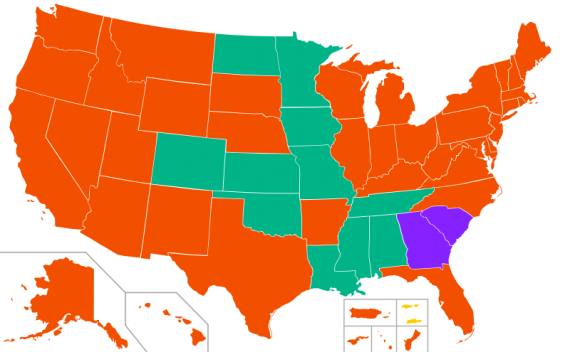 The above is a chart on the Wikipedia page for the results of the 2012 Republican primaries and represents the states won by each candidate. Mitt Romney's wins are orange, Rick Stantorum's are green, the two wins by Newt Gingrich in South Carolina and Georgia are purple, and the Virgin Islands are yellow representing Ron Paul's popular vote win there, though he lost the race for delegates due to the allocation rules.
The map, I think, speaks for itself, but the page also tells us that Romney received more raw votes than Santorum, Paul, and Gingrich combined and ended up with 65% of the delegates awarded.
It reminds me of all the coverage we endured from December through April that kept repeating the meme of how Romney was "in trouble" because of surges by Gingrich and Santorum. In reality, we see here that he was never really in trouble at all and it seems clear that the only reason that the primary fight lasted as long as it did is because of a combination of the primary schedule, which placed many primaries later on the calendar than they had ever been, and delegate allocation rules which meant it took longer for Romney to get to the "magic number" needed to secure the nomination. But a real race for the nomination? It seems pretty clear now that it never actually existed.
Indeed, it had been apparent since at least November once Rick Perry's candidacy failed to revive, that this was Romney's race to lose rather than any other candidate's race to win. In that regard, it's eminently clear in retrospect that Romney's primary campaign was incredibly well-run, well-funded, and well-organized. There really wasn't anyone in the race that had any realistic capability of matching him in that regard, and while candidates like Gingrich and Santorum could be bothersome on the campaign trail, and did help to slow down the time it would take for Romney to win the nomination, there was never any realistic chance that either one of them, or any of the other candidates were going to overtake Romney and win the nomination. The 2008 nomination fight was more in doubt than this one ever was.
Of course, it would have been boring for pundits and political reporters to point out the rather obvious, by March at least, fact that Romney had the nomination sewn up, so we got constant narratives about how the race was still competitive when it really wasn't. Heck, my own coverage of the race fed into that idea mostly because I was relying on the media reports. Maybe next time there's a primary fight, we'll keep this in mind and remember that just because the media says there's a fight that doesn't mean there really was one.
Update: To address a point that's being made in the comments, yes Florida was the big test for Romney and had he lost there the race would have gone off in an unknown direction. It's still possible that Romney's advantages in money and organization would have won it for him anyway, but it certainly would've been a tougher fight. However, just like McCain in 2008, Romney won Florida and the race was effectively over by then. The only difference this time, I submit, is that the primary calendar and delegate allocation rules mandated that it would take him longer to get to 1,141 than it might have otherwise. Additionally, the existence of SuperPacs meant that Santorum and Gingrich could stay in the race longer than they would have in a previous election cycle. Like I said, this was Romney's race to lose, and he won it in Florida.