Marcia Anderson Army's First Black Female 2-Star General
Marcia Anderson has become the first African American woman to be promoted to a two star general in the US Army.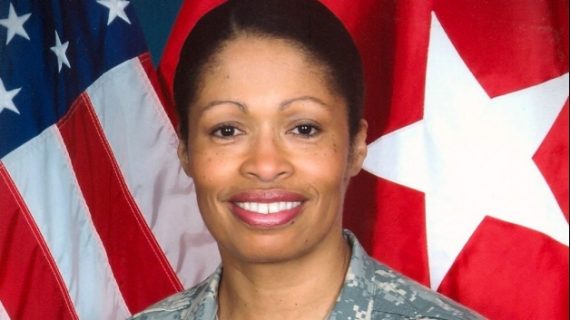 Marcia Anderson has become the first African American woman to be promoted to a two star general in the US Army.
AP ("US Army selects 1st black female 2-star general"):
For Marcia Anderson, the promotion from brigadier general to major general validates the work of everyone who came before her.

Anderson on Thursday became the first African-American woman given a second star as a general in the U.S. Army during a ceremony at Fort Knox. It's a day, Anderson said, that black soldiers who fought during the Civil War or the Tuskegee Airmen could never have imagined.

"But, they still signed up and served," said Anderson, who lives in Verona, Wis., when not on active duty.

Anderson, who will leave her post as deputy commanding general of the Human Resources Command at Fort Knox on Friday, received the promotion after a three-decade long military career. She is moving to the office of the chief of the U.S. Army Reserve in Washington, D.C.

Anderson's father, Rudy Mahan of Beloit, Wis., served in the U.S. Army Air Force during World War II, but never got to fulfill his dream of flying bombers. He drove trucks instead. It's something Anderson attributes to the narrow options available to blacks at the time.

"There were just limited opportunities," Anderson said in an interview after her promotion.

Her military career started almost by accident. When she was a student at Creighton University in Omaha, Neb., Anderson signed up for ROTC after being told the "military science" course would fill her science requirement.

"I pretty quickly found out it was much more than a substitute for gym class," Anderson said.

Ahe stayed with the military, fulfilling her eight year commitment before deciding to re-enlist in the reserves. Anderson, an East St. Louis, Ill., native, said she was a captain, working on training soldiers "just off the street," when it occurred to her it was a job she enjoyed and wanted to keep doing.

"Before there is a war fighter, there is a trainer," Anderson said. "I get really excited about training soldiers. I think it's the best job in the Army."
What's most interesting about this story is that we've come to the point where milestones like this are hardly newsworthy. (Indeed, only a handful of outlets have plucked this story off the AP wire as newsworthy as of this writing.)  We've had plenty of black generals; Colin Powell achieved the highest possible position in the United States armed forces, Chairman of the Joint Chiefs of Staff, way back in 1989. We've also had plenty of women generals since Anna Mae Hays, chief of the Army Nurse Corps, broke the ceiling in 1970. Ann Dunwoody became the American military's first female four-star in 2008. So, we're now at the point of crossover milestones.
None of this diminishes Anderson's personal achievement or diminishes the power of her family's story. It's just been a while since a black woman had reason to think that her gender or race were barriers to success in the American military.
The Army's press release has more on her background:
Those who attended today's proceedings were each "a witness to history," said Lt. Gen. Benjamin Freakley, commanding general of the U.S. Army Accessions Command and Fort Knox, who co-hosted the ceremony with HRC commander Maj. Gen. Gina Farrisee.  "We honor a leader, an officer, a lawyer, a wife, a mother and a grandmother — summed up, a great American," Freakley said.

[…]

Anderson's journey to becoming the Army's first female African-American major general was made up of things that were largely unplanned. "I firmly believe that we are never in control of very much," she said. "The most we can do is have a set of values and beliefs, and adhere to them as closely as possible." Anderson said she valued curiosity, tolerance and striving for excellence. "Be a lifelong learner. Accept people for who they are. Accept change because it is inevitable," she said. "Do not expect to be rewarded just because you show up on time, do what is expected of you and leave at the same time every day, because that is merely C-grade work."

Anderson said she learned from peers and senior officers what it means to be a good leader, and she incorporated their advice into her personal leadership style: "Good leadership is not about telling people what to do or how to do it — it is knowing how to listen, when to delegate, how to provide space and resources to your staff, making sure they get the praise for a job well done," she said, "and that YOU take the responsibility when a plan fails."

[…]
Anderson's background sculpted her into the personable, successful woman she is today.

Anderson attended an all-girl Catholic school in East St. Louis, Ill. It fostered excellence in young women that might be otherwise masked in a co-ed educational environment. "Going to an all-girl high school definitely formed part of who I am today. You weren't trying to impress any boys. Excellence was valued. You were just doing what everybody else was doing. You were trying to excel," she said. "The faculty every day encouraged you to excel, and you just did. There were a lot of great role models among the faculty — all very accomplished. They spent a lot of personal time with you." Anderson said that experiencing that type of support leads to fulfilling your role models' expectations. "You want to validate their faith and confidence in you, and it makes you excel," she said.

Family life, too, enhanced her search for knowledge. "You were encouraged to be more aware of the world around you and curious. I never grew out of asking, 'Why?' The news was part of my house every evening. My mother took me to the library every Saturday," Anderson said. Asking "Why are we doing that?" is still a big part of the way she does business, Anderson said.

As a child, Anderson was very shy. It was the Army that changed her. In her Reserve Officer Training Corps, or ROTC, course (which she only took to fulfill a science requirement), she was told, "Today, you're the platoon leader," and she had to starting talking to people. "You couldn't sit in the corner anymore and observe," Anderson said.

A milestone in her personal development — going from shy to outgoing — was when a professor of hers told Anderson that if you're giving the speech, you're the subject-matter expert. "You know more (about that subject) than anyone else in the room so don't worry about it," he said.  One by one, your life experiences make you who you are. "You just get better and better," Anderson said. "It's not about the grades you get in school. It's what you do with it AFTERWARD that counts."
So far, so good.