Marco Rubio Gains Support Of Top Republican Fundraiser
Marco Rubio has won the support of a top Republican donor and bundler, giving a much needed boost to his campaign.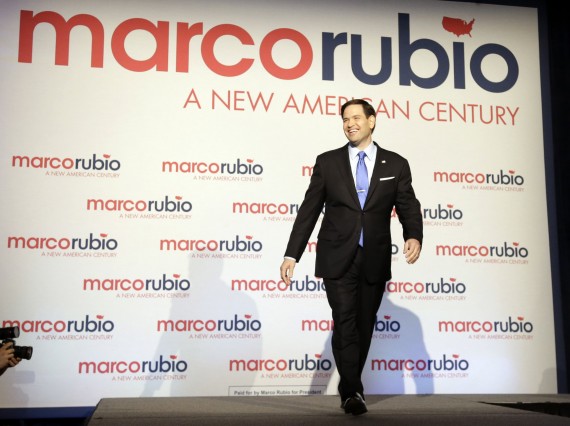 In what may be the first piece of post-debate good news his campaign receives, Florida Senator Marco Rubio has gotten the support of an influential Republican donor who seems likely to bring hundreds of other donors along with him:
One of the wealthiest and most influential Republican donors in the country is throwing his support to Senator Marco Rubio of Florida, a decision that could swing millions of dollars in contributions behind Mr. Rubio at a critical point in the Republican nominating battle.

The decision by the donor, Paul Singer, a billionaire New York investor, is a signal victory for Mr. Rubio in his battle with his rival Jeb Bush for the affections of major Republican patrons and the party's business wing.

It comes as a major blow to Mr. Bush, who is seeing his once vigorous campaign imperiled by doubts among supporters, and whose early dominance of the race was driven by his financial muscle. Mr. Bush and several other candidates, including Gov. Chris Christie of New Jersey, had competed fiercely for Mr. Singer's blessing.

In a letter that Mr. Singer sent to dozens of other donors on Friday, which was obtained by The New York Times, Mr. Singer described Mr. Rubio — who was elected to the Senate in theTea Party wave but has been embraced by the party's Washington elite — as the only candidate who can "navigate this complex primary process, and still be in a position to defeat" Hillary Rodham Clinton in a general election.

He praised Mr. Rubio's message of optimism about America's future, his work on the Senate Foreign Relations Committee and his ability to make a persuasive case to voters as key reasons to support him.

"He is accustomed to thinking about American foreign policy as a responsible policy maker," Mr. Singer wrote. "He is ready to be an informed and assertive decision-maker."

Alex Conant, a spokesman for Mr. Rubio, welcomed the endorsement, adding, "We know we have a lot of work to do before Marco wins the nomination, but clearly this moves us in the right direction."

Mr. Singer, who gave more money to Republican candidates and causes last year than any donor in the country, according to the Center for Responsive Politics, is courted by Republicans both for the depth of his own pockets and for his wide network of other conservative givers. He is known for his caution and careful vetting of candidates and, while passionately pro-Israel and a supporter of same-sex marriage, he is generally viewed as a donor who does not believe in litmus tests.

In recent years, he has frequently deployed his network to cultivate up-and-coming Republicans who he believes can help expand the party's demographic appeal. Among them are Representative Elise Stefanik of New York, the youngest woman ever elected to Congress, and Mr. Rubio himself, whom Mr. Singer backed early in his 2010 race when many of Mr. Singer's peers sided with Charlie Crist, then Florida's Republican governor — a moment that was seen as a turning point in the race.

The battle for Mr. Singer's support — which included months of behind-the-scenes lobbying by aides and appearances by candidates over the last year at dinners and breakfasts convened by Mr. Singer — underscores the growing clout of big donors in presidential elections, particularly this year, when "super PACs," and the wealthy donors who finance them, have moved to the center of the race.

But Mr. Singer provides something that some other coveted Republican donors do not. Unlike Sheldon Adelson, a fellow Republican billionaire and Israel supporter, Mr. Singer is an assiduous and effective "bundler" for candidates: In the 2012 campaign, he raised more than $3 million to try to help elect Mitt Romney, the eventual Republican nominee. Many other donors, particular in the New York financial world, turn to Mr. Singer's political advisers for strategic guidance on their own donations.

And Mr. Rubio, who struggled to raise campaign cash over the summer and has relied heavily on outside groups to pay for advertisements promoting him, needs their help.
Because of the network of donors that he has a proven history of being able to access, Singer's support was widely sought this primary season by candidates that went beyond just Rubio and former Florida Governor Jeb Bush:
Both Mr. Rubio and Mr. Bush eagerly sought Mr. Singer's backing, as did Mr. Christie, and all three have ties to the wealthy hedge fund manager.

Mr. Rubio has aggressively embraced the cause of wealthy pro-Israel donors like Mr. Adelson, whom the senator is said to call frequently, and Mr. Singer, who both serve on the board of the Republican Jewish Coalition, an umbrella group for Republican Jewish donors and officials. Mr. Bush has been less attentive, in the view of some of these donors: Last spring, he refused to freeze out his longtime family friend James A. Baker III, the former secretary of state, after Mr. Baker spoke at the conference of a liberal Jewish group.

The lobbying of Mr. Singer intensified in recent weeks as Mr. Bush's debate stumbles and declining poll numbers drove many donors to consider Mr. Rubio anew. Last week, Mr. Bush's campaign manager, Danny Diaz, and senior adviser, Sally Bradshaw, flew to New York to make personal appeals on Mr. Bush's behalf, in the hopes of heading off an endorsement of Mr. Rubio, according to two people close to the former governor's campaign.

But Mr. Singer had been leaning toward Mr. Rubio, and there was no single moment that convinced him, these people said. It was time to make his support known. Mr. Singer, according to people familiar with his thinking leading up to the endorsement, takes his time weighing an endorsement in presidential races, after making an early commitment to Rudolph W. Giuliani in the 2008 race and seeing his candidate falter.

In his letter to his donor network, Mr. Singer described Mr. Rubio as "the best explainer of conservatism in public life today, and one of the best communicators the modern Republican Party has seen. Marco Rubio can appeal to both the head and the heart."

Of the roughly 1,200 people who raised money or hosted fund-raising events for Mr. Romney in 2012, according to a New York Times analysis, about two-thirds had yet to give a donation to any of the Republican candidates through the end of September, the most recent disclosures available from the Federal Election Commission.
Grabbing the support of one Republican bundler is not, obviously, going to be enough for Rubio to become the contender that many observers seem to think he could become based on his two most recent debate performances. For one thing, there's no guarantee that the people that have been in Singer's network in the past will follow him to Rubio's banner this time around, or that they'll stay loyal to Rubio if evidence doesn't emerge that he is starting to break through the crowd to become a serious challenger to either Ben Carson or Donald Trump, who continue to lead the Republican field quite comfortably. For another, no matter important one thinks money is in a Presidential campaign, and it is obviously very important otherwise every candidate running in both parties wouldn't be seeking donations, it doesn't always translate into votes in primaries. There are plenty of examples in the past of candidates who had a lot of money or well-healed donors behind them who fell short when it came time for people to vote. The backing of Sheldon Adelson didn't help Newt Gingrich during the last cycle, for example, and the same can be said of the backing of Foster Fries for Rick Santorum. The most that such donors did for either candidate is extend the time they were able to stay in the race, but in neither case did the backing of a wealthy donor put them closer to actually winning the nomination. Way back in 1980, former Texas Governor John Connolly was very well-funded, in no small part due to his personal wealth, but he also failed to become a serious contender in a race that quickly boiled down to a battle between Ronald Reagan and George H.W. Bush. Steve Forbes spent more than $86 million in his run for the 2000 Republican Presidential nomination. Arizona Senator John McCain spent more than $58 million in his own failed bid in that same cycle. Mitt Romney raised and spent over $110 million in his first, failed, bid for the Republican nomination. Hillary Clinton's failed bid for the 2008 Democratic nomination cost over $250 million. And, perhaps most famously, Rudy Giuliani spent more than $65 million and won just a single delegate during what many had thought would be an unstoppable bid for the Republican nomination in 2008. So having a campaign with a lot of money behind it isn't necessarily a guarantee of success.
Notwithstanding those caveats, though, there's no denying that this is very good news for Rubio. As I noted yesterday, despite the fact that Senator Rubio has seen his poll numbers spike upward since the second debate in September, the fact that his campaign spent most of the summer in the shadows, among other things, meant that his fundraising for the most recently ended quarter was quite lackluster, and well behind the amounts raised by candidates like Jeb Bush, Ted Cruz, and even Ben Carson. With someone like Singer behind him, Rubio gets access to a lucrative network of big Republican donors that could get money into his campaign just when he's going to need it as we head into the months before voting starts in Iowa, New Hampshire, and elsewhere. In the end, of course, none of that may matter if Rubio isn't able to attract supporters, but he certainly isn't going to put together a winning campaign with access to the fund of donor base that Singer potentially gives him. In the most recent post-debate poll, which James Joyner wrote about this morning, Rubio remains in third place at 11%, and he's in third place in the poll averages with 9.6% at RealClearPolitics. It's far too early, though, to know if the most recent debate will have any impact on Rubio's numbers going forward. If he does continue to rise, though, it will be things like Singer's support and the network that he brings with him that will help the Florida Senator put together a campaign capable of competing over the long haul of the primary season.