Marco Rubio Opens Clear Lead In Florida Senate Race
During the summer it seemed like Governor Charlie Crist would be giving Marco Rubio a run for his money in the Florida Senate race, now it looks like Rubio is close to opening up what could be an insurmountable lead:
(Reuters) – Republican candidate Marco Rubio has opened a clear lead in a  Florida Senate race, becoming the latest "Tea Party" favorite to benefit from voter anger at Washington, a Reuters/Ipsos poll found on Wednesday.

Six weeks ahead of November 2 congressional elections, Rubio leads state Governor Charlie Crist, an independent, by 40 percent to 26 percent among likely voters, the poll found. Democrat Kendrick Meek trails at 21 percent.

The conservative Tea Party roiled Republican politics when a little-known candidate backed by the movement beat a veteran lawmaker in Delaware on Tuesday in the race to decide the Republican nominee for Senate in the November election.

The Tea Party is a loose-knit group of mostly Republicans concerned about reducing government spending and debt who are strong critics of President Barack Obama. The group is gaining support this election season.

Florida, like other states, has a large "enthusiasm gap" with Republicans far more motivated to vote in November than Democrats. The poll said 82 percent of Republicans said they are certain to vote, compared to 61 percent of Democrats.

Crist, a former Republican who turned independent, and Meek are likely splitting Democratic votes, according to the poll.

When voters were asked their choice between Rubio and Crist if Meek was not in the race, the contest is essentially tied — Rubio 46 percent, and Crist 45 percent.
So, unless the Democrats start abandoning Meek in droves, Crist's road to victory looks very hard indeed.
This result is mirrored in other polls of the race, which show a clear Rubio surge in the last several weeks: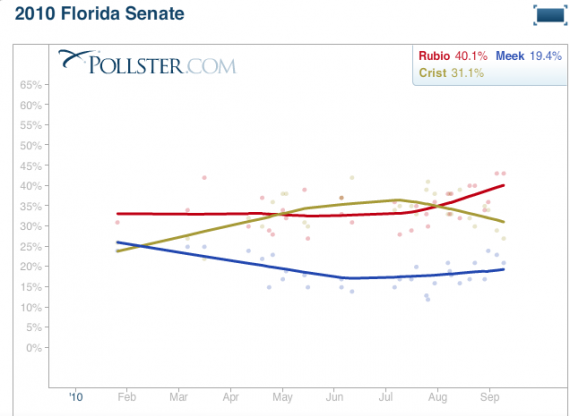 Absent significant change in the next month or so, Crist appears to be out of luck.