Marco Rubio's Olympian Tax Policy Pander
Marco Rubio wants to prevent these young women, and other Olympic medal winners, from paying taxes. It's a dumb idea.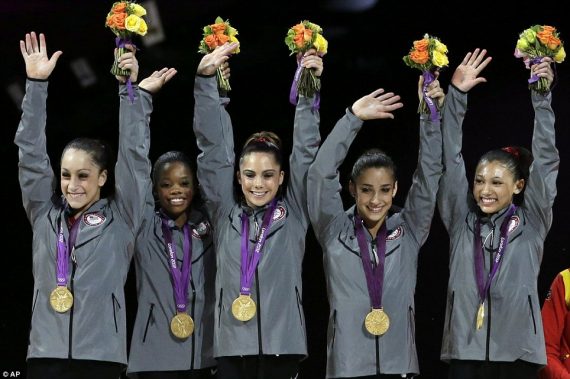 Reacting to the news that Olympic medalists are taxed on the cash prizes they receive as part of their Gold, Silver, or Bronze Medals, Florida Senator Marco Rubio is proposing that those winnings be exempted from taxation altogether:
In a move timed to coincide with the huge interest in the Olympic Games in London (and the upcoming election in November), Sen. Marco Rubio, R-Fla., has introduced a bill to waive taxes for the honorariums winning athletes get along with their gold, silver or bronze medals.

Besides a medal, winning athletes also get an honorarium: $25,000 for gold, $15,000 for silver and $10,000 for bronze. So for the Fab Five gymnasts who won Tuesday in London — McKayla Maroney, Kyla Ross, Aly Raisman, Gabby Douglas and Jordyn Wieber — that's a total honorarium of $125,000.

Americans for Tax Reform, a group that opposes tax increases, has calculated that an athlete's tax bill for winning a gold medal totals $8,936, including $8,750 based on a 35 percent tax on the honorarium, and $236 for the value of the medal. Based on that, the Fab Five would owe Uncle Sam $44,680 collectively.

(…)

Rubio, who's considered a possible running mate for GOP presidential candidate Mitt Romney, thinks the athletes should get an exemption, though.

"We need a fundamental overhaul of our tax code, but we shouldn't wait any time we have a chance to aggressively fix ridiculous tax laws like this tax on Olympians' medals and prize money," Rubio said in a statement to introduce the The Olympic Tax Elimination Act, or TEAM Act.  "We can all agree that these Olympians who dedicate their lives to athletic excellence should not be punished when they achieve it."
As a preliminary matter, we have to get one thing out of the way. The Americans For Tax Reform article I linked to in my post yesterday claimed that athletes would be liable for nearly $9,000 in taxes for a Gold, about $5,400 for a Silver, and just over $3,500 for a Bronze. This analysis is flawed, however, because it is based upon assuming that all Olympic medal winners would be subjected to the highest tax rate possible, currently 35%. As Politifact points out, that's most likely the case only for the top-tier athletes like Michael Phelps, the members of the 2012 Dream Team, and perhaps the female gymnasts due to endorsement deals they are likely to garner from their wins in London. The reasons are two-fold. First of all, the tax rates apply to taxable income, not gross income, so it's likely that many medal winners will find their taxable income pushed down to a tax rate that's lower than 35% after business expenses on Schedule C, deductions, and other applicable credits are taken into account. Secondly, as Politifact, points out, outside of the top tier athletes I mentioned above, Olympic medal winners don't necessary earn a lot of money. One member of the USA Track Team in the 2008 Olympics reported that his income was only about $25,000 a year, meaning that his tax rate on a medal prize would only be 15%.  Additionally when you're talking about the athletes with multi-million dollar endorsement deals, an additional tax of a few thousand dollars is hardly going to be noticed on their return. So, using the 35% rate to determine the tax rate on Olympic winnings does not give an accurate picture at all of what the potential tax liability will be for an Olympic medal, which is one reason I didn't quote that portion of ATR's article in my post yesterday.
What about Rubio's proposal to make all Olympic winnings tax exempt, though? Should we do that, and if so why? Rubio's argument seems to be purely emotional, which makes sense because that's all there is to support his idea. There's no economic argument in favor of treating any one kind of income (and pursuant to 26 U.S.C. 74, those medal winnings are as much taxable income as any other prize or award) different from another, for example. So Rubio's entire argument seems to be that it's unfair, or un-American, to make Olympic athletes pay taxes on medal winnings. As Conor Friedersdorf points out, though, what Rubio is proposing here is exactly the reason that the Internal Revenue Code has become the utter mess that it is:
[T]his is a perfect example of why the tax code is a complicated and burdensome mess. Guys like Rubio stumble upon a category of earning that they regard as being "different," whether because there are campaign contributions in it for them, or because it advances a larger ideological agenda or, as in this case, because the category of people being taxed are popular. This particular loophole accords with a widespread intuition that the prize money and medals from an Olympic victory are unlike "regular income" that is subject to routine taxes. It also plays on general antipathy toward the IRS. Many can probably imagine what it would feel like to win an Olympic medal, and feel that they'd be resentful if presented with a tax bill.

But these are bad reasons to create a special exemption. The fact is that prize money from athletic victories is income, and there is no good reason for the government to treat that income differently than the income of all the non-Olympic athletes who earn analogous types of income. Why should Olympic athletes be exempted from paying taxes on their prize money, but not professional golfers, or poker players, or winners of literary prizes, or folks who win the lottery?

(…)

[T]reating Olympic winnings as if they are singular and morally superior to other income, and even other prize income, cannot be justified, and least of all by someone who advocates tax code simplicity and objects to government picking winners and losers
Friedersdorf is precisely right here. There is no sound policy reason to treat Olympic winnings any differently than the money someone wins from the lottery or at the poker table. Under the law, they are both taxable income. Unless you want to exempt all awards and prizes from taxation, there's no reason to treat this situation any differently. More importantly, Conor's first point is really what matters here. It's been 25 years since we've really had a major round of "clean out the code" tax reform. Since then tax law has been manipulated by both Republicans and Democrats, with both sides adding and taxing away credits, exemptions, deductions and the like, all aimed at pandering to one political group or another. In Rubio's case, he's mostly just pandering to general anti-tax sentiment as well as the excitement of the Olympics to propose something that makes no sense whatsoever and which completely contradicts his previous statements about how we need comprehensive tax reform rather than just tinkering with the mechanics of the code. It's really quite pathetic.