Mariano Rivera Becomes First Unanimous Pick To Baseball Hall Of Fame
The best Relief Pitcher in Major League history has been unanimously inducted into the Baseball Hall Of Fame.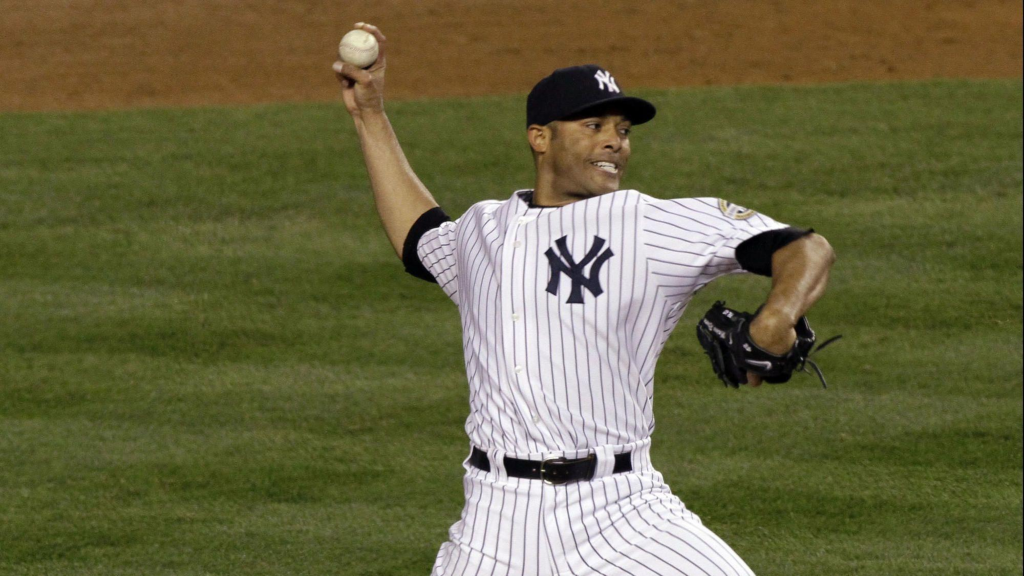 New York Yankees Relief Pitcher Mariano Rivera, who retired back in 2013, has become the first Major League Baseball player to be unanimously elected to the National Baseball Hall of Fame:
Mariano Rivera, the career saves leader whose elegant efficiency helped the Yankees win five World Series, on Tuesday became the first player ever elected unanimously to the Baseball Hall of Fame.

Two other right-handed pitchers, Roy Halladay and Mike Mussina, also were elected, Halladay on his first try and Mussina on his sixth. Edgar Martinez, the longtime Seattle Mariners designated hitter, gained entry in his 10th and final year on the ballot. Halladay, a former ace of the Toronto Blue Jays and the Philadelphia Phillies, died in a plane crash in 2017.

Rivera was named on all 425 of the ballots cast by members of the Baseball Writers' Association of America, eclipsing the previous record percentage, 99.3, by Ken Griffey Jr. in 2016. Halladay and Martinez both received 85.4 percent of the votes, and Mussina — a stalwart for the Baltimore Orioles and the Yankees — 76.7 percent. Candidates need 75 percent for election.

"After my career, I was thinking that I had a shot to be a Hall of Famer," Rivera said on a conference call with reporters. "But this was just beyond my imagination. I was amazed the way all this has been, through my whole career — and this being the pinnacle of every player that plays the game of baseball, to be unanimous."

The players will be inducted to the Hall of Fame on July 21 in Cooperstown, N.Y., along with designated hitter Harold Baines and reliever Lee Smith, who were passed over by the writers but were elected by a smaller committee last month.

(…)

Rivera, 49, signed with the Yankees from Panama in 1990 for a $3,500 bonus. He reached the majors five years later and started 10 games; the last batter he faced as a starter was Martinez, who singled home a run in the fifth inning against him on Sept. 5, 1995, knocking Rivera from the game and sending him to the bullpen forever.

It was a perfect fit. Rivera thrived as a setup man in the Yankees' 1996 championship run and took over as the team's closer in 1997, the year he discovered his devastating cut fastball, which broke hundreds of bats with its hard, late movement into the hands of left-handers. Rivera remained the closer through his retirement in 2013, compiling 652 saves with a 2.21 earned run average, the lowest in baseball history for anyone born after 1889 (and with a minimum of 1,000 major-league innings).

Rivera was even better across his record 96 postseason games, with a 0.70 E.R.A. and 42 saves — matching his uniform number. He was the last player to regularly wear No. 42, which is retired across Major League Baseball for Jackie Robinson.

Rivera was so prolific that M.L.B. named an award after him to recognize the American League reliever of the year.
It was always clear, of course, that Rivera would be inducted into the Hall of Fame in his first year of eligibility given the fact that he stands far and above any other relief pitcher in the history of Major League Baseball. Indeed, his postseason record alone would seem to have been sufficient for him to pass even the stringent test of the Baseball Writers Association that is primarily responsible for deciding eligibility in a player's first several years of eligibility. The only question was how many ballots Rivera would get selected on, something that has been a point of consternation among players and fans in the past. Before now, no other player — including such legendary players such as Jackie Robinson, Stan Musial, Ted Williams, and countless others — has been unanimously elected by all of the writers eligible to cast ballots notwithstanding that many of them were quite clearly deserving of such an honor. The closest that any player has come before this was Ken Grffey Jr., who was inducted with 99.32% of the ballots cast in 2016. Before that, the record was 98.84% of all ballots back in 1992. In between those two votes, there were plenty of other players who arguably deserved a unanimous vote but didn't get it. In many respects, it seemed as if the members of the BBWA were being stubborn and refusing to grant a unanimous vote to anyone no matter how well-deserving they were. Perhaps now they'll put that dumb tradition aside now that they've finally gone and done what they should have done for other players in the past.
Leaving aside that controversy, congratulations to Mariano Rivera on a well-deserved honor!