Marilyn Monroe Was NOT a Size 12!
It's often said that 1950s sex symbol Marilyn Monroe was a size 12. It just isn't so.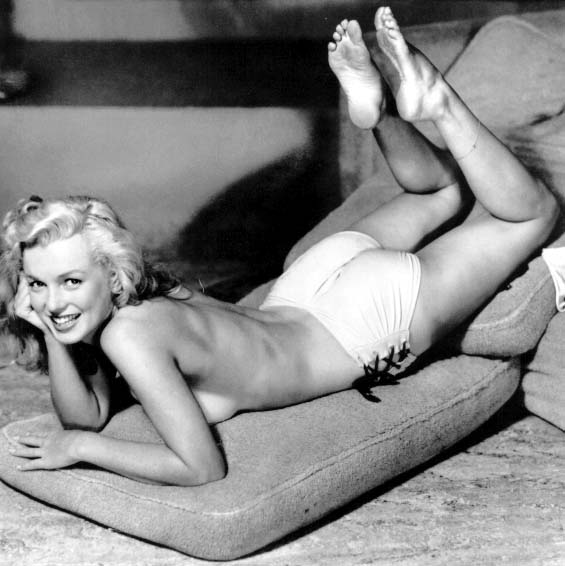 It's often said that 1950s sex symbol Marilyn Monroe was a size 12. It just isn't so.
Virginia Postrel, Bloomberg ("Hollywood Auction Ends Myth of Zaftig Marilyn"):
We should never again hear anyone declare that Marilyn Monroe was a size 12, a size 14 or any other stand-in for full-figured, zaftig or plump. Fifteen thousand people have now seen dramatic evidence to the contrary. Monroe was, in fact, teeny-tiny.

[…]

In fact, the average waist measurement of the four Monroe dresses was a mere 22 inches, according to Lisa Urban, the Hollywood consultant who dressed the mannequins and took measurements for me. Even Monroe's bust was a modest 34 inches.

That's not an anecdote. That's data.

The other actresses' costumes provided further context. "It's like half a person," marveled a visitor at the sight of Claudette Colbert's gold-lame "Cleopatra" gown (waist 18 inches). "That waist is the size of my thigh," said a tall, slim man, looking at Carole Lombard's dress from "No Man of Her Own" (a slight exaggeration — it was 21 inches). Approaching Katharine Hepburn's "Mary of Scotland" costumes, a plump woman declared with a mixture of envy and disgust, "Another skinny one."

The pattern she noticed was real. At my request, Urban took waist measurements on garments worn by 16 different stars, from Mary Pickford in 1929 (20 inches) to Barbra Streisand in 1969 (24 inches). The thickest waist she found was Mae West's 26 inches in "Myra Breckinridge," when the actress was 77 years old.

Waist sizes are easy for the general public to notice and understand. Trained eyes find other patterns that can only emerge when costumes are examined together, rather than treated as individual icons based on who wore them.
While this is fascinating and does indeed provide hard data to combat a myth that's somehow persisted for years, it's not like we don't know what Monroe looked like. She was, after all, in quite a number of movies and was probably the most photographed women of her day. Her iconic figure is thus well documented and preserved for posterity. How anyone could look at those images and conclude that she was soft, much less chubby, is beyond me.
via Glenn Reynolds