Marine Commander Threatens Entire Division
Maybe there was a better way to get his point across?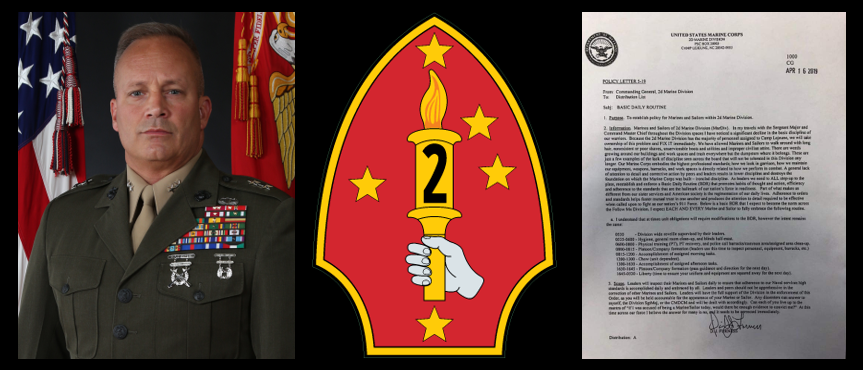 This week, the Commanding General of Camp Lejeune's storied Second Marine Division issued a "policy letter" to the Marines and sailors of the division. Actually, "rant" is a more accurate term. There must have been a better way to focus his unit on adhering to standards than this.
Major General Dave Furness bemoaned the "significant decline in the basic discipline" of Marines and sailors of the Division, evidenced by their "long hair, nonexistent or poor shaves, unserviceable boots and utilities and improper civilian attire" as well as "weeds growing around [2nd MarDiv] buildings and work spaces and trash everywhere but the dumpsters where it belongs." He sees these anecdotal observations as evidence of a general cataclysmic breakdown in discipline and purports to remedy it by prescribing a standard "Basic Daily Routine" for all 2nd MarDiv units, prescribing actions to be taken all the way down to the platoon and company formation — 3-4 levels of command beneath his own. He challenges "dissenters" to "answer to [the Division Commander], the Division SgtMaj, or the [Command Master Chief, a Navy senior enlisted member who is the SgtMaj's Navy counterpart for Corpsmen and other assigned enlisted Navy personnel].
There's certainly nothing wrong with a commander challenging his unit to raise their standards and to live up to traditional metrics of professionalism and performance. But I wonder if this policy letter, with its bullying tone and micromanaging prescriptions, is the right way to go about this business. First, the letter practically screams his predecessor was incompetent, because discipline definitely got bad on his watch. Now LtGen John Love, the US Military Representative to NATO, in Brussels, his predecessor in command, may be surprised to have woken up Thursday morning finding himself thrown under the 2nd MarDiv bus. Second, traditionally, Marine standards are enforced through personal example and holding junior commanders accountable. When I was a new 2ndLt at 2nd MarDiv in 1993, legendary LtGen Paul Van Riper was the Division CG. He had a similarly exacting standard for garrison discipline, but he didn't enforce it through blustery policy letters — he enforced it by calling his regimental and battalion commanders on the carpet for allowing low standards in their units when he spotted problems, like improperly maintained vehicles and equipment, patterns of misconduct in units and unit areas, and messy or disheveled unit areas.
Finally, 2nd MarDiv has been ridden hard and put away wet since 2003, when it mounted out for Operation Iraqi Freedom. Its battalions and regiments have been constantly deployed to Iraq and Afghanistan, as well as shipboard, Special MAGTFs, and about 1000 other taskings, ever since. No 2nd MarDiv unit has failed in combat operations, and the Marine Corps' civilian and military leadership have said over and over the Marines of OIF and OEF have met and exceeded the standards of their predecessors from prior conflicts.
Interestingly, another friend, whose name will not be attributed here, told me today he was an underclassman at VMI when Furness assumed Regimental Command of cadets in about 1986. Furness' first act was to issue an edict that the recently graduated seniors had set terrible standards for the VMI Corps of Cadets, and that he was there to fix it, as only he could. It seems Furness has only one leadership tool in his toolbox, and he recycled his tactless 1986 approach 33 years later. I shall hereafter call it the "Furness Indispensable Man Technique."
I am not suggesting garrison standards are not important — in fact, they are the foundation of military discipline that manifests in combat effectiveness, and there is nothing wrong with enforcing standards. But a policy letter browbeating your unit, setting platoon routines and tactitly besmirching the reputation of your predecessor is probably not the best way to get there. It will be interesting to see how the Commandant and the three stars handle this issue — do they treat it as well-meaning intemperance and an opportunity to mature as a leader, or do they punish MajGen Furness for breaking the unwritten code of omerta of Marine general officers by making his last promotion his last promotion?