Marion Barry, Four-Term Mayor Of Washington, D.C., Dies At 78
For better or worse, Marion Barry was a fixture in D.C. politics for much of the 40 year period of home rule that began in 1975.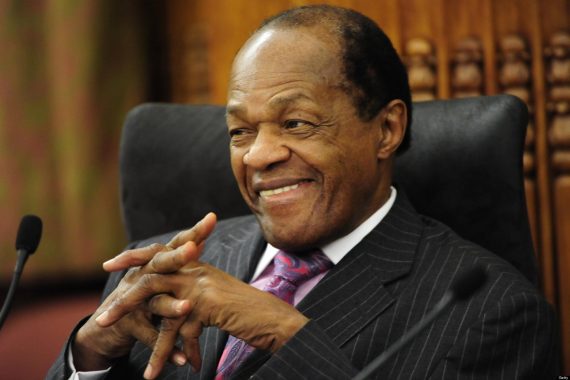 Marion Barry Jr., whose four terms as Mayor of Washington, D.C. were interrupted by time in jail resulting from a 1990 Federal drug conviction after which he made a political comeback that saw him return to the Mayor's office and, later, City Council for nine years, has died at the age of 78:
Marion Barry Jr., the Mississippi sharecropper's son and civil rights activist who served three terms as mayor of the District of Columbia, survived a drug arrest and jail sentence, and then came back to win a fourth term as the city's chief executive, died early on Nov. 23 at United Medical Center in Washington. He was 78.

Hospital spokeswoman Natalie Williams said Mr. Barry arrived at the hospital around 12:30 a.m. and died at 1:46 a.m. He had been released from Howard University Hospital on Saturday following a brief stay. His death was announced by his family in a statement released through a spokeswoman for Mr. Barry. No cause was given, but he had suffered from many health problems over the years, including diabetes, prostate cancer and kidney ailments.

Mr. Barry, who also served on the D.C. Council for 15 years and had been president of the city's old Board of Education, was the most influential and savvy local politician of his generation. He dominated the city's political landscape in the final quarter of the 20th century. There was a time when his critics, in sarcasm but not entirely in jest, called him "Mayor for Life." Into the first dozen years of the new millennium, he remained a highly visible player on the city's political stage, but by then on the periphery, no longer at the center.

His personal and public life was fraught with high drama and irony. He struggled with alcohol and drug addiction, relapse and recovery. He was married four times, divorced three times and separated from his fourth wife. His extramarital liaisons and legal trouble over unpaid taxes made news.

He came to Washington as a champion of the downtrodden and the dispossessed and rose to the pinnacle of power and prestige. As mayor of the District, Mr. Barry became a national symbol of self-governance and home rule for urban blacks.

His programs helped provide summer jobs for youths, home-buying assistance for the working-class and food for senior citizens. And he placed African Americans in thousands of middle- and upper-level management positions in the city government that in previous generations had been reserved for whites.

"He was really the architect of creating a local government infrastructure in the early days of home rule," Frederick D. Cooke Jr., a longtime friend who served as Barry's attorney, said in a 2014 interview. "He helped it to diversify to be more inclusive. It had been a stilted, segregated entity, and he made it possible for people to believe they could have a seat at the table."

Gladys Mack, assistant city administrator for budget in the first and subsequent Barry administrations, was among the mayor's early managerial appointments appointees. Decades later, she would remember Mr. Barry as "a forward thinker."

One example, Mack said, was his decision to build the new District Government building at 14th and U streets in Northwest Washington — a spawning ground for the 1968 riots that followed the assassination of the Rev. Martin Luther King Jr.

His advisers counseled against it, Mack recalled, but the mayor said, "We need to do this . . . and it became a catalyst for development of the entire area."

Mack was named chief of the D.C. budget in 1979, a time when few women in the nation were in top municipal leadership jobs. Mr. Barry, she said, "appointed close to a dozen women to positions that were not traditional for women."

When Mr. Barry took office, so chaotic had the District's finances been that the city didn't even know how much money it had in the bank. He instituted budgetary and fiscal accounting procedures to figure that out. But by the end of his last term as mayor, Congress and the courts had stripped him of much of his authority, complaining of graft, corruption and gross mismanagement in his administration.

"Some governments are corrupt but are known for their competency in running the city," Sen. John C. Danforth (R-Mo.) told Mr. Barry at a 1989 hearing on the D.C. budget. "Others are incompetent but considered clean. [Washington's] government is scandalously corrupt and hopelessly incompetent."

In 1990, Mr. Barry was arrested on drug charges in a sting by the FBI and D.C. police after having been lured to a Washington hotel room by a woman with whom he'd previously had an amorous relationship. "Bitch set me up!" he muttered aloud as he was being placed under arrest. The comment was captured on FBI videotapes of the sting and broadcast on television, and it would endure as a signature phrase in Mr. Barry's vocal legacy. His conviction months later would become front-page news around the world.

He completed a drug and alcohol rehabilitation program and served six months in a federal prison, then used the experience to his political advantage as a platform in his improbable comeback bid for elected office.

"Who can better help our city recover than someone who himself has gone through recovery?" he asked rhetorically.

Charismatic, irrepressible and engaging, Mr. Barry always seemed to get up again. In 1977, while on the council, he was shot during the siege of the District Building (now the John A. Wilson Building) by Hanafi Muslims, who also had taken over the Islamic Center and B'nai B'rith offices.

Mr. Barry's wound was superficial, but it nevertheless enhanced his personal mystique. After a brief hospitalization, he returned to the political arena and in less than two years was mayor of the District.

For 16 of the next 20 years, he would hold that office. Over time, he would come to reflect a personal style that was almost regal.

In a chauffeur-driven Lincoln Town Car, he traveled across the city, accompanied by a select security detail of police officers and an entourage of aides and hangers-on. Attractive women were omnipresent. He delighted in such extravaganzas as his annual "State of the District address" at the Washington Convention Center, where city workers, senior citizens and schoolchildren were rounded up for a Marion Barry spectacle.

When the Washington Redskins went to the Super Bowl, Mr. Barry went, too, as the First Fan of the hometown team. After Washington beat Miami in the 1983 Super Bowl, he flew back to Washington on the team's charter aircraft, which was met at Washington Dulles International Airport by President Ronald Reagan. First off the plane to be greeted by the president: Marion Barry.

(…)

Marion Barry Jr. was born March 6, 1936, into a family of sharecroppers in the rural hamlet of Itta Bena, Miss. His mother, Mattie Carr, was just shy of her 17th birthday when she married Marion Barry Sr., a strapping sharecropper about 25 years her senior. The marriage disintegrated in conflicts over money and her ambition to flee a life of chopping cotton.

Growing up, the future mayor worked hard at a variety of jobs. He had two newspaper routes and sold a third newspaper on street corners. He waited tables, bagged groceries and inspected soda bottles. He also went to choir practice.

In school, he was a good student. He was also an Eagle Scout.

The work ethic would remain throughout his career. In the early 1970s, when Mr. Barry was on the school board, it was said of him, "While you are sleeping at night, Marion Barry is up planning his next move." Later, there was another axiom: "The mayor will spend more time cultivating his enemies than his friends."
But it's the FBI sting operation and arrest that most would be the event in Barry's career that would make him a nationwide figure:
Mr. Barry had said in August 1989 that he'd made an "irrevocable decision" to run for a fourth term as mayor. On Jan. 18, 1990, the mayor received a telephone call from Moore. She was staying at the Vista International Hotel on Thomas Circle in Northwest Washington, and she invited Mr. Barry to her room. He accepted.

Captured on FBI videotape, the scene at the Vista would later be played on television newscasts around the world: the mayor reaching out to fondle Moore's breast and leg, asking about drugs and taking two long drags on a crack pipe, the storming of the room by FBI agents, the mayor placed against the wall with his arms outstretched, handcuffed, being read his rights.

"Bitch set me up. . . . I shouldn't have come up here," the mayor repeated.

Three days later, instead of a planned declaration of his candidacy for a fourth term, Mr. Barry, tearful and contrite, announced that he had "weaknesses" for which he would seek help. "I'm going to find a way to begin to heal my body, mind and soul. . . . I realize I'm going to have to walk this journey by myself. . . . I have come face to face with my deepest human frailties. I've had to look my human weaknesses straight in the eye. . ."

A few days later, Mr. Barry left town for a seven-week rehabilitation program in Florida and later in South Carolina.

Early in June, he went on trial in federal court on perjury and drug-possession charges. While the jury was still being selected, he announced that he would not seek reelection. (In January of 1991, Sharon Pratt Dixon would succeed him as mayor. )

After a two-month trial and eight days of jury deliberations, Mr. Barry was convicted on Aug. 10 of one count of cocaine possession — at the Mayflower Hotel in early November 1989. This was based on the testimony of an Alabama businesswoman who testified that she had used cocaine with Barry there.

But the jury was unable to agree on the charge stemming from the FBI sting at the Vista, where Mr. Barry had been videotaped smoking crack and arrested on Jan. 18, 1990. He was acquitted on a second count of cocaine possession. On the remaining charges, including three felony counts of perjury before a federal grand jury, the jury was also unable to reach a verdict.

This was a major victory for the mayor. Acquittal on the felony count appeared to remove a potential legal barrier to the possibility of his holding public office in the future.

Within 30 minutes of the verdicts' announcement, his supporters were driving past the federal courthouse on Constitution Avenue in Northwest, honking their horns and shouting in celebration.

On Oct. 26, U.S. District Judge Thomas Penfield Jackson, who had presided over his trial, declared that Mr. Barry had "given aid, comfort and encouragement to the drug culture." The judge sentenced him to six months in prison and a year on probation, and he fined him $5,000.
Washington, D.C., it seemed, had seen the end of Marion Barry, or had it?
In May 1994, he announced his candidacy for a fourth term as mayor. "I'm in recovery," he said, "and so is my city."

For the critical Democratic primary, he faced veteran council member John Ray and the incumbent mayor, who by then had married and was known as Sharon Pratt Kelly. Neither was a match for the charismatic Mr. Barry, who was campaigning night and day, preaching a message that the "God-force" within had taken control of his life and helped him clean up his act.

His 12-year marriage to Effi Barry having ended in divorce, Mr. Barry had married Cora Masters, a political science professor at the University of the District of Columbia, early in 1994. She was communications director for his campaign.

On the day of the primary, Mr. Barry won easily, taking 47 percent of the vote to John Ray's 37 percent and Kelly's 13 percent.

Two months later, he beat Republican council member Carol Schwartz in a rematch of the 1986 general election, with 56 percent of the vote to 42 percent for Schwartz.

In January 1995, 16 years after he first took the oath of office as mayor of the District, Mr. Barry was sworn in for his fourth term. This was a smaller, poorer city than the one he led in 1979. The District was beset with such problems as an AIDS epidemic and crack cocaine that were unknown when he began his first term. Courts had already taken over the city's prisons and foster-care programs, and a takeover of public housing was underway. City finances were in disarray, and judges had threatened contempt citations to force payment of its bills.

Beaming as he took the oath of office, Mr. Barry proclaimed the "dawn of a new day" for the District of Columbia, and he said he was beginning a "second chance" as the city's mayor. Maya Angelou read a poem affirming that "strong men . . . get stronger."
What would become Barry's final term as Mayor was quite different from the first three. The city's finances were a mess and, eventually, the new Republican controlled Congress stepped in with an independent board that took control of much of the city's finances, and thus much of the power of the Mayor's office. More importantly, because of the revitalization of areas like Northeast, political power was shifting in the city away from those areas that had served as Barry's power base for his long time office. When the time came and Barry announced that he would not run for re-election to a fifth term, most people were not surprised by the decision. But that wasn't the end of Marion Barry. Five years later, Barry ran for, and won, the seat on the City Council representing the 8th Ward that he had first won in 1974, and he held on to that seat for the rest of his life. In between there were be a variety of odd instances, tax problems, and Marion Barry being Marion Barry. Through it all, though, there were still people who would call him Mayor, and his constituents in the 8th Ward seemed to view him as some sort of demigod. It was very much the kind of old fashioned patronage politics that used to pervade American cities, punctuated by one of the more colorful personalities ever to hold office anywhere. By the end, most District residents seemed to consider Barry a curiosity at best and an embarrassment at worst, but he retained his loyalists and, in the history of home rule in the District, he remains the only person to serve more than two terms in office, a record that will continue after this year since the current Mayor, Vincent Gray, was defeated in the Democratic primary this year due in no small part to his own ethical problems.  That alone would seem to suggest his legend will remain long after he's passed.