Mark Kelly Becoming A Strong Challenger To Martha McSally In Arizona
Former Astronaut Mark Kelly is posing a big challenge to Senator Martha McSally in Arizona.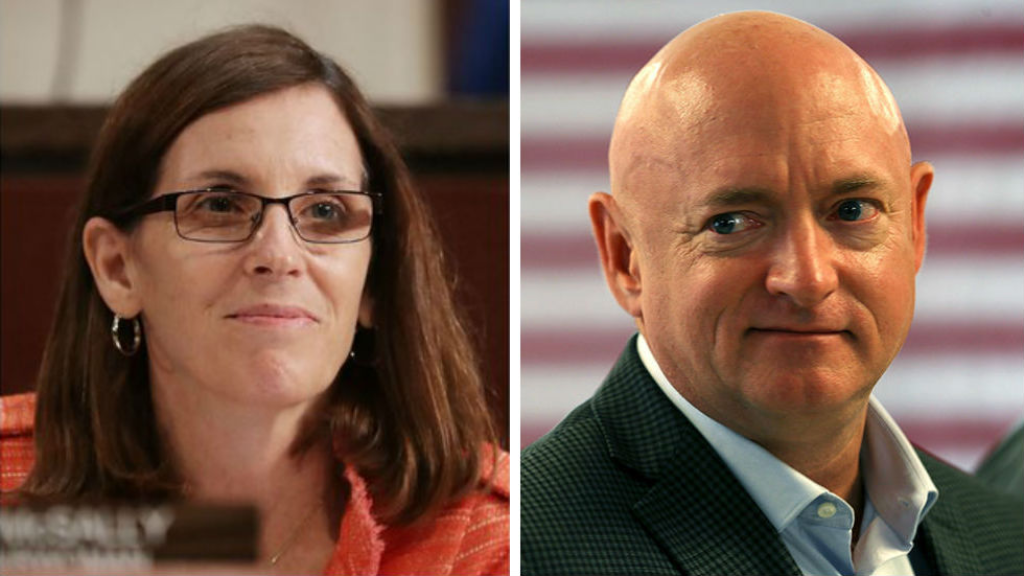 The threat to Martha McSally's Senate seat in Arizona appears to be growing, with the latest evidence being a very successful fundraising quarter for likely Democratic nominee Mark Kelly:
Mark Kelly has more money in his Senate election war chest than Joe Biden does running for president.

The former astronaut, gun control activist and husband of Gabrielle Giffords has established a veritable cash gusher in Arizona, raising nearly $14 million this year, including $5.6 million in the last three months alone. Combined with his compelling biography, Kelly, a Democrat running for elected office for the first time, has laid the groundwork for a serious bid to unseat GOP Sen. Martha McSally in a critical battleground for Senate control.

McSally, who was appointed to the Senate after losing the race for the state's other seat in 2018, has posted impressive fundraising in the off year, too, outraising all but two Republican senators in the most recent fundraising period. But Kelly has nonetheless stretched his advantage, with $9.5 million in the bank as of Sept. 30, compared with $5.6 million for McSally.

"I think those numbers speak for themselves. Good grief," said Jim Pederson, a former state Democratic Party chair who ran for Senate in 2006.

"The guy is a very personable, sharp guy. And he's made a lot of friends nationwide, and I think he's tapped into that network," Pederson said, adding that Arizonans were "wrapped up into his enthusiasm."

Republicans have taken notice as well.

"It's not necessarily that Sen. McSally is doing poorly. It is that Mark Kelly is doing spectacularly," said Paul Bentz, a Republican strategist in Arizona. "He's doing above and beyond, I think, what anybody would have anticipated when it comes to fundraising.

"She has the power of incumbency, but he has definitely caught up on many, if not all, other campaign metrics," Bentz added.

Several advantages have helped Kelly stockpile cash. Kelly was the first major Senate candidate to announce a bid, joining the race in February with built-in name ID and connections to donors through his work with a gun control organization he founded with Giffords, the former congresswoman who was shot in 2011. The national party has rallied behind Kelly, and he's avoided even a whiff of a primary challenge.

Kelly has also invested in building a campaign to last. He has spent more than $700,000 on Facebook ads this year, which helps build a list of small-dollar donors that will benefit him down the road, according to data compiled by ACRONYM, a progressive digital organization. Last quarter, Kelly spent $1.9 million, with $420,000 of that earmarked for digital advertising and more than $640,000 for direct mail services, both designed to help raise new money.

In the third quarter, more than half of his money raised — $2.9 million — came in unitemized donations that are less than $200. He also raised nearly $1.3 million from donors who gave more than $1,000, including more than $667,000 from max-out donors.

"This campaign is powered by grassroots supporters who are chipping in what they can, when they can because they support Mark's mission to be an independent voice for Arizona," said Jacob Peters, a spokesperson for Kelly's campaign.

The online money, in particular, is what has set Kelly apart early in the cycle.

"I think they've smartly rejected the dumb conventional wisdom out there that only super progressives can raise small dollars online," said Andy Barr, a Democratic strategist who worked on the 2012 Arizona Senate race.
McSally, of course, was appointed to the Senate by Arizona's Republican Governor after Jon Kyl announced his retirement at the end of last year. Kyl had been appointed in the wake of the death of the late John McCain but at the time he had stated that he likely would not hold the seat until the next election and would not stand for election to the seat. Shortly after McSally lost a closely fought race to Krysten Sinema last year, Kyl announced his retirement and McSally was appointed in his stead. The election coming up in 2020 is to fill the remainder of McCain's term, which is set to expire after the 2022 election, meaning that whoever wins the Special Election will have to run for re-election two years later. Kelly, the former astronaut, and husband of former Congresswoman Gabby Giffords entered the race for the Democratic nomination in February and while he does face rivals for the nomination he is widely seen as the strongest candidate in that field.
Another factor that seems to be pointing in Kelly's favor is the polling, which has been limited but nonetheless shown him with a slight lead over McSally in a head-to-head race. Obviously, it's far too early to say how this race will turn out. With more than a year to go until Election Day, there are plenty of things that could happen that will influence the outcome of the race. That being said, it's clear that Kelly, who appears to have taken quite naturally to the political role previously occupied by his wife Gabby Giffords, is a formidable candidate and that McSally will have her work cut for her if she is going to retain her seat. Additionally, Kelly, like Senator Kyrsten Sinema who narrowly defeated McSally in 2018, is basically a center-left "moderate" Democrat rather than a full-on progressive, something that makes him ideal for an increasingly purple state that is likely to be competitive at the Presidential level as well despite the fact that Trump won the state by roughly 90,000 votes.
This race is important, of course, because of the battle for control of the Senate we're likely to see in 2020. As it stands, Democrats would need to flip at least three seats to win control of the Senate, and that would depend on them winning the Presidential race. If they don't and Mike Pence remains Vice-President then they'd need a net pickup of four seats. Given the fact that Democrats are likely to lose Doug Jones's seat in Alabama absent another massive error on the part of Republicans there, that means they have to win in states like Colorado, where the latest polls show Senator Cory Gardner losing badly to former Governor John Hickenlooper and Arizona. Even with those wins, and assuming the Alabama loss, they'd still need to win at least two or three other seats, and notwithstanding the fact that things are looking bad for President Trump that's going to be easier said than done.