Markos Zuniga's Post Hoc Ergo Propter Hoc
And inconsistent data, and his ability to look at it all and decide that Bush is the cause for increased terrorism! Frankly, in looking at that post I'm at a bit of a loss as to where to begin. I think the easiest place to start is with the post hoc ergo propter hoc. First up is this graph with Markos for some reasons tells us that Bush is responsible for the increase in terrorism.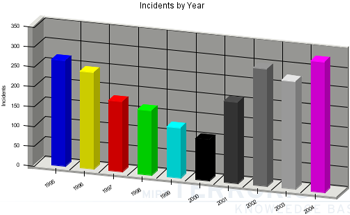 Based on this graph Kos writes,
Notice when attacks where going down, and when they started going up. Since it's hard to read, the black bar, at the low point of international terrorist attacks, is the year 2000. Bush took power in2001, and the rest is history.
In other words, because George W. Bush was elected President of the U.S. (and apparently no other reason) the number of international terrorism incidents world wide increased. A boring old logic oriented person would call this post hoc ergo propter hoc. Bush was elected, then terrorist incidents went up…so naturally the reason was the election of George W. Bush. Oh woe is us, if we'd only elected Albert Gore, Jr.
Also, note that Markos' opening thesis is as follows,
The wingers, stung from the spectacular failure of their "flypaper" theory, are now desperately trying to rebut the obvious fact that Iraq has fueled terrorist attacks.

"What about 9-11?" they shriek. "That happened before Iraq!"

"What about the WTC bombing", they add. "That also happened before Iraq."

Yeah, sure. Of course those happened before Iraq. No one is claiming that terrorism was created by Iraq. We're arguing that letting Al Qaida off the hook in Afghanistan and pursuing an unnecessary war in Iraq has fueled terrorism.

And by all objective measures, that's been the case.
However, the data in this graph does not sit well with the opening thesis. According the graph that Markos thinks is so damning there was a slight increase from 2003 to 2004, but not triple! But hey, lets not let something like inconsistent data get in the way of arriving at a preferred conclusion. One could try to dodge with noting that the graph lists incidents and the MSN article talks about major incidents. One itty bitty problem though: the graph lists total incidents at about 300…the MSN article says 650 major incidents. Not like I expect Markos to, you know, actually try to figure out why there is a difference. If one goes to the site that generates the graph, and whips up his or her own graph they will note that there is footnote talking about how after 1998 the data is for both domestic and international terrorism. Still no love there for Markos either since, the graph is created by omitting domestic terrorism and the cut off date is 1998, not 2001.
Further this raises a question about Markos' "objective measures" that he notes in first half of his post. Seems to me based on what we've seen of the information Markos has provided measuring terrorists incidents isn't quite so objective.
Also, if we go further back one would see that right when Markos' patron saint Clinton plopped his hind end into the big chair in the Oval Office there was a mild spike in terrorism. Hmmm…maybe if we had elected George H. W. Bush to a second term we could have avoided that spike. Using Markos Zuniga logic of course.
If we go even further back and look at the data from 1975 on (the last 30 years) we'd see that the last several years of terrorism incidents on average are about average. Given that we are fighting a war on terrorism that is not all that bad (and it isn't all that great either). If we go back even further, we can see that terrorism ramped up, then down and is now ramping back up. Are we to believe that this is all due which Presidents are elected…if so, then we need to go take back the Nobel Peace Prize from Jimmy Carter.
And last but not least lets remove the Middle East from the data. Here is the new picture.
In short, this data source that Markos seems to put such store in actually indicates that perhaps there is a flypaper effect. If we define things even more selfishly and restrict things to Europe and North America the results are even more stark with the high point being 1995.
Now none of this answers the question of why the count has tripled from 2003 to 2004 by the U.S. count. But, the idea that Markos is trying to float that the flypaper strategy is not working doesn't appear to be supported by the data he has pointed too. Not that I'm shocked by this.
Update: (0:22) I am also unimpressed with Markos' claim that we have let Al Qaeda off the hook in Afghanistan. There was helicopter that was shot down in that region prior to the 4th of July weekend. That helicopter had a SEAL Team and other special forces operators on board. Their job was most likely to hunt for Taliban and Al Qaeda fighters and kill/capture them.