Matt Cain Pitches First Perfect Game In Giants History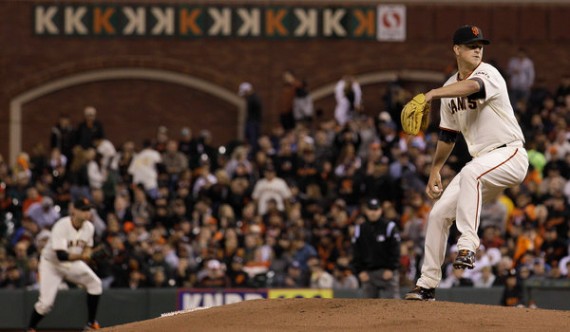 The San Francisco Giants have been around as an active franchise since 1883 when they were the New York Gothams, but it wasn't till last night that they had a pitcher toss a perfect game:
SAN FRANCISCO (AP) — Matt Cain and his wife, Chelsea, returned to the field an hour and a half later for a few more perfect memories. They snapped photos on the mound, posing with the workers who tore it down so the dirt could be sent to the Hall of Fame.

Then they walked away hand in hand, stopping in left field for an embrace and long kiss.

The Giants franchise waited a long time for a perfect game, and Cain became the one to finally do it. Not Hall of Famers Christy Mathewson or Juan Marichal or Gaylord Perry before him.

Fittingly, Cain is the longest-tenured Giant these days.

His perfecto is the 22nd in major league history. He struck out a career-high 14 and got help from two spectacular catches to beat the Houston Astros 10-0 on Wednesday night.

"I've never had that much excitement in every pitch, every swing," Cain said.

His 125-pitch gem for San Francisco featured a pair of great plays by his corner outfielders. He got pinch-hitter Jason Castro on a grounder to third for his 27th and final out with the sellout crowd of 42,298 roaring.

"This is incredible right now," Cain said. "It was unbelievable. The guys did a great job making it, in a way, kind of relaxing, because they were able to get on the board early."

It was the fifth no-hitter in the majors already this season and second perfect game.

Another Year of the Pitcher? You bet.

In the very ballpark where Barry Bonds made home run history five summers ago, Cain produced the signature moment for pitchers. It was the 14th no-hitter in club history — Mathewson pitched Nos. 2 and 3 in 1901 and '05, and fellow Hall of Famers Carl Hubbell, Marichal and Perry had one apiece.

After Cain's career outing was in the books, the center field scoreboard showed an image of him pitching with the message: "MATT CAIN First Perfect Game in Giants Franchise History."

Left fielder Melky Cabrera chased down Chris Snyder's one-out flyball in the sixth, scurrying back to make a leaping catch at the wall. Cain raised both arms and slapped his glove in delight when Cabrera made the play.

Then, right fielder Gregor Blanco ran into deep right-center to make a diving catch on the warning track and rob Jordan Schafer for the first out of the seventh. The 27-year-old pitcher hugged Blanco in the dugout after the inning.

"Those were unbelievable catches," Cain said. "I mean that right there, that changes the whole thing."

Philip Humber of the Chicago White Sox tossed the majors' last perfect game at Seattle on April 21. This is the second time in three years there have been two perfect games in the same season — before that, the only other time it happened was in 1880.
There's been much speculation about why we've seen this increase in frequency of what history has shown to be a rare event, the most common being the end of the Steroid Era. But, batters are still stronger and in better shape than they were decades ago without steroids, and that doesn't necessarily explain how a pitcher is able to get 14 strikeouts and keep even a single batter from getting a hit. Sometimes, I think, a pitcher just has the kind of night you need for something like this to happen.
Photo via The New York Times