May Seeks Extension Of Time To Stay In Office As Tory Hold On Power Becomes Precarious
British Prime Minister Theresa May is seeking an extension on her promise to leave office at the same time that the political future of her Conservative Party becomes increasingly doubtful.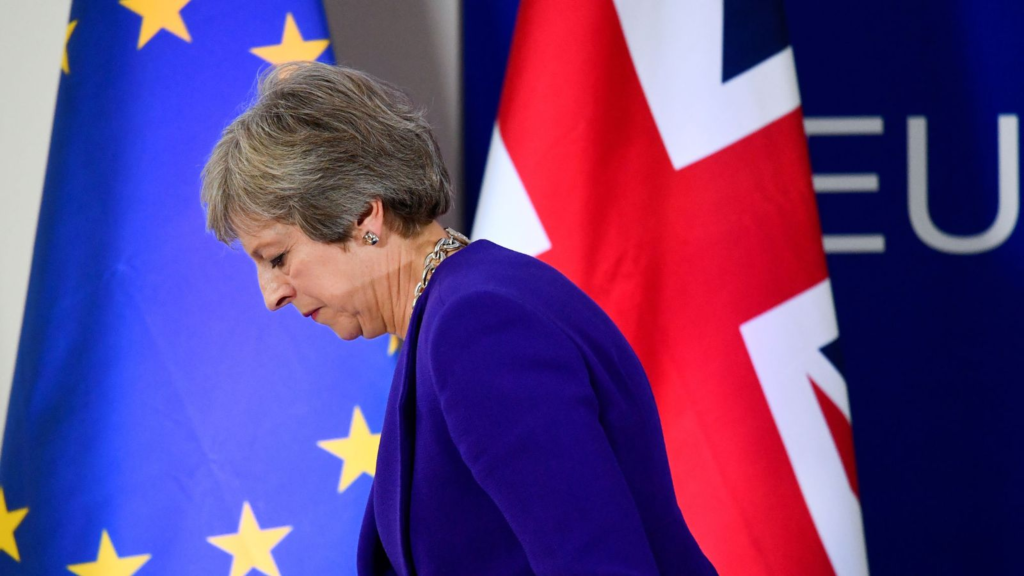 Faced with a Conservative Party that still isn't fully united, a Parliament that is restless, and a delicate political situation at home that could force early elections, British Prime Minister Theresa May is seeking a three-month delay of her apparent promise to leave office:
Theresa May has tried to delay her resignation for almost three months by telling ministers she can get a Brexit deal done if she is allowed to stay as Prime Minister until the end of July.

Mrs May met Jeremy Corbyn for cross-party talks on Tuesday night where she told him she will table a vote on a Brexit "divorce" bill next month with or without a deal with Labour.

Mrs May earlier told her Cabinet it was "imperative" the Brexit legislation is passed before Parliament breaks for the summer.

The Prime Minister has promised to quit once the Brexit divorce deal is agreed, meaning she would stay in Number 10 for at least another 11 weeks.

It came as a new poll showed the Tories will not solve their problems simply by changing leader, as 60 per cent of voters said they would be no more likely to vote Conservative in next week's election if Mrs May was replaced.

Mrs May's face to face meeting with Jeremy Corbyn in her Parliamentary office was only the third time they have met since the talks began six weeks ago.


A Downing Street spokesman said Mrs May made clear her "determination to bring the talks to a conclusion and deliver on the referendum result to leave the EU".

The talks were described as "useful and constructive" and ministers will meet on Wednesday to continue the dialogue.


Mrs May is expected to set a deadline for Labour to agree to a deal or end the talks by next week, as she wants to publish Brexit legislation before next week's European elections.


Mrs May is now prepared to put a tweaked Brexit deal to a vote in Parliament even if she cannot guarantee it will pass, as she has accepted she has "run out of road".


Her aim is for the Withdrawal Agreement Bill – the legislation required for Britain to leave the EU with a deal – to receive royal assent before Parliament breaks for the summer at the end of July.


That would in turn trigger Mrs May's departure, allowing for a Tory leadership contest to take place over the summer and for a new leader to be in place before the Conservative Party Conference at the end of September.

Neither the Conservatives nor Labour expect the cross-party talks to produce a deal, and both sides have also got cold feet over the "plan B" of allowing MPs to choose the way forward through a series of so-called indicative votes.

Instead, Mrs May will publish the Withdrawal Agreement Bill in the week beginning June 3 to force MPs into a choice between the deal on the table or the possibility of Brexit being cancelled.


One Government source said: "We are fast getting to a point where a decision has to be made either way.
As things stand, the European Union has given the United Kingdom until October 31st to come up with a Brexit deal acceptable to both parties. Originally, of course, the deadline was supposed to be on March 29th, but when it became clear as that date approached that there would be no deal approved by Parliament, the E.U. negotiators acceded to requests from May to extend the deadline. At first, the deadline was extended to mid-April but that was quickly extended another six months when it was clear that there was no way that May would be able to come close to a deal that would clear Parliament in time. This extension came after the E.U. leadership had initially balked at the idea of extending the deadline, but the domestic political situation in the United Kingdom made it clear that a mid-April deadline was impractical. Additionally, May said in late March that she will leave office once a Brexit Deal is complete. At the time that promise was made, of course, the Brexit deadline was mid-April. Now that the deadline has been extended to the end of October, however, it has generally been agreed in Parliament that any deal will be voted on before Parliament's summer break. This means that May would be out of office by roughly the end of June. Now she is asking for an agreement that would allow her to stay in office until at least August and perhaps later depending on the status of a Brexit deal in Parliament.
This development also occurs in the light of polling that isn't exactly good for May, the Tories, or the fate of Brexit itself. As the Telegraph notes, recent polling has the Conservative Party trailing Labour in a hypothetical General Election with Nigel Farage's Brexit Party in a surprisingly strong third place. This doesn't pose an immediate danger to May since she's not required to call a General Election until 2022 at the latest, but that assumes that the current Tory coalition with Northern Ireland's Democratic Unionist Part remains in effect and that May, or whoever succeeds her as leader of the Tories, is able to survive a Parliamentary vote of no confidence, which would trigger immediate elections.
In that regard, the upcoming elections for European Parliament are something that ought to be watched closely since it could have an impact on the fate of both May herself and the Tories as well as the fate of Brexit. Those elections are scheduled to take place across Europe from May 23rd to May 26th and will take place in the United Kingdom specifically on May 23rd. While the E.U. Parliament itself is relatively speaking powerless with respect to the Brexit process at this point, the outcome of those elections will be looked at as a guide for where things stand politically in the United Kingdom. In that regard, the latest polls in the United Kingdom likely have the Tories in a bit of a panic:
The latest polling for the European Parliament elections shows that Nigel Farage's Brexit Party is likely to gain the most seats in the UK, as establishment parties are forecast to lose their majority across the European Union.

The vote takes place in the UK on Thursday 23 May, with the Europe-wide results expected on the evening of Sunday 26 May.

These are expected to see establishment parties across the continent suffer, both at the hands of the populist-Right as well as resurgent liberal parties.

The result is likely to be a more fragmented European Parliament, with the centre-Right EPP and centre-Left S&D forecast to lose their combined majority.

The latest polling average puts Nigel Farage's Brexit Party ahead of the two major parties, on 30 per cent compared to Labour's 21 per cent and the Tories' 12 per cent.


This would mark the Conservatives falling to their lowest vote share in a national election since they formed in 1834.


The Lib Dems, Greens and Change UK – all backers of a second referendum – collectively have support of 28 per cent of the public, against no-dealers Ukip and the Brexit Party's collective 34 per cent.
As this chart shows, the latest polling effectively shows the Tories in fourth place behind the Brexit Party, Labour, and even the Liberal Democrats:
This doesn't necessarily mean that the Tories would come in fourth in terms of seat allocation, as the Guardian argument linked above notes the seat allocation process for these elections is somewhat complicated. Nonetheless, the fact that the Tories are currently trailing in fourth place for the upcoming E.U. elections in and of itself should be alarming for May and her fellow conservatives. If that's how things turn out next Thursday, then it could have an impact not only on Brexit, which increasing numbers of Brits are coming to regret their approval of but also on the political future of the Tories themselves. All of this puts May's latest request for an extension of time on her promise to step aside in a new light and would seem to make progress on a Brexit deal an imperative if the Tories are going to hold on to power regardless of who their leader is.