Maybe Calling People "White Trash" is Unnecessary?
Carville, MTG, and hierarchy in America.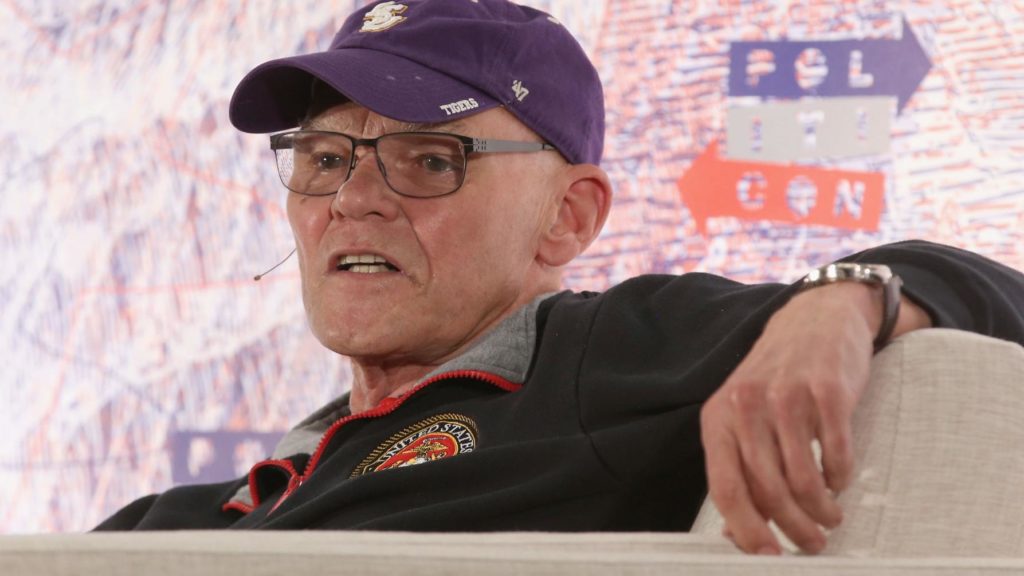 Via HuffPo: James Carville Attacks GOP, Marjorie Taylor Greene As 'White Trash'.
"I tell people I have the equivalent of a PhD in white trashology, and we saw real white trash on display," Carville told MSNBC anchor Ari Melber.

Carville singled out far-right Rep. Marjorie Taylor Greene (R-Ga.), saying she "dresses like white trash" and should take fashion advice from serial liar Rep. George Santos (R-N.Y.), in a video shared by Mediaite.

"The level of white trashdom in the Republican Party is staggering," Carville added. "I mean, for somebody that has observed it for a long time like I have, I've never seen it manifest itself on a level that it's manifesting itself."
This all reminds me of Carville's quip that "If you drag a hundred dollar bill through a trailer park, you never know what you'll find" in regard to some of the sexual misconduct allegations against his former boss, Bill Clinton. The notion of "white trash" (or, I guess, "trailer trash") in that instance was a clear attempt to question the value and credibility of Paula Jones. After all, who ya gonna believe, a former governor or some bimbo from the trailer park? And who else but the worst of the worse can't afford to live anywhere better than a trailer? Perhaps that was all part of Carville's PhD thesis.
So, let me note that I do not like the phrase "white trash." It is a racialized notion that is decidedly classist. I also don't like referring to human beings as "trash"–especially when the characteristics that are ascribed to the notion are usually cultural signifiers (e.g., a typical "white trash" person is an uneducated person with a southern accent who lives in a trailer).*
The term reeks of hierarchy and feels very much like a racial slur.
Indeed, it is not hard to see the connection between larger racial prejudice and wanting to segment off the tainted whites. Along those lines is this obversation (via NPR: Why Is It Still OK To 'Trash' Poor White People?)
Matt Wray says that one of the earliest recorded usages of the phrase "white trash" was in 1833, when the daughter of one of the largest slave owners in Maryland said that there were no tensions between black slaves and white slave owners, only between black slaves and "white trash."
All of this reminds me of the late Senator Robert Byrd's (D-WV) infamous interview on Fox News Sunday in 2001 wherein he said (Via CNN):*
"They are much, much better than they've ever been in my lifetime," Byrd said, but added that he believed people talk about race too much.

"My old mom told me, 'Robert, you can't go to heaven if you hate anybody.' We practice that. There are white n******. I've seen a lot of white n****** in my time. I'm going to use that word. We just need to work together to make our country a better country, and I'd just as soon quit talking about it so much."
My Grandfather, who was raised in the Deep South, once told me pretty much the same thing. And my grandparents, who came out of a rural blue-collar background to rise to the outer bands of the upper middle class, would also be quite disparaging of poor whites with whom they wished to distinguish themselves. They came out of a culture in which the racial hierarchies were clear: whites were clearly above blacks, but there were also levels of white. (And this culture persists).
(Side note: odd, isn't it, that it is always white men in positions of power who think that we talk about race too much?).
In terms of Carville's critique of MTG, it seems wholly unnecessary to focus on how she dresses (which, to be honest, mostly hasn't drawn my attention–although I seem to recall her SOTU garb was attention-grabbing). It is what she says and how she behaves that matters.**
Also, I know that this is Carville is being Carville, but I am not sure what the efficacy is of the following, save playing to an audience:
"They have a lot of stupid people that vote in their primaries. They really do. I'm not really supposed to say that, but it's obvious fact. And you know, when stupid people vote, you know who they nominate? Other stupid people."
So, I am guessing some readers will want to simply "amen" that sentiment, but I would note that when it comes to political analysis it is of quality no different than the kinds of things Rush Limbaugh used to say about Democratic voters (and is of the same the intellectual usefulness as when Jeanne Pirro thinks saying "DemonRats" is clever–or, at least, she knows it is something her audience loves to hear).
If Carville is as smart as he thinks he is, perhaps he could say something a bit more intelligent. And, likewise, if Democratic voters are as smart as they wish to see themselves, they should demand such.
The politics of denigration aren't going to help any of us in the long-run (and really, not in the short-run, either).
---
*And yes, I censored the n-word. I am not comfortable with it. It is interesting to note that in press accounts in 2001 there was no masking nor uses of euphemisms like "the n-word."
**I will say that sometime attire is fair game for political commentary when, as is the case with both Kirsten Sinema and George Santos, the politicians in question are rather obvious using fashion in a conscious way.