Maybe Donald Trump Is Actually Running For President This Time
Donald Trump is probably just messing around with all of us again, but he's certainly acting like someone who's running for President.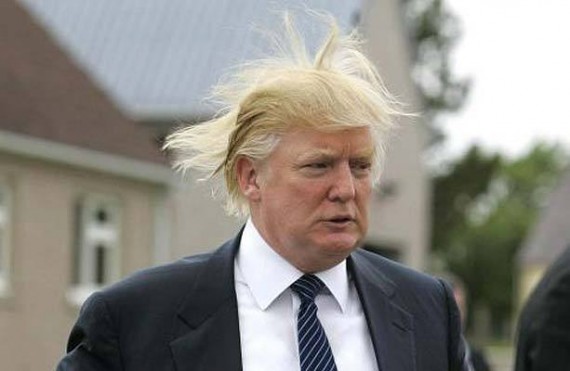 For the most part, political observers have dismissed Donald Trump's flirtation with the idea of running for President in 2016 as yet another example of the same type of distraction we saw from the real estate developer and reality television star four years ago. Back then, you may recall, Trump spent the better part of three months teasing the idea that he would be running for President and, as someone who has been in the media spotlight for decades, Trump knew quite well how to manipulate even the political press, and they fell for it completely. It began with Trump speaking at the Conservative Political Action Conference, where he teased the idea of running for President, and continued for the next three months, after the latest season of Celebrity Apprentice had ended  when Trump announced that he was not running. In between that time, Trump made a name for himself by openly suggesting that the President was not born in the United States, and suggesting that Obama may be a Muslim. While several polls showed that most Americans would never vote for Trump in a General Election, there was at least a period of time when he was toleading in the polls of declared or potential Republican candidates  in polls of Republican voters.  In the end, Trump's "candidacy" was viewed by most political observers as either a political stunt or an elaborate joke, and he went back to hosting a "reality" show and making real estate deals. Because of all of this, when Trump began hinting again earlier this year that he might run for President, there were few people that took him seriously. Now, though, that may have to change because Donald Trump has something planned for the middle of June:
CONCORD – Is Donald Trump really running for president?

The Washington Post and NH1 News confirmed Thursday that the real estate mogul and reality TV star will make an announcement on June 16 at Trump Tower in New York City. The very next day, Trump plans to return to New Hampshire, home to the first primary in the race for the White House.

A source close to Trump confirmed the June 16 and 17 dates and termed the announcement as "major," though they did not confirm outright that Trump would actually announce his candidacy for the Republican presidential nomination.

Trump's already made four trips to the Granite State since March. Earlier this month, Trump told the Washington Post and NH1 News he was seriously weighing a bid. "I look at what's happening and I say to myself, 'it's time, we have to do something because our country's going to hell'."

"I would say by the middle of June, the end of June, I will make a decision. I think people are going to be very surprised. I think I've made most of that decision already in my own mind," Trump added.
Trump has played this game before, of course, so the safe assumption probably is that the June 16th announcement will fall short of an an actual announcement and that the trip to New Hampshire will just be another effort to get media attention. At the same time, it's worth noting that Trump has gone further with this flirtation than he has with past efforts. Beginning in February, he started hiring staff in early primary states such as Iowa and New Hampshire, for example, and in March he formed a Presidential Exploratory Committee, which is often the first step that candidates take before actually entering the Presidential race. He has also spoken at a number of Republican and conservative political gatherings around the country, including not only CPAC but also smaller gatherings and functions run by state party organizations in Iowa and New Hampshire.  These are all the things you'd expect someone who was planning on running for President to do.
All that being said, though, this is Donald Trump we're talking about. The idea that he's actually going to get down and do the dirty work of running for President just don't mesh with everything else that we've come to know about him. Based on that history, it's easier to believe that this is all part of one big media tease and that Trump will come right up to the edge of running for President before backing away. This would seem to be especially true given the fact that, if he does dun, he will be required to file a complete financial disclosure with the Federal Election Commission that would expose his personal wealth and finances to far more detail than he's ever been willing to give before. However, given the fact that the only penalty that there appears to be for failing to file a proper financial disclosure is a fine from the FEC, perhaps NPR's Domenico Montanaro is correct when he suggests that Trump will run, fail to file a complete report, and then swallow the fine whenever the FEC gets around to imposing it. Whatever the answer is, though, you can expect to be hearing from Donald Trump a lot in the coming month, and perhaps well beyond that.