McCain Going After Cable TV
John McCain is taking a break from advocating yet another war in the Middle East to make war against cable television companies.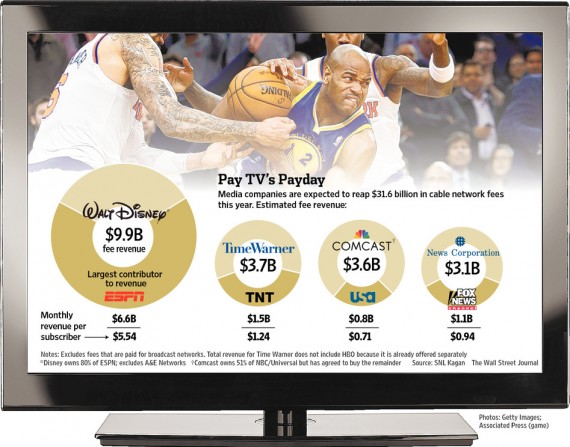 John McCain is taking a break from advocating yet another war in the Middle East to make war against cable television companies.
The Hill ("McCain working on bill to allow for 'a la carte' cable TV packages"):
Sen. John McCain (R-Ariz.) is working on legislation that would pressure cable and satellite TV providers to allow their customers to pick and choose the channels they pay for, his office confirmed on Wednesday.

Consumers have long complained about the rising costs of cable TV packages and having to pay for dozens or even hundreds of channels just to gain access to the few that they watch.

[…]

In addition to pressuring cable providers to offer channels a la carte, McCain's new bill would bar TV networks from bundling their broadcast stations with cable channels they own during negotiations with the cable companies, according to industry sources. So for example, the Disney Company, which owns both ABC and ESPN, could not force a cable provider to pay for ESPN in order to carry ABC.

The industry officials said the bill would also end the sports blackout rule, which prohibits cable companies from carrying a sports event if the game is blacked out on local broadcast television stations.

[…]
Color me skeptical. While I have no philosophical objection to Congress getting involved—the very limited number of service providers in most markets and a variety of anti-competitive practices on the part of the networks make this a legitimate governmental concern—it's far from clear that they won't muck it up.
On the surface, bundling seems like an outrageous practice—and it's one that every cable and satellite service uses. DirecTV delivers hundreds of channels, of which I watch programming on less than a dozen. Because the sports channels in particular command high prices—both because there's extraordinarily high consumer demand and because the networks have to pay enormous sums to the leagues for broadcast rights—they constitute a hefty portion of the cost of basic service. That's patently unfair to those who don't watch sports.
On the other hand, it's far from clear that, at least for those of us who do watch sports, that an a la carte approach would be cheaper. A recent WSJ piece (from which I got the top graphic) notes:
There has long been intense debate about whether unbundling would save consumers money. Two studies by the Federal Communications Commission in the past decade came to opposite conclusions. A Temple University study, meanwhile, concluded only incremental savings for consumers, and that was before accounting for the higher costs for customer service and programming that distributors would likely pass along.

Big media companies also argue that a la carte would be bad for the consumer in the long run. "A la carte—maybe a little counterintuitively—raises prices and reduces choice because it increases the costs," said Mike Fricklas, general counsel at Viacom, explaining that "now you have to worry about whether they are subscribing and watching." He said a lot of money would be siphoned out of programming investment and into marketing dollars because there wouldn't be assured distribution.

Executives at media companies say they would be forced to raise prices on their channels to maintain how much they spend on sports rights, original programming and other content.
Gizmodo's Brian Barrett argues that the rates for individual channels–particularly the most popular ones–would almost certainly be much higher. ESPN, far and away the most popular channel, was charging providers $5.54 per subscriber per month a couple years back. But that's the wholesale price that the can pass on to everyone who gets cable. Fewer people would pay for ESPN under an a la carte model but they'd pay much, much more. Barrett speculates that it could be $20, which is what people pay for HBO.  Barrett also notes that several of the cable companies actually own some major individual channels. That complicates their delivery on competitors' platforms.
Further, as MoneyBox (it's Matt Yglesias' beat but doesn't have his byline) points out, people are almost by definition not over-paying now:
Say you pay $60 a month for your cable package. Lots of channels come with the package, but you really only watch MSNBC, the Food Network, SyFy, Bravo, and USA. Sure, every once in a while you flip to Fox to see hilarious conservative coverage of Obama speaking, and every couple of years you watch a few Olympic events on other cable networks. And perhaps from time to time scrolling the channels you find yourself watching a Law & Order rerun on TNT. And, okay, you've seen a few reality shows here and there on other channels. But if you could keep getting the broadcast networks without needing to futz with an antenna and watch MSNBC, the Food Network, SyFy, Bravo, and USA you'd be happy. So why can't you ditch the sports networks and get a discount?
Well, because the hypothesis here is that you're already paying $60 a month for a cable package that really only offers five channels you watch. You would rather have access to those five channels than have $60. So since those channels are worth $60 to you, even if unbundling happens your cable provider is going to find a way to charge you approximately $60 for them. Because at the end of the day, you're paying your cable provider for access to the channels you do watch—not for access to the channels you don't watch. The channels you don't watch are just there. If the channels you do watch are worth $60 to you, then $60 is what you'll pay for them.
Similarly, if Disney is able to force cable companies to pay, say, $20 a month to bundle ABC, ESPN, and the various Disney kids' channels because customers would balk at not having access to those channels, why wouldn't they be able to get that much a la carte? If ESPN is the must-have, they'd just charge $15 for it, $3 for ABC, and $2 for the Disney packages. The only thing that would change would be the transparency.
Yglesias argues that the obvious solution is for Congress to simply dictate prices. But that surely goes beyond the reasonable scope of government power, especially for what is, after all, a luxury good rather than a necessity.
So: How do we protect consumers from legitimately anti-competitive practices without forcing them into a bewildering and potentially more expensive set of options? How do we regulate an industry whose very nature makes a truly free market difficult to achieve without unduly hamstringing them? It's not at all clear and I don't have any confidence that McCain has the answers.
UPDATE: The Atlantic's Derek Thompson is skeptical this will pass and more skeptical that it would work:
"A la carte" is not a synonym here for "vastly cheaper."

Why's that? Your bundle pays each channel in two ways. First, it pays directly. For example, ESPN "costs" about $5 a month; that is, about $5 from every cable bill goes to ESPN. Second, the bundle pays indirectly through advertising. If ESPN is in fewer households (i.e.: only the households that pay directly for ESPN), they'll project less ad revenue. As a result, buying ESPN could cost as much as $20 a month as the company seeks to make up revenue in the interim. Even if you don't watch ESPN, you'll still have to pay more per channel that you do today because of the economics of bundling and the dual-revenue model for networks.

On the bright side for consumers, perhaps you could see the dissolution of the cable bundle squeezing networks and programming costs and show budgets, leading to a deceleration of overall TV costs. But if customers had to pay more than expected for individuals channels, it's hard to know if they would view these savings as a bargain or just a less-for-less exchange.

Third catch: Logistics. Let's talk about something really practical. How many times a year could you switch your channel line-up? Once a year? Four times a year? It's a serious question.

Let's say you don't want A&E on its own. Sounds sensible. Then a show like "Duck Dynasty," one of the biggest hits in cable history, debuts and suddenly you want A&E. 'Easy,' you say, 'I'll just subscribe to A&E for a few months and cancel after Duck Dynasty is over.' But that just won't do. Channels like AMC won't survive if a handful of people only sign up for the few weeks that 'Mad Men' is airing. A la carte sounds like a pain-free option, but 100 million households adding and dropping channels mid-year is a recipe for a logistical and strategic disaster for the industry.
The incentives could work both ways, though. AMC and A&E used to air nothing but re-runs; now, they produce original programming. Would they be less likely to do that without the sustained revenue that comes from bundling? Or more likely, since people would be unlikely to subscribe to a channel without some compelling reason. Then again, it might not make sense for AMC to bother having a channel at all without bundling–just make Mad Men and sell it to various distribution outlets.