McConnell Opposes National Holiday for Voting
His critique is rather telling.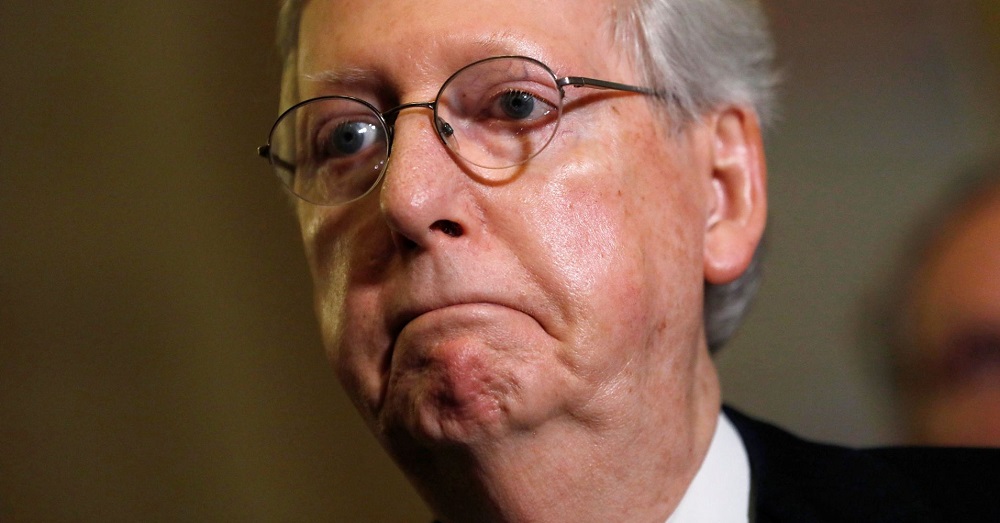 Via WaPo:  McConnell says bill that would make Election Day a federal holiday is a 'power grab' by Democrats.
Senate Majority Leader Mitch McConnell said Wednesday that a Democratic bill that would make Election Day a federal holiday is a "power grab," sparking a fierce backlash online.

McConnell was speaking about H.R. 1, legislation that Democrats have made a centerpiece of their agenda since retaking the House earlier this month.

In remarks on the Senate floor, McConnell (R-Ky.) said Democrats "want taxpayers on the hook for generous new benefits for federal bureaucrats and government employees," including making Election Day a "new paid holiday for government workers."

"So this is the Democrats' plan to 'restore democracy,'" McConnell said, describing the legislation as "a political power grab that's smelling more and more like what it is."
I will start with full disclosure:  I have long favored making election day a holiday.  There is no doubt that doing so would increase access to the polls by voters.  I recognize it is not a perfect solution and there is a debate to be had between a holiday or weekend voting (or both) plus issues like early voting, voting by mail, and a host of variables one could consider.  Nonetheless, it is clear that having election day on a workday makes it difficult for large numbers of Americans to vote, and so it is axiomatic to state that making it a national holiday would increase voter access to the ballot box.  Almost all other representative democracies have elections on a holiday or a weekend (Sunday is a common example in Latin American elections, for example).
Note that we vote on Tuesday based on the notion that people needed a travel day to come to town to vote.  Since travel on a Sunday was out of the question, Monday became the travel day and Tuesday election day. This is not some fancy Framer theory about the appropriateness of Tuesdays; it is a pre-industrial electoral calendar.  Note, too, that this is set by statute, so we are not talking about a constitutional issue here.
Back to McConnell:  he is laying bare the fact that he and his party are opposed to making voting easier because they fear it will hurt them at the polls.  While this is perfectly understandable from a power politics point-of-view, it nonetheless demonstrates contempt for elections, and therefore for representative democracy.
"H.R. 1 would victimize every American taxpayer by pouring their money into expensive new subsidies that don't even pass the laugh test," McConnell said on the Senate floor.
What doesn't pass the laugh test is the current Republican Leadership pretending like they are driven by fiscal concerns about much of anything (see, e.g., the 2017 tax bill and the recent government shutdown).  Further, if he was truly concerned about the cost factor, then propose to combine election day with an existing holiday, thus making it cost-neutral.
For example:
Walter Shaub, a former director of the Office of Government Ethics, noted that a significant number of federal workers are military veterans and suggested combining Election Day with Veterans Day, a proposal that has made the rounds in recent years.

"A 'power grab' to let people vote?" Shaub said in a tweet. "He also says it's just a holiday for bureaucrats, almost ⅓ of whom are veterans. How about McConnell compromises by moving Veterans Day to the 1st Tuesday in November? What better way to honor veterans than by making it easier for them to vote?"
Again, I thoroughly understand the power politics.  Still, it cannot be stressed enough that McConnell is clearly stating here that making it easier to vote helps Democrats.  It is an admission that his party gains from making it harder to vote.  He is admitting that his party gains an advantage because the game is stacked in his party's favor, not because they face over with their opponents on a fully level field.
It is a contemptible position if one values representative democracy.
By the way, while supporting this reform does not make Democratic motives pure, since they know it helps their power position, nonetheless theirs is the virtuous position.  There is no argument to be had for making it harder for citizens to vote, not if one respects democracy.*
---
*If you want to try "we are a republic, not a democracy" do not pass Go, do not collect $200, go here.