Meanwhile, In North Korea
North Korea now claims it has miniaturized nuclear warheads sufficienctly so that they can be placed on missiles. They also say they can launch missiles from submarines.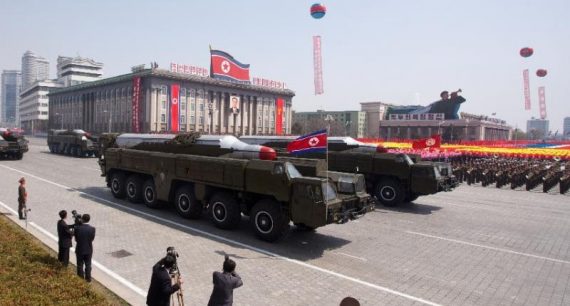 North Korea claims that it has miniaturized nuclear warheads sufficiently so that they could fit on missiles:
SEOUL, South Korea — North Korea said on Wednesday that it had already built nuclear weapons small enough to be carried by missiles, even as a senior American general questioned the country's recent claim that it had successfully tested a submarine-launched ballistic missile.

"It is long since the D.P.R.K.'s nuclear striking means have entered the stage of producing smaller nukes and diversifying them," the National Defense Commission said in a statement, using the initials of North Korea's formal name, the Democratic People's Republic of Korea.

The statement was carried by the official news agency, K.C.N.A.

"The D.P.R.K. has reached the stage of ensuring the highest precision and intelligence and best accuracy of not only medium- and short-range rockets, but long-range ones," the agency said.

Officials and analysts in Washington and Seoul remain uncertain and even divided over how close North Korea has come to acquiring a nuclear weapon small enough to be put on a missile, or its ability to deliver a nuclear warhead on an intercontinental ballistic missile. But their concern has grown since the North placed a satellite into orbit in December 2012, successfully demonstrating a rocket technology needed for a long-range missile.

In February 2013, North Korea also claimed that it had conducted its third underground nuclear test with "a smaller and lighter A-bomb."

A month later, the North's main government newspaper, the Rodong Sinmun, quoted a North Korean general as saying that the North's "intercontinental ballistic missiles and other missiles are on a standby, loaded with lighter, smaller and diversified nuclear warheads."

Adm. William E. Gortney, the commander of the North American Aerospace Defense Command, told reporters last month that American intelligence officials believed that North Korea had the ability to put a nuclear weapon on its KN-08 intercontinental ballistic missile "and shoot it at the homeland," although he said the North had yet to run a flight test of the missile.

North Korea's statement on Wednesday came in response to international criticism of a ballistic missile test Pyongyang said it conducted on May 8. United Nations resolutions prohibit North Korea from testing such a missile.

North Korea said the May 8 test involved successfully launching a strategic missile from a submarine. But some analysts have since questioned the claim, saying that some of the photographs of the episode that North Korea released may have been altered and that the test launch may have been conducted from a submerged barge, rather than a submarine.
As with all things North Korea, it's hard to tell what is true and what is propaganda and, indeed, the pushback we're seeing from the United States and South Korea may be as much about playing mind games with Pyongyang as anything else. If the claims are true, though, or even just close to being true, then we're talking about a development potentially turns North Korea into a far bigger problem than they already are. Being able to put nuclear warheads on missiles and put those missiles on submarines means, at least in theory, that you have the ability to project power virtually anywhere in the world. More realistically, it's unlikely that whatever submarine capacity North Korea has at this point would allow it to project power very far beyond North Korea itself, although if they were able to launch from somewhere significantly further east in the Pacific, they would likely be able to reach the Continental United States. At the same time, though, one suspects that the U.S. Navy has already been about the task of tracking and monitoring North Korea's submarine "fleet" such as it exists and that contingency plans are in place to neutralize that threat if the Korean Peninsula ends up going to hell at some point in the future.
One result of developments such as this, of course, is that it's likely to strengthen the relationship between the United States on one hand and nations like Japan and South Korea on the other. The rise of China and that nation's increasing tendency to stretch its territorial claims far into waters that are also claimed by those two nations, as well as Vietnam and The Philippines, of course, but North Korea potentially poses a far different threat. Pyongyang is unlikely to actually relaunch the Korean War, of course, because even the megalomaniacs surrounding Kim Jong Un are smart enough to realize that would be national suicide. However, as we've seen in the past, political instability inside North Korea often ends up manifesting itself in some kind of show of military force. In recent years, that has included not just muscle flexing that ends up being harmless but it has also resulted in things such as the sinking of the South Korean naval vessel Cheonan and the shelling of a South Korean island that resulted in multiple deaths. South Korea did not retaliate for either of those events militarily, even though they would have been fully justified in doing so, but that patience may not exist in the future. In that situation, an unstable North Korea with nuclear weapons on submarines could be quite a problem indeed.