Medal Of Honor Winner Dakota Meyer Sues Defense Contractor For Defamation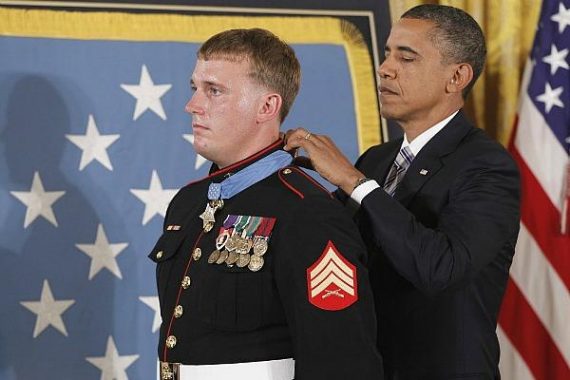 It was just over two months ago that Sgt. Dakota Meyer stood in the East Room of the White House and received the Congressional Medal Of Honor from President Obama for his actions in Afghanistan. Now, he's at the center of a very interesting legal dispute:
Two months ago, Dakota Meyer was awarded the Medal of Honor by President Barack Obama for his service in Afghanistan, the military's most prestigious award. On Monday, Sgt. Meyer alleged that a defense contractor has called him mentally unstable and a problem drinker, ruining his chances for a job in the defense industry.

In legal papers filed Monday, the Marine claims that BAE Systems, where he worked earlier this year, retaliated against him after he raised objections about BAE's alleged decision to sell high-tech sniper scopes to the Pakistani military. He says his supervisor at BAE effectively blocked his hiring by another defense contractor by making the claims about drinking and his mental condition.

Sgt. Meyer's complaint is likely to pose a more difficult challenge for BAE, a British company with extensive U.S. operations, than a typical employment dispute. In the September White House ceremony, Sgt. Meyer was hailed for braving enemy fire as he tried to save the lives of fellow Marines who had been trapped in a Taliban ambush.

BAE said it would defend itself, but comments by BAE officials Monday made clear they don't want to be seen as denigrating a Medal of Honor recipient. "Although we strongly disagree with his claims, which we will address through the appropriate legal process, we wish him success and good fortune in his endeavors," said Brian J. Roehrkasse, a BAE spokesman. He declined to discuss any specifics of the suit.

(…)

The amended complaint filed in a Texas state court said that after leaving active duty in May 2010, Sgt. Meyer joined Ausgar Technologies, a defense contractor that hires veterans to train active-duty service members. At that company, Sgt. Meyer helped teach U.S. soldiers to use thermal imaging to spot roadside bombs. Less than a year later, in March 2011, Sgt. Meyer joined BAE Systems, though the suit doesn't make clear the exact nature of his job there.

Soon after joining BAE, Sgt. Meyer learned it was trying to sell advanced thermal optic scopes to Pakistan, according to the suit. In an email to his supervisor, identified as Bobby McCreight, Sgt. Meyer voiced his objections to the sale, the lawsuit states.

"We are taking the best gear, the best technology on the market to date and giving it to guys known to stab us in the back," Sgt. Meyer wrote to Mr. McCreight, according to the lawsuit. "These are the same people killing our guys."

While in the Marines, Sgt. Meyer had served along the Pakistan-Afghanistan border. Many in the military who have served on the border have said in interviews they view Pakistan as an unreliable ally, as likely to help Taliban insurgents as they are to aid American troops.

(…)

In the suit, Sgt. Meyer said that after he voiced his criticism, Mr. McCreight began "berating and belittling" him. The supervisor criticized Sgt. Meyer for making a trip with their BAE division president and made sarcastic remarks about Sgt. Meyer's nomination for the Medal of Honor, allegedly ridiculing his "pending star status," the suit says.

At the end of May, Sgt. Meyer's complaint said, he resigned from BAE over the proposed sale to Pakistan and attempted to get his old job back at Ausgar. In the suit, Sgt. Meyer said he was told that that company wanted to hire him back as did the Defense Department program officer who approves hiring for the optics program.

About the same time, Mr. McCreight contacted a Defense Department program manager and said that Sgt. Meyer was "mentally unstable" and "had a problem related to drinking in a social setting," the lawsuit alleges.

On June 1, an Ausgar employee wrote an email to Sgt. Meyer saying his rehiring had been blocked by what Mr. McCreight told the Pentagon program manager, the suit says. Contacted Monday, the program manager, Robert Higginson, declined to discuss the case. A lawyer for Mr. McCreight didn't return a request for comment.
There are several interesting questions raised here, not the least of them the question of why BAE wanted to sell advanced technology to the Pakistanis and whether they were required to go through any kind of government approval process to do so, either here or in the U.K. As for Meyer's allegations, it's hard to say what the truth is just based on the allegations of the Complaint, but it sounds like a classic case of a supervisor who became vindictive and started spreading rumors about Meyer in retaliation over the fact that he had raised objections to sale. If I were BAE, I'd never want this case to get before a jury because going up against a Medal Of Honor winner is about as difficult as it gets.