Media Bubbles
A glance at Memeorandum demonstrates a problem that we've mentioned numerous times over the years.
A glance at Memeorandum, Gabe Rivera's aggregator of political discussion, demonstrates a problem that we've mentioned numerous times over the years. Look at two of this morning's top stories: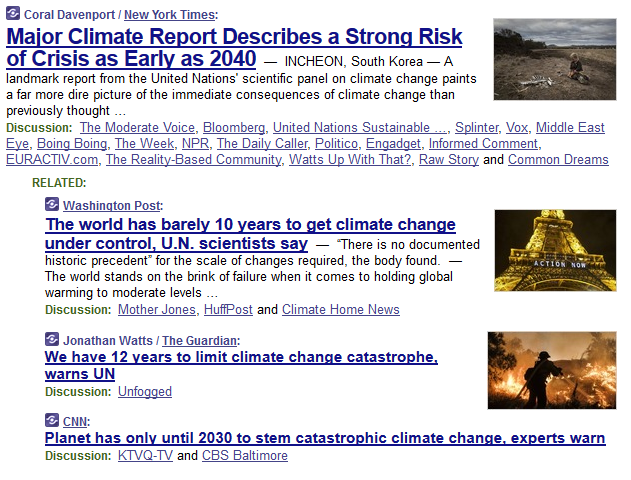 And:

Notice anything?
The climate change story, the most-talked-about story right now, is being covered in the top mainstream outlets in both the US and UK press. Perhaps a dozen blogs are passing on and/or reacting to said stories. Not a single source from the right side of the aisle, though, is mentioning it.
The Scott Kelly story, which is an insignificant "something silly happened on Twitter" controversy, is in various right-leaning news outlets in both the US and UK and linked by a handful of blogs. All of them from the right.
They're not exactly comparable pieces but they're an example that Daniel Patrick Moynihan's famous dictum,  "Everyone is entitled to his own opinion, but not to his own facts," simply isn't the case anymore. I've gotten into a handful of arguments lately on Facebook and have been bombarded with lots of "What about this example of the Democrats being awful?" anecdotes and I simply have no idea what they're talking about. There's simply a massive amount of these sort of stories taking place on subcommunities of the web to which I have no exposure. I've long stopped reading the hyper-partisan sites on both the left and the right, simply finding them not worth my time. But there are plenty of people for whom these are their primary news sources.
Now, it's true that I haven't posted on the climate change story. Mostly, it's just because, at the headline level, it simply confirms what I've long thought to be the scientific consensus and because I don't have any especial interest or anything to add.
The Kelly story is more interesting, in that it illustrates the fact that even seemingly innocuous comments can unleash online firestorms, but it's such a minor example as to not be worth more than a Tweet.