Medicare for All's Unintended Consequences
What would it mean for the companies' workers, the stock market and the cost of care?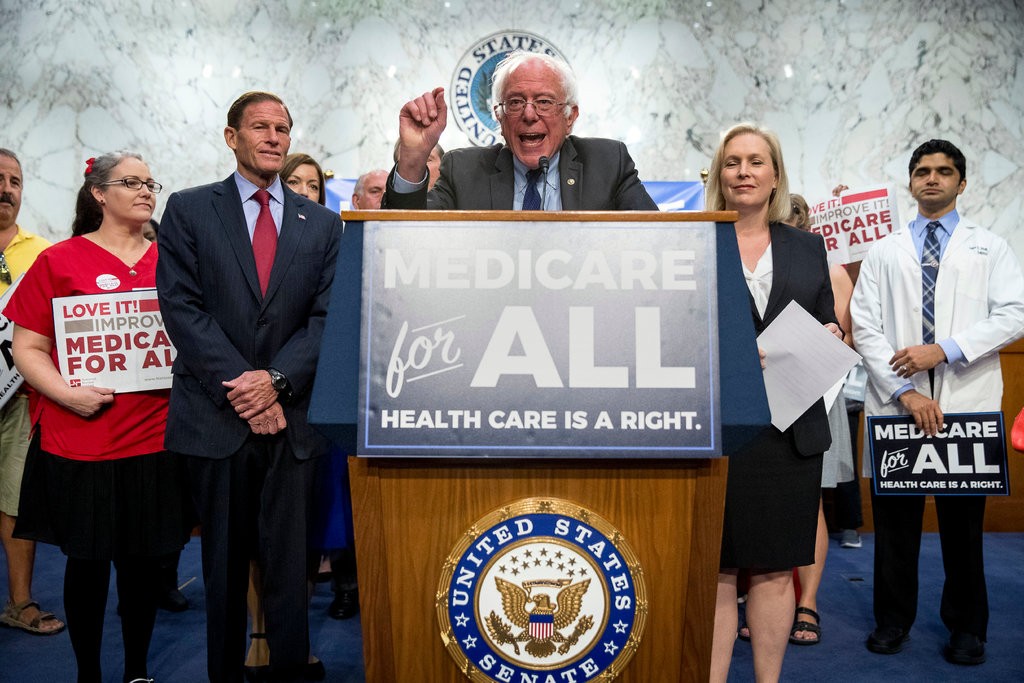 NYT reporters Reed Abelson and Margot Sanger-Katz observe, "Medicare for All Would Abolish Private Insurance. 'There's No Precedent in American History.'"
At the heart of the "Medicare for all" proposals championed by Senator Bernie Sanders and many Democrats is a revolutionary idea: Abolish private health insurance.

Proponents want to sweep away our complex, confusing, profit-driven mess of a health care system and start fresh with a single government-run insurer that would cover everyone.

But doing away with an entire industry would also be profoundly disruptive. The private health insurance business employs at least a half a million people, covers about 250 million Americans, and generates roughly a trillion dollars in revenues. Its companies' stocks are a staple of the mutual funds that make up millions of Americans' retirement savings.

Such a change would shake the entire health care system, which makes up a fifth of the United States economy, as hospitals, doctors, nursing homes and pharmaceutical companies would have to adapt to a new set of rules. Most Americans would have a new insurer — the federal government — and many would find the health insurance stocks in their retirement portfolios much less valuable.

"We're talking about changing flows of money on just a huge scale," said Paul Starr, a sociology professor at Princeton University and author of "The Social Transformation of American Medicine: The Rise of a Sovereign Profession and the Making of a Vast Industry."

"There's no precedent in American history that compares to this," he said.
Several immediate thoughts jump to mind.
Everyone says "Medicare for All" would eliminate private insurance. But that seems like an unfounded assumption. My late mother was on Medicare. She also had Tricare for Life, a supplemental insurance plan made possible because my late father was an Army retiree and had paid for survivor benefits. As it's currently structured, at least, Medicare leaves large gaps between coverage and costs. My mother would have gone bankrupt years ago without supplemental insurance. With it, her out-of-pocket costs were negligible.
[UPDATE: Dave Schuler calls to my attention H.R.1384 – Medicare for All Act of 2019, which was introduced on March 13. One could indeed all but eliminate private insurance because it's in fact more than "Medicare" as we know it without an age limit.]
If "Medicare for All" is more efficient, it's not obvious why we should care that the alternative system currently "generates roughly a trillion dollars in revenues." Presumably, that's money that could be diverted to answer the obvious "How are we gonna pay for it?" question.
Still, to the extent that socializing a large part of the economy takes jobs from a large swath of the populace and disrupts the stocks and mutual funds upon which our current retirement system is largely based, it's admittedly a problem. (And, no, this isn't the same thing as "creative destruction," which capitalists champion as a benefit. This is the government doing something suddenly and by fiat, not the market gradually killing old industries by offering improved substitutes.)
Economists have begun wrestling with basic questions about what this sort of change would mean and disagreeing over whether it would cost more or less than the country's current health care system.

No one has examined the full economic impact of such plans on jobs, wages, investors, doctors and hospitals — or the health insurance companies themselves. Such an undertaking would be difficult, given the vagueness of key parts of the proposals being discussed and the wide-ranging possible effects.
Sure. Although the simplest conception of "Medicare for All" would be—stay with me here—to take the current Medicare program and—wait for it—apply it to all people living in the United States. Essentially, we'd lower the eligibility age from 65 to 0 and cover what we cover now. [UPDATE: But, again, H.R.1384 – Medicare for All Act of 2019 proposes something more radical.]
There are few international analogues to the Medicare for all proposals, but Canada, which provides similar doctor and hospital benefits for its residents, probably comes closest. Even there, people buy private insurance for benefits that are not covered by the government program, like prescription drugs and dental care.
Right. Which gets back to my first point: the very premise that Medicare for All means no private insurance is suspect. Although, frankly, I don't know why we wouldn't cover prescription drugs and dental care while we're at it. (Indeed, dental insurance sucks under the current system and tends to go away upon retirement, making dental care a luxury good.)
Most other countries with single-payer systems allow a more expansive, competing role for private coverage. In Britain, for example, everyone is covered by a public system, but people can pay extra for insurance that gives them access to private doctors. Most countries in Europe don't have single-payer systems, but instead allow private insurance companies to compete under extremely tight regulations.
I'm persuadable that this is a preferable model, although it's hard to see how. Still, that's not Medicare for All.
Legislators writing the bills acknowledge that people in the health insurance industry would lose their jobs. Proposals in the House and Senate would set aside large funds to help cushion the blow to displaced workers, offering them training, benefits, and income supports.
That's reasonable enough on the surface but would obviously be massively expensive, if only in the short term.
The health insurance industry is now composed of a mix of for-profit and nonprofit companies of various sizes. About 155 million Americans get private health coverage through an employer, but the reach of the industry extends into publicly funded insurance programs.

A third of Americans enrolled in Medicare, which insures older and disabled people, and four-fifths of those in Medicaid, which covers the poor and disabled, now get their benefits from a private insurer.

Simply talk of Medicare for all makes investors jittery. Shares of the large publicly held insurance companies, including Cigna, Humana and UnitedHealth, fell when Representative Pramila Jayapal, Democrat of Washington, introduced her bill in late February, but have largely rebounded.

The effective takeover of the health insurance industry in the United States would mean a huge hit to the companies' stocks, although the companies, which have additional lines of business, would most likely survive.
Again, even after repeatedly acknowledging that private insurance would continue to exist under virtually any plan, we keep coming back to pretending otherwise.
While the bills would give relief to insurance industry workers, they would provide no such compensation for investors. Not surprisingly, the insurance industry and many other health care industries vociferously oppose these plans and plan to spend heavily in fighting them.
This strikes me as a non sequitur. To the extent the insurance and health care industries are fighting the plan, they're not doing it because of the investors.
Many supporters of this approach see elimination of private insurance as a key feature, not a bug, meant to improve the program's efficiency and equity by streamlining the health care system and weakening profit motives. With a single insurer covering every patient, hospitals and doctors could spend less time and money complying with differing policies, negotiating contracts, and filing forms to get paid.

"It's worth it," said Adam Gaffney, the president of Physicians for a National Health Program, which supports single-payer health care and helped design Ms. Jayapal's bill. "Because we are not going to get to true universal health care without the greater efficiency of a single-payer system."
Obviously. Insurance companies are a middle man that drive up healthcare costs. They're almost by definition an inefficiency.
Obamacare was designed to build on the current system, patching its holes while minimizing disruption and avoiding the fierce opposition from industry that helped sink earlier attempts to change the health care system.
But many of us argued at the time that it was obviously a gateway to the destruction of the current system. Indeed, that was my primary opposition to it: rather than simply covering those who couldn't afford coverage, we were effectively propping up an inefficient insurance industry and at the same time turning it into something other than true insurance. Requiring coverage of pre-existing conditions and mandating people buy it or face penalties solves for some inefficiencies of the market. But it ain't "insurance."
But 107 Democratic House members are now co-sponsoring a Medicare for all bill written by Ms. Jayapal. Mr. Sanders, whose update of his bill is expected in the next few weeks, argues that only a single-payer approach would resolve problems he sees as inherent in private insurance. Both proposals are clear that a single, government-run insurer would replace the private sector, but they are less detailed about exactly how the government program would pay for medical care.

Their plans would include nearly every doctor and hospital in the United States and provide generous benefits, including dental care and hearing aids, and would not require patients to pay any out-of-pocket cost to see a doctor. The federal government, of course, would have to cover those benefits, and would need to raise taxes to pay for them.
Now this plan would indeed pretty much kill the private insurance industry. But it's more aptly described as Medicare and More for All.
Gerald Friedman, a labor economist at the University of Massachusetts Amherst, who was close to Mr. Sanders's 2016 campaign, estimated then that it could reduce the nation's health care spending by $6 trillion over a decade, while the left-leaning Urban Institute said it might increase the overall bill by nearly $7 trillion.
That's . . . quite the gap.