Medicare Spending Has Slowed Significantly Under Obama
For the past 18 months, Medicare spending has slowed down considerably - especially compared to the private sector.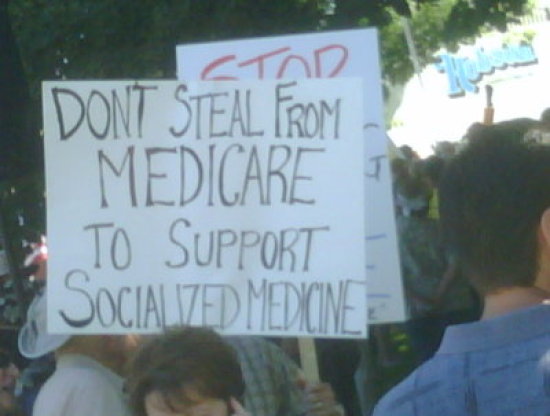 By far, the biggest threat to the long-term solvency of the United States is the explosion of Medicare costs. Take current budget projections and remove Medicare, and Federal budget deficits are very manageable. Put it back in, and it looks like a disaster.
Which is why it's amazing to me that there's a little fact about Medicare under the Obama Administration that's gone unheralded: the growth in Medicare outlays has significantly diminished – and it looks like a trend that will keep going strong in the future.
While our elected representatives wrangle over slicing entitlements, virtually no one seems to be paying attention to an eye-popping fact: Medicare reimbursements are no longer accelerating at a break neck-pace. The new numbers should be factored into any discussion about healthcare spending: From 2000 through 2009, Medicare's outlays climbed by an average of 9.7 percent a year. By contrast, since the beginning of 2010, Medicare spending has been rising by less than 4 percent a year. On this, both Standard Poor's Index Committee and the Congressional Budget Office (CBO) agree. (S&P tracks healthcare spending with the help of Milliman Inc., an independent actuarial and consulting firm.)

What explains the 18-month slow-down? No one is entirely certain. But at the end of July David Blitzer, the chairman of Standard &Poor's Index Committee, told me: "I'm hesitant to say that this is a clear long-term trend. But it's more than a blip on the screen."
There are, no doubt, a number of factors influencing this slowdown in growth, but according to Zeke Emanuel, one of the major reasons for the slowdown is health providers preparing for the implementation of the Affordable Care Act:
Zeke Emanuel, an oncologist and former special adviser for health policy to White House Office of Management and Budget director Peter Orszag, is certain that this is what is happening. When I spoke to him last week, Emanuel, said: "This is not mere chance: this is directly related to the initiation of health care reform." It is not the result of reform, Emmanuel emphasized. The reform measures that will rein in Medicare inflation have not yet been implemented. But, he explained, providers are "anticipating the Affordable Care Act kicking in." They can't wait until the end of 2013: "They have to act today. Everywhere I go," Emanuel, added, "medical schools and hospitals are asking me, 'How can we cut our costs by 10 to 15 percent?'
It's important to remember when you look at CBO projections for spending, they do not include the several different cost control provisions, as the CBO has said that its impossible to estimate their impact. But if this article is accurate, it appears that those measures are having an effect now – even before they go into law.
I find that encouraging.