Medved: Stop Saying That Obama Wants to Destroy America
Michael Medved wishes that conservatives would stop implying that the President of the United States wants to destroy the United States.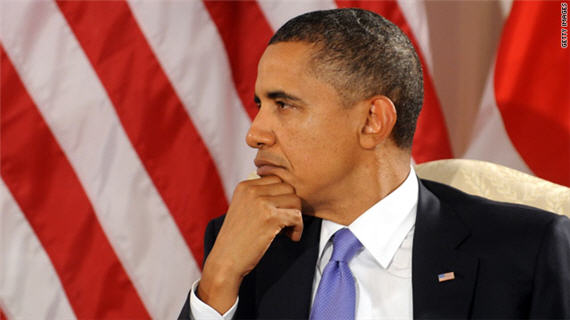 Michael Medved has an editorial in the Wall Street Journal in which he notes for those of us who have been trapped under a rock for three years that there is a strong belief among conservatives that Barack Obama wants to destroy the United States:
One typical column appeared on Feb. 5 at the well-regarded American Thinker website, under the heading: "Obama Well Knows What Chaos He Has Unleashed." Victor Sharpe solemnly declares: "My fear is that Obama is not naïve at all, but he instead knows only too well what he is doing, for he is eagerly promoting Islamic power in the world while diminishing the West."

These attitudes thrive well beyond the blogosphere and the right-wing fringe. On Jan. 7, Sarah Palin spoke briefly on Laura Ingraham's radio show, saying, "What I believe that Obama is doing right now—he is hell-bent on weakening America." While acknowledging that "it's gonna get some people all wee-weed up again," she repeated and amplified her charge that "what Obama is doing" is "purposefully weakening America—because he understood that debt weakened America, domestically and internationally, and yet now he supports increasing debt."

The assumption that the president intends to harm or destroy the nation that elected him has become so widespread that the chief advertising pitch for Dinesh D'Souza's best-selling book, "The Roots of Obama's Rage," promises to "reveal Obama for who he really is: a man driven by the anti-colonial ideology of his father and the first American president to actually seek to reduce America's strength, influence and standard of living."
As far as it goes, I'm glad that Medved is pointing this stuff out. It's absolutely toxic and detrimental to the long-term health of our Republic. As Alexander Hamilton noted in Federalist No. 15, "A spirit of faction, which is apt to mingle its poison in the deliberations of all bodies of men, will often hurry the persons of whom they are composed into improprieties and excesses, for which they would blush in a private capacity."
However, what made my jaw drop in reading the rest of the article is that Medved never actually disputes the conservative complaints about Obama wanting to destroy the country. Oh, sure, he makes a half hearted stab about it "not making sense" for Obama to destroy the country if he wants to be re-elected. But the bulk of his article is geared towards convincing conservatives that the attacks on Obama are just bad politics.
Regardless of the questionable pop psychology of this analysis, as a political strategy it qualifies as almost perfectly imbecilic. Republicans already face a formidable challenge in convincing a closely divided electorate that the president pursues wrong-headed policies. They will never succeed in arguing that those initiatives have been cunningly and purposefully designed to wound the republic. In Mr. Obama's case, it's particularly unhelpful to focus on alleged bad intentions and rotten character when every survey shows more favorable views of his personality than his policies.

[…]

Americans may not see a given president as their advocate, but they're hardly disposed to view him as their enemy—and a furtive, determined enemy at that. For 2012, Republicans face a daunting challenge in running against the president. That challenge becomes impossible if they're also perceived as running against the presidency.
So, yeah. Make of this what you will.