Memo To Congress: It's The Economy, Stupid
Today's job numbers make it clear that Congress has only one duty, and that is to do everything it can to stimulate real economic growth.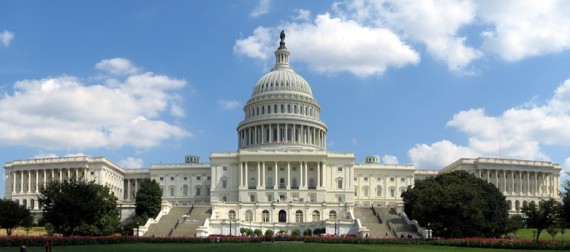 Over at National Review, Douglas Holtz-Eakin argues that today's job numbers make it clear that Congress has only one task ahead of it at this point:
The main concern is that there were only 50,000 private-sector jobs created, not nearly enough to make a dent in the employment woes. And that was the bright spot. For blue-collar workers — "production and nonsupervisory employees" — aggregate hours fell, aggregate payrolls fell, average weekly hours fell, average hourly earnings fell, and average weekly earnings fell. In the household survey, employment actually declined.

(…)

But mostly this is an alarm bell for the lame-duck Congress. No more games — extend all the tax cuts for two years, patch the AMT, and turn to cutting spending and tax reform.

Going forward, Congress has lost the luxury of extended debate on boutique social issues. All focus should be on growth. Every policy should be evaluated for its impact on growth. Wake up.
On some level, the White House and the Republicans seem to get the message in that it appears to be fairly likely that all of the Bush tax cuts will be extended, at least temporarily. That alone could help the economy if only because it will end the uncertainty that the business community has been faced with on this issue. It's not easy to make business decisions about what you might do in 2011 when you don't yet know what your tax picture will be like so, when faced with that, the most rational course of action is to do nothing until the uncertainty is resolved. Getting the tax uncertainty out of the way could spur businesses to start investing.
But there's more that Congress can do to help spur economic growth. They could start by repealing the absurd 1099 reporting requirements that were part of the Affordable Care Act. By some estimates, this one requirement could cost  small businesses at least $ 6,000 per year in administrative costs just to make sure that they are complying with the requirements of the law. Republicans have made several efforts to repeal the reporting requirement, but they've been blocked so far. Once the 112th Congress convenes, though, the new Republican majority in the House would be in an excellent position to remedy this situation before it starts costing small businesses money.
Beyond that, though, the best thing that Congress and the Federal Government can do to spur economic growth is to get out of the way and let people invest their money as they see fit rather than using subsidies and tax credits to try to force them to invest in politically approved industries. They'll be amazed at how much doing nothing can actually accomplish.