Michele Bachmann Has Missed 37% Of Votes Since Starting POTUS Campaign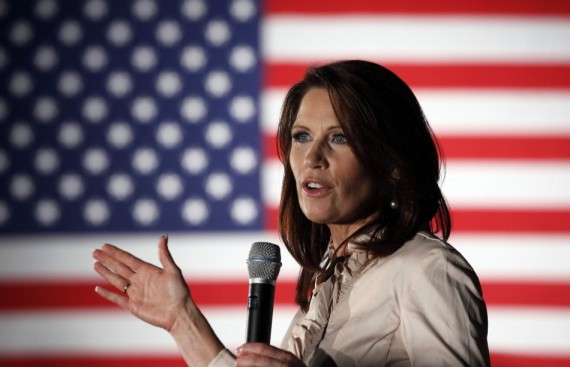 One wonders how the residents of the 6th District of Minnesota feel about this:
Rep. Michele Bachmann (R-Minn.) has missed nearly 40 percent of votes in the House since she formally launched her presidential campaign.

Bachmann's absentee rate, which is significantly higher than the two other House members running for president, could be used by her GOP opponents on the campaign trail.

Bachmann, the chairwoman of the House Tea Party Caucus who has surged toward the top of the Republican presidential field, has missed 50 of 135 votes (37 percent) since formally announcing her candidacy June 27 in Waterloo, Iowa.

Bachmann is one of three House members seeking the Republican presidential nomination. GOP Reps. Ron Paul (Texas) and Thaddeus McCotter (Mich.) are waging longshot bids for the party nod.

Paul has missed 25 of 307 votes — about 8 percent — since entering the race May 13. McCotter has missed almost 10 percent (13 of 135 votes) since starting his campaign at the beginning of this month.
Of course, Bachmann is running a far more intense campaign than either Paul or McCotter at the moment, so the difference in votes is not surprising. Additionally, Bachmann isn't the first sitting Member of Congress to face this issue, John McCain faced similar allegations during the 2008 campaign:
In May 2007, it was reported that McCain had missed 42 consecutive votes (five straight weeks) in the Senate while he was conducting his presidential campaign. From March to May, McCain only attended three floor votes in the Senate, though none of McCain's missed votes has altered a bill's fate.[40] According to Washington Post statistics, McCain missed more votes than any Senator including Tim Johnson, who missed many votes after suffering a brain hemorrhage in December 2006. As of August 2008, McCain had missed 63.8% of votes in the 110th Congress during his campaign.[41]
This is an issue that always comes up whenever someone is running for one office while holding another, because campaigning, especially for President, means being away for extended period of time even this early in the race. It's different from being away from the office itself, because much of the business of a Congressional Office can be conducted by staff and over the phone, but if a Member of Congress isn't showing up votes, one has to wonder if it's fair to their constituents for them to continue to hold office while trying to satisfy their ambitions for advancement.