Michele Bachmann Hires Top Huckabee Aide In Iowa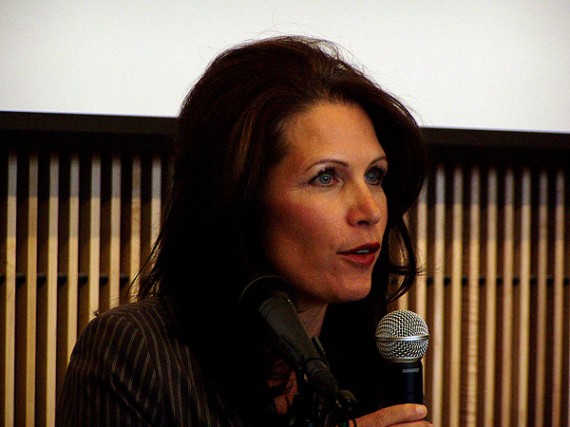 An interesting development in Iowa that may say as much about Mike Huckabee's Presidential plans as it does Michele Bachmann's:
Washington (CNN) – One of the strategists who engineered Mike Huckabee's victory in the 2008 Iowa caucuses is going to work for another Republican, one more indicator that the former Arkansas governor isn't eying a repeat presidential bid in 2012.

Huckabee's Iowa political director in 2008, Wes Enos, has signed on as a consultant with Michele Bachmann's political action committee as the Minnesota congresswoman and Tea Party hero mulls a bid for the Republican presidential nomination. An adviser to Bachmann confirmed the hire.

Bachmann plans to open a presidential exploratory committee in the coming months and is assembling campaign teams in the early nominating states of Iowa, New Hampshire and South Carolina.

Enos becomes the second former Huckabee adviser to switch teams: Eric Woolson, who helmed Huckabee's Iowa operation in 2008, plans to advise former Minnesota Gov. Tim Pawlenty's likely presidential bid.
The fact that former Huckabee people are working for other candidates now could be a sign that he probably won't be running despite the fact that he is, by most measures, the frontrunner in the race right now.
If  Huckabee doesn't run, though, where would his supporters go? According a recent Gallup poll, the biggest beneficiaries would be Romney and Palin: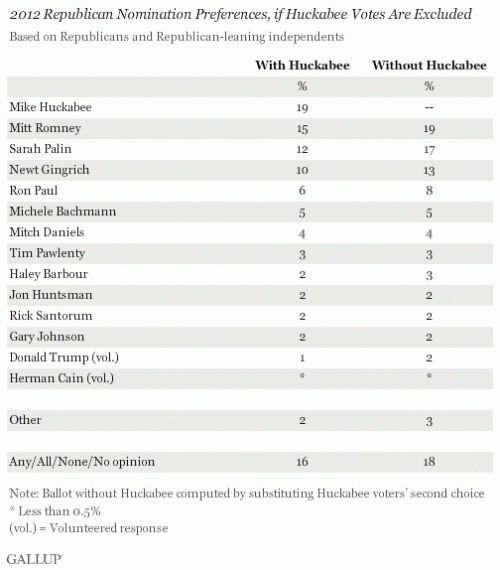 Of course, in a state like Iowa, no Huckabee in the race would mean that a significant portion of the evangelical vote would be up for grabs. Romney is likely to skip Iowa altogether and kick his campaign off with a victory in New Hampshire. I no longer believe Palin will run. That means that Bachmann has a chance to surprise everyone there, especially when she has people who've won there before advising her. Michelle Bachmann has no chance of winning the GOP nomination, but that doesn't mean she doesn't have the opportunity to make a splash.