Michele Bachmann Out, Rick Perry Staying In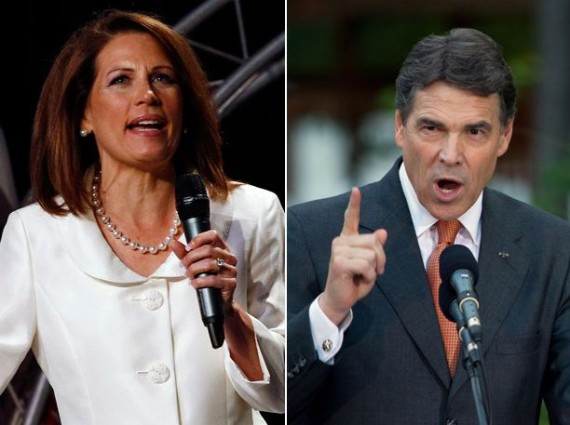 After a disappointing sixth-place finish in the Iowa Caucuses, Michele Bachmann is out of the Presidential race:
Michele Bachmann announced Wednesday morning that she would drop her presidential bid following her sixth-place finish in the Iowa caucuses Tuesday night.

"Last night, the people in Iowa spoke with a very clear voice, and so I have decided to step aside," Bachmann told supporters in West Des Moines.

Her departure from the GOP race will give a boost to Rick Santorum, whose recent surge put him in a virtual tie with Mitt Romney last night. Heading into South Carolina, where evangelical and social conservative voters dominate the pool of potential voters, Santorum will be in a better position to consolidate that support.

Bachmann got just 5 percent of the vote in Tuesday night's caucuses, coming in last of the six candidates who actively contested the state.

Bachmann's campaign peaked in August, when she took a narrow win in the Ames Straw Poll. But her momentum was immediately stolen by Rick Perry, the Texas governor who launched his own campaign that same day in South Carolina, and quickly began upstaging Bachmann at Iowa events.
Perry also stole a little bit of Bachmann's thunder today when, after saying last night that he would "reassess" his campaign, he announced he would be staying in the race:
Rick Perry tweets he's not dropping out of the presidential race after all:

"And the next leg of the marathon is the Palmetto State…Here we come South Carolina!!!"
So, Perry has decided to mostly bypass New Hampshire, where he is polling dead last and concentrate on the potentially more friendly ground of South Carolina. It's a smart move on his part, I think, because he remains the only Southern Republican in the race and that alone, along with his military background, may help him appeal to voters in the Palmetto State.
The impact of Bachmann's withdrawal is likely to be minimal. She's only a few points a head of Perry in the New Hampshire polls, and in single digits in South Carolina, where there hasn't been any polling for three weeks now. Her supporters, or those that are left, are likely to drift to Santorum, Gingrich, or Perry but they are such a small number that they're unlikely to have much of an impact on the race.
Perry's decision to stay in the race, meanwhile, strikes me as potentially helping Mitt Romney, especially in South Carolina. The longer the anti-Romney vote remains divided the better off Mitt Romney will be, although it does mean that there will be more people to take shots at him over the next two weeks.