Michele Bachman's Connection To The Company That Makes Gardasil's Only Competitor
Is there another explanation for Michele Bachmann's decision to keep bringing Rick Perry's HPV vaccine order up?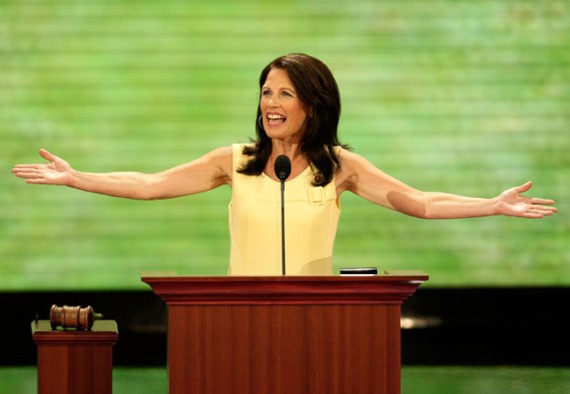 Despite the fact that there's clear evidence that it's hurting her, Michele Bachmann is continuing to hammer down on Gardasil issue. The latest example comes in a campaign video released yesterday in which she dubs Perry's 2007 Executive Order on the matter "Perrycare":
GOP presidential hopeful Michele Bachmann released a new video today vowing to fight what she calls the abuse of executive power, as she steps up her attack of Texas Gov. Rick Perry for requiring girls to be vaccinated against HPV.

Bachmann says she'll fight "Perrycare," as she likens her rival's executive order on HPV to President Obama's health care law.

"I oppose anyone who mandates a family's health care choices and violates the rights of parents, especially if the decision-making process occurs behind closed doors, bypassing legislative action and favoring campaign contributors over the rights of families," the Minnesota congresswoman said.
Here's the video:
Then, last night in an appearance on The Tonight Show, Bachmann came up with another reason to oppose a vaccine that could prevent thousands of cases of cervical cancer:
Pressed on her opposition to a vaccination aimed at preventing cervical cancer, the congresswoman offered a new reason for her stand: "It gives a false sense of assurance to a young woman when she has that, that if she's sexually active that she doesn't have to worry about sexually transmitted diseases."
This isn't new, actually. It was the main argument cited by social conservatives in Texas and nationwide who opposed Perry's Executive Order, but who also seem to oppose the very idea of the HPV vaccine itself, despite the fact that it's well-established that not getting the vaccine at the age of 12-13 means that it will be far less effective, and possibly not effective at all, if given later in life. They are perfectly fine, in other words, with exposing women to the danger of cancer if it means it's less likely they'll have sex. Of course, reality is that they'll likely have sex anyway, but these are the same people who think that not teaching teenagers about contraceptives is the best way to protect them from the consequences of casual sex.
The story gets more interesting, though, and takes a turn that makes you wonder if this is really all about pre-marital sex and PerryCare. Over at Hot Air, Ed Morrissey notes that, since 1993, the State of Minnesota has required all 12 month-old babies to receive the vaccine for Hepatitis B, a disease spread primarily through IV drug use and sexual contact. Bachmann served in the Minnesota legislature from 2001 to 2006, and she's raised five children in the state all of which would have received the Hepatitis B vaccine at 12 months. There is absolutely no record of Bachmann speaking out against this vaccine, or seeking to have the law changed to add an opt-out provision. And yet, here she is now apparently making Gardasil a central part of her argument against Rick Perry.
One way to explain the apparent hypocrisy is pure political opportunism, but there's one stubborn fact out there…….
Bryan Preston at The PJ Tatler, uncovers something very interesting about Bachmann, and her connections to a company that makes the other FDA-approved HPV vaccine:
And then there's the crony capitalist problem. Bachmann has taken a lot of money from pharma companies. One company stands out.

Meanwhile, Bachman has taken somewhere north of $140,000 from pharmaceutical companies. Those donors include Abbott Labs, Pfizer, GlaxoSmithKline, AstraZeneca, Novartis, Eli Lilly and Bayer. Yet, not a dollar of all that pharma money, from such a wide range of the world's largest drugmakers, came from Merck. Might Bachmann be going after Merck on behalf of that company's competitors who also happen to be Bachmann donors?

Why bold GlaxoSmithKline? Because they make the only other viable HPV vaccine on the market, Cervarix.

If it's fair to levy the "crony capitalism" charge at Perry, then it's fair to levy the exact same charge at Bachmann, especially after her attacks on Perry.
Well, isn't that interesting. The company that makes the only competitor to Gardasil happens to be a major Bachmann donor? Pure coincidence, I'm sure.