Michele Bachmann "Leaning Toward" Presidential Run
Minnesota Congresswoman Michele Bachmann is beginning to more like a real candidate for President. She won't win, but she will be entertaining.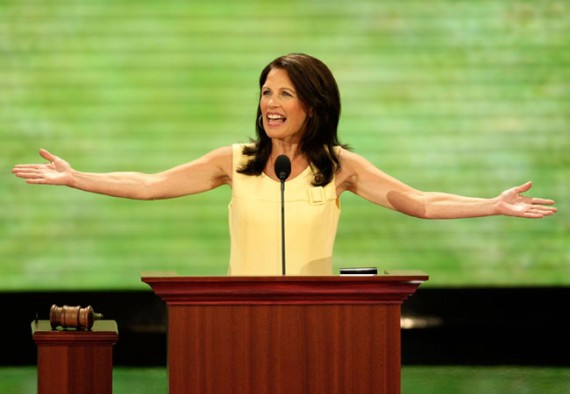 At the same time that polls continue to show Sarah Palin would be electoral poison for the GOP, another firebrand, Tea Party, female conservative is thinking about running for President:
Minnesota Rep. Michele Bachmann is increasingly serious about joining the wide-open race for the Republican presidential nomination in 2012.

And a growing number of conservative activists, legislators and political operatives in key states stand ready to help her if she does.

Bachmann, the chairwoman of the House Tea Party Caucus, arrives in New Hampshire on Friday for a two-day barnstorm of the first-in-the-nation primary state, her first foray there since floating her potential White House candidacy back in January.

News of the trip immediately stirred up grassroots excitement: A Bachmann-headlined fundraiser Saturday for the New Hampshire GOP was re-located to a larger venue because of "a very strong initial interest in this event," according to a state party official.

Bachmann has already met with prominent interest groups and well-placed officials in early caucus and primary states of Iowa and South Carolina, where both Tea Partiers and Republican regulars have been impressed by her easy rapport with conservative crowds.

The trips are having an acute impact on Bachmann's thinking about the presidential race, those around her say.

"She is leaning more toward doing it," one Republican close to Bachmann told CNN. "The people she's meeting on the ground, they love her. She is definitely more encouraged when she makes these trips."

Bachmann's political advisers are quietly laying the groundwork for a dark horse campaign should she choose to join the Republican fray at some point in the spring or early summer, when she has said she will make a final decision about the race. She is returning to Iowa later this month, and has scheduled a swing through the South Carolina low country in April.

"She is seriously considering running and getting a full team lined up and making sure it's the right one," said Ryan Rhodes, the chairman of the Iowa Tea Party. "It will be different than everyone else. She will have a very good team behind her if she does decide to run."
Of course Iowa is a state where a grassroots campaign often has the potential of taking off. Just ask Jimmy Carter in 1976, Pat Robertson in 1988, John Edwards in 2004, or Mike Huckabee in 2008. In each of these cases a non-traditional candidate was able to make use of Iowa's peculiar procedures to stage a showing that was better than expected, thus thrusting them into the limelight for at least a brief period of time. Of course none of them other than Carter ended up winning their parties' nomination. Bachmann has the potential to pull of a surprise "better than expected" finish in Iowa, especially if Palin doesn't run, but she has nowhere to go after that.
In Bachmann's case, there's also the added liability of her own rather odd statements in the past.During her time in Congress, she has demonstrated her own unique brand of nuttiness:
– She introduced a "Light Bulb Freedom of Choice Act" in response to laws banning the use of traditional incandescent bulbs in favor of compact fluorescent bulbs

– She has called global warming a "hoax."

– She warned that an expansion of AmeriCorps would lead to "mandatory service" for the government and placed in "re-education camps."

– She told MSNBC's Chris Matthews that "I wish the American media would take a great look at the views of the people in Congress and find out are they pro-America, or anti-America. I think people would love to see an expose like that."

– On Wednesday she told CNN's Anderson Cooper that President Obama's trip to Asia was "expected to cost the taxpayers $200 million a day," a claim that's been widely debunked.
Bachmann has also blamed Democrats for the 1976 Swine Flu epidemic, which occurred while Gerald Ford was President; blamed the Great Depression on FDR's decision to sign into law the "Hoot-Smalley Tariff"'; claimed that 100% of the U.S. economy was private before the September 2008 TARP bailout; and, engaged in an insane crusade against Census. Quite honestly, the only reason that Michelle Bachmann doesn't have Sarah Palin like disapproval numbers is because the American public doesn't really know who she is. If she runs for President, of course, that will change.
Whatever kind of splash she makes in Iowa, Michelle Bachmann is not going to win the nomination, though, and she's unlikely to be invited to be part of the eventual Republican ticket (John McCain demonstrated the dangers of picking a candidate like her quite well, thank you). What this run is likely to do, though, is cement her reputation in the conservative wing of the GOP and, of course increase her speaking fees, and isn't that the real reason most of these people are running for President?